Innovative production and record numbers for Henley Royal Regatta live on YouTube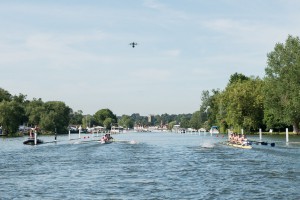 Sunset+Vine, part of The Tinopolis Group, has revealed impressive viewing results from its first host production of Henley Royal Regatta. The world's pre-eminent river rowing event, now in its 177th year, was streamed live on YouTube between the 1st-5th July, and on the BBC Red Button on Finals Day. Employing new technology and new camera positions into its production of rowing, including the use of drone technology to provide as yet unseen coverage of the sport, Sunset+Vine's broadcast coverage delivered a unique view of rowing to its viewing audience. Over 294,000 people watched the Henley Royal Regatta live on YouTube with a further 100,000 watching specially created on-demand daily highlights programmes and the individual races so far. 40% of the audience came from outside of the UK.
Over 250 individual races were also clipped out and uploaded on YouTube for viewers to access On-Demand. Figures for Finals Day viewings on BBC Red Button and BBC Sport website are yet to be disclosed. It was the first time the event had been broadcast anywhere since 1976.
Sunset+Vine Digital was responsible for the channel management of the Henley Royal Regatta YouTube channel and for optimising the regatta's content. All racing was produced in high definition and screened live on the channel as well as on the Henley Royal Regatta website. A daily highlights show was made available to watch on demand within an hour of the close of each day's racing from July 1-5. In addition all races were edited and posted individually.
The complete project, including the drone deployment, was masterminded by Henley Royal Regatta Stewards Neil Chugani and Sir Matthew Pinsent.  The production was executive produced by Andrew Preece out of Sunset+Vine's Oxford office.
Jeff Foulser, chairman of Sunset+Vine, commented: "What these past five days clearly shows is that there are still iconic sporting events and venues that would benefit from being introduced to a broadcast audience. The images captured by the drone in particular were amazing. Henley as a sporting venue is right up there with Lord's, Wimbledon and Twickenham in terms of grandeur."
Sir Steve Redgrave, Chairman of the Royal Regatta, said: "The pioneering nature of the coverage of Henley Royal Regatta has provided a truly cutting-edge and innovative perspective of our event for viewers, as well as delivering a unique insight to the sport of rowing for a new generation of fans. The feedback we have received for Henley's first broadcast anywhere since 1976 has been exceptionally positive and bodes well not only for the future success of this prestigious event, but also for the televised future of the sport."
"It has also been a chance for us to shine a light on the passion that our competitors have for Henley. Some of the best crews in the world come here to race, and for many of the clubs, universities and schools it is the pinnacle of their year. This coverage rewards those efforts."