Inside Fox Sports' upcoming season of 4K HDR distribution for Thursday Night Football
Fox Sports will be distributing this season's Thursday Night Football NFL package in 4K UHD and HDR. Beginning with this Thursday's matchup between the Philadelphia Eagles and the Green Bay Packers at Lambeau Field, Fox Sports' production and operations team will produce TNF games in 1080p/High Dynamic Range (HDR) and upconvert the image from there to 4K/HDR.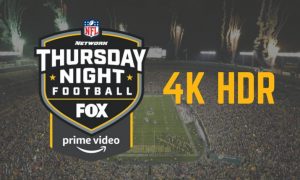 Fox has been working on trialing these production methods dating back to the pre-season and has done as much as they can behind-the-scenes during the first two Thursday Night Football games this season, which were held in Carolina (on 13 September) and Jacksonville (on 19 September).
Fox has actually produced the first two Thursday Night Football games in 2020 colour space (the designated colour space for ultra-high-definition TV; HD displays conform to Rec. 709), just not distributing that anywhere for the public to see.
From this week, the full-fledged production will feature high-end cameras from Sony, including the HDC-4300, HDC-5500, and HDC-P50 compact POV system. The truck will also leverage EVS XT4Ks for ingest, playout, and replay. All pieces of technology with which Fox is familiar.
"Keeping everything sort of in line with what we normally do was the order of the day," said Mike Davies, SVP, technical and field operations for Fox Sports. "The bottom line is, when you do these types of things, you want to make sure that you preserve what's great about your production, first and foremost.
"That is everything from super motion cameras to the ability to record everything to making sure that you have all of your POVs — like pylons and skycams and wireless cameras — that all those things aren't compromised. Insofar as to what an ultra-high definition show looks like? Hopefully it looks very much the same as what we would do in standard dynamic range."
In the compound will be the lead truck Game Creek Encore, which Fox Sports has plenty of experience working in (the truck has been with Fox at the US Open golf championships since 2015 and has also played a key role at various NFC Championship Games and MLB All-Star Games). Given that familiarity with their facilities, Fox Sports' engineering team — including VP, Field Operations & Engineering Kevin Callahan and Technical Producer Matt Battaglia — was able to spend extra time in their 'Fox Sports Lab'  experimenting and testing out some new equipment for this project.
Much of that work went into perfecting conversion gear that would change signals from SDR (standard dynamic range) to HDR and vice versa while making sure that everything remained true in terms of coluor quality in both colour spaces. Fox Sports worked closely with THUMBWAR, a creative and technical consulting agency based in Los Angeles, on the colour space work with key contributions from vendors like AJA Video Systems and Colorfront, who helped with the conversion scheme. Sony also provided conversion equipment to pair with their arsenal of cameras working the games.
Those conversions are critical not only to the upconvert from 1080p to 4K, but also in helping balance out the fact that while the game itself is produced in HDR, the pre-game and post-game shows taking place onsite with Fox and NFL Network are still being done in SDR.
According to Davies, keeping those worlds as similar and balanced as possible — while letting them shine in their own right — is critical. "It's been a great team, and if we measure our success by the lack of engineering issues, then it's been so far, so good."
Thursday Night Football 4K games will be available on select cable distributors and Virtual MVPDs like, including DirecTV, Altice Optimum, Comcast Xfinity, Verizon Fios, TVision, and fuboTV, while also streaming through the Fox Sports and FOX NOW apps on Apple 4K TV and select Roku sticks*.
*Roku devices that support 4K are Roku Premiere, Roku Premiere+, Roku Streaming Stick+, Roku Ultra, and 4K TV models with Roku OS built in.
Fox Sports' 2019 Thursday Night Football schedule begins 26 September with the Philadelphia Eagles at the Green Bay Packers.