Inside LIV Golf's broadcast plans with chief media officer Will Staeger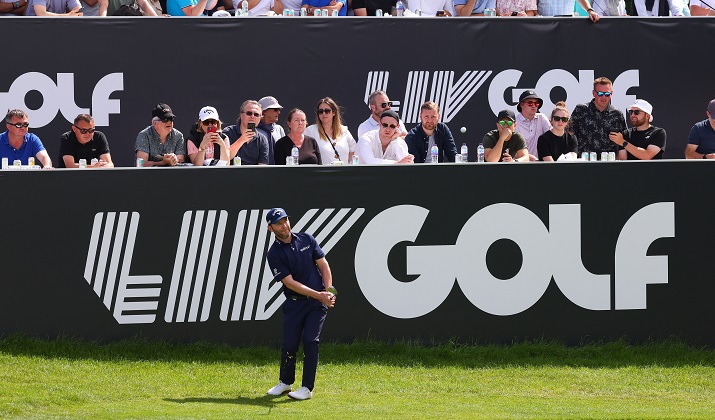 LIV Golf chief media officer Will Staeger likens the new golf tournament's efforts to freshen up coverage of the sport to the approach adopted by UFC or WWE.
"We are reinventing the coverage style and aspiring to forge a new way of covering golf," he tells SVG Europe.
"Our goal is to is to balance the concerns of the core golf fan, and to bring in new audiences under the tent as well to help golf grow and help golf viewership grow. We've read the complaints from viewers about the incumbent coverage. Complaints about things like the number of commercial breaks and the amount of golf shown, so we want a fast pace. I saw one article that compared about 25 minutes of coverage between us and an incumbent; we had 60-plus shots and they had 30 shots in their coverage.
"We want viewers to lean in, and we want younger entertainment and sports viewers to understand the stakes. The question for us, is how we inform, educate and entertain all at once while bringing in new viewers."
"We launched with what was ready and what we knew would work, but over the course of the next seven events you'll see you'll see a refinement; it won't be 180 degrees different, but you'll the addition of numerous features."
The new eight-event LIV Golf pro tour has created something of a rift in the golf world, with the PGA suspending some players who have joined the breakaway tour. It has also drawn criticism because of its financial backing by Saudi Arabia's sovereign wealth fund.
The inaugural event of the invitational series, which took place in London earlier this month, saw Charles Schwartzel win $4,000,000 from a total $20,000,000 purse for the individual competition. The second stage of the tour will take place in Portland later this week, from 30 June to 2 July. It then moves to Bedminster in July, Boston and then Chicago in September, Bangkok and Jeddah in October culminating in the season-ending team championship in Miami at the end of October.
"On the production side, we wanted to control the coverage narrative. And the best way to do that was to handle our own production rather than have broadcast network production units coming in and covering it their way," says Staeger. "We always wanted to build an internal production team in order to make sure we are delivering on the on the innovations that we aspire to."
Staeger speaks of some tight turnaround times, citing a 90-day period during which the team was assembled, and production partners signed up.
A key member of the production team is David Hill, former chairman of Fox Sports and a friend of golfer and LIV Golf chief executive Greg Norman, has taken on the role of production consultant. Staeger described Hill as a "legend in the sports production world who really built Fox Sports from the ground up".
Senior vice president of global production is James Watson, who has produced worldwide championships including the Australian Open Golf, Australian Open Tennis and ICC Cricket World Cups while  Steve Beim, a nine-time Emmy award winner serves as live event coverage director and executive producer. Creative director is Will Newell, a live event specialist who has delivered promotional and on-air assets for the Olympics and major sports leagues throughout the world.
Additionally, Clark Pierce is managing most of LIV Golf's vendors, which includes NEP. The outside broadcast firm is providing key production facilities, which in London consisted of fly packs and cubicles but will switch to a more of a traditional production truck setup for the Portland event and following stages in the US.
In terms of format, arguably the biggest difference to other tournaments is the use of a shotgun start, which involves all 48 players on the course at the same time teeing off from different holes. That means play concludes earlier than other tournaments, resulting in a more "compact" viewing schedule. "So instead of nine or 10 hours of coverage, it's four and a half or five," says Staeger.
With so much action taking place at the same time, the leaderboard pylon (pictured, below) is intended to provide some clarity for viewers, displaying strokes as well as information such as the number of holes left to play.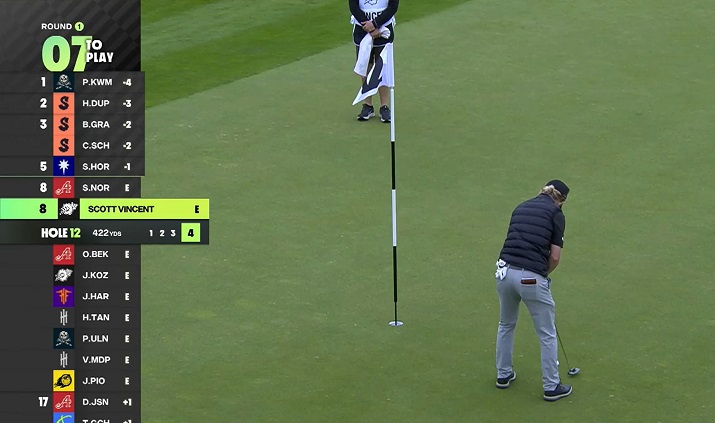 "The key storyline is where are we in this tournament as well as the season, and so counting the number of holes remaining to play becomes key. The leaderboard pylon has both the team and individual standings."  Champion Data has been tasked compiling, amalgamating, and delivering the data for the leaderboard and onscreen statistics.
"The way we approached things generally was to look at how the heritage events covered golf, and to bring up production commitment at that sort of level, from a camera standpoint, from an audio standpoint, from a graphic standpoint, from a personnel standpoint, and really follow best practices. The aim is to cover this sport at a faster pace, but still respect the core golf fan."
That meant for the London event the use of over 50 cameras 60 mics, 16 camera towers and two drones.
Staeger says the leaderboard is one of a dozen tools designed to keep viewers informed, with more to be deployed over the course of the season.
"The leaderboard pylon is is one of the first key elements in that equation. We also have a feature called 'Don't Blink'. We have taken one of the marketing slogans and turned it into a way of being honest and informative with the viewer. So that leaderboard pylon is live, and it's telling you within a fraction of a second what has happened around the course. So we are not going back, and rewinding shots that were that were captured with another camera on another hole and playing them as though they are live; we're always live.
"When we need to catch up and show other shots, we run a 'Don't Blink' segment. We have an ISO editing unit creating those replays and we'll show three or four key shots in a row. Our commentary team tells viewers that we're catching up, and we run that a few times every half an hour. So we're both following the current action, mostly around the leaders and then catching up on any big moves. It's not dissimilar to Formula One, where you're following the leaders around the track, but there might have been a pass back in twelfth place. We wanted to be honest with the viewer and say if it's not live."
In addition, a graphic to indicate the level of difficulty of the next three or four holes aims to help viewers understand whether a competitor is about to go on a run. "We've sampled it a couple times," says Staeger. "It's commentator driven, with a graphic on the lower third based on a scale of zero to five that lets you know the shot degree of difficulty as our announcers perceive it." The 'degree of difficulty' graphic was used in limited way during the first event in London but will be used across more holes, starting in Portland.
The way audio is captured and delivered is also likely to evolve as the tour progresses. "We will refine the way we are delivering access to the players and the caddies and experiment with some unique microphone placements that bring you closer to the action," says Staeger.
"With golf, there's an athleticism and a level of controlled violence when players are striking a ball and sending it 300 yards down the fairway, and we want to capture that and give the viewer the feeling that they are there. We will take lessons from other sports and have more natural sound in more places along the course, across the length of every hole, not just at the tee or on the green."
As the tournament progresses, Staeger says the level of access to players and caddies should also increase.
"We're both the league and the production unit, so there's not a separate network asking for coverage and that's important from a trust standpoint; we're all in this together and we have no interest in covering some flowery language that the players don't want broadcast any more than we do. They understand that, and we're all on brand.
"Added to that, the players are all in and and they're excited about the competition format and the coverage, and we all want it to succeed. So they've opened up not just during the competition, but also behind the scenes whether its on the way to the competition in the morning or in their homes…we feel pretty confident that at each event you'll see more inside access."
Looking further ahead, Staeger says an area he is keen to develop is the visual representation of a player's view to show the undulations of the green. "That's something that we think is a frontier that hasn't been hasn't been tapped and we have some plans for that this season.
"We launched with what was ready, and what we knew would work but over the course of the next seven events, you'll see you'll see a refinement; it won't be 180 degrees different, but you'll the addition of numerous features."
The second event in the LIV Golf Invitational Series takes place at Pumpkin Ridge in Portland, Oregon from 30 June to 2 July 2022.