Inside the game: Sky Sports at the PDC World Championships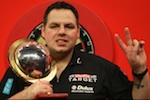 In terms of broadcast technology deployed per sporting square metre, perhaps only snooker rivals darts, as Sky Sports' recent coverage of the PDC Ladbrokes World Darts Championship at Alexandra Palace in London proves. Then again, when the BBC started broadcasting from the venue in the 1930s, those working for it probably never envisaged a 22 camera OB shoot for any sport, never mind one that takes place in such a small area.
"Given that there's one dartboard that you're focussing on, it adds up to a lot of equipment," explains Director, Andy Finn. "Add in the 3D and you're talking about a very large OB in excess of 160 people."
Darts, though, is increasingly big business in sporting terms. Adrian Lewis retained the PDC World Championship title with a convincing 7-3 win over Andy Hamilton for Sky Sports, while the BBC is currently broadcasting the rival event, the BDO World Championships. Sky used Arena to mount a 22 camera OB, with Telegenic bringing in additional equipment for the 3D coverage of the semis and final.
"We knew from the start we'd do a couple of days in 3D, so made our positions slightly bigger to accommodate that," says Finn. "We have to be careful not to compromise the 2D, the 3D, or the punter's view, so it's quite complicated and we spend a lot more time planning it and prepping it than we do doing it. But it pays dividends: the 2D and 3D shows both looked good but also looked different, and we didn't have any complaints from any punters either."
The normal camera compliment at Ally Pally, as the venue is colloquially known, was rounded out by some specialist gear including a Furio remote controlled dolly, a Hi-Motion running between 500fps (tight shots) and 1000fps fitted with a film lens, super-slos, radio hand-helds for the colourful crowd shots that are so much a part of darts coverage ("It's not like a snooker crowd where you occasionally hear an 'ooh' or an 'aah'.") and a range of robotic heads mounted in the camera truss suspended from the ceiling.
"We have to hang a lot of cameras off trussing, so we need to work out from an angle point of view where the trussing has to be hung from and make sure that doesn't interfere with the lighting," says Finn. "We also had to work around the other events. Instead of coming in three days before and rigging everything, we had to split the rig over a number of short days, which isn't ideal. The cable rig went in over a couple of days about three weeks before – everything got strung up in the roof and left. Then we added more and more bits in and eventually got in properly on the afternoon of the day before, which is when the final rig and scaffolding all got built."
Though the World Championships were done using separate 2D and 3D productions, Sky's next major darts outing – the start of the PDC Premier League in February – will be captured in both formats using a single truck operation. "That's fine as that spec works for both jobs," says Finn. "Where we use mirror rigs we take the right eye, as it's not going through the mirror and the left eye is inherently slightly softer, which you don't notice in 3D but you do in 2. On side-by-side rigs we'll use the left eye. So it's an amalgamation of the two."