Inside TopVision's Ü2 OB – the Bundesliga 3D truck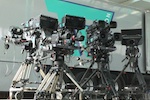 Since 2011, TopVision's Ü2 OB truck – a vehicle packed with the latest 3D and 3G enabled camera and video systems and a new AURUS-based audio control workspace – has been used to produce the top match of the German Bundesliga in 3D for Sky satellite TV and the IPTV platform LIGA Total.
To make the truck 3D capable, TopVision installed extensive new camera and video systems. These included a brand-new 3D enabled Sony MVS 7000X video mixer, eight HDC1500R cams and four P1 cams from Sony, seven 3ality Technica 3D rigs, six LMP1200HD mini cams with matching mini rigs and more. The audio control room was also completely revamped and enhanced with a large 40-fader AURUS digital mixing console. Before the renovation the vehicle was already home to a NEXUS audio network, which has now been expanded to a total of ten Base Devices including remote stage boxes for the sports commentators.
The AURUS system, based on the latest Stagetec technology, had to be delivered within just three weeks of the order. State-of-the-art features include EBU-R128-compliant loudness metering, a spectrum analyser and true-peak metering. TopVision is also the first Stagetec client to use the embedded version of RTW's TM9 audio monitor integrated seamlessly in an AURUS. At the touch of a button one of the AURUS' TFT screens can be switched between displaying the RTW meter and the AURUS display. Another AURUS TFT monitor is used as a switchable HD screen. In often cramped OB vehicles these display options enable optimum use of space.
Achim Jendges, founder and CEO of TopVision GmbH, says: "The long standing successful close cooperation between TopVision and Stagetec has paid off once again in this project. The Stagetec team knew exactly what we wanted and was able to provide all the customisations we required immediately."
TopVision is a long term user of Stagetec technology. Since 2000 its Ü4 truck has run with a CANTUS console; in 2006, an AURUS was installed in the Ü5; and a year later, the Ü2 was modernised with a NEXUS system used as an audio router and network. Now, with the renovation of the Ü2 completed in October 2011, in a record two-week period, TopVision have their first 3-D-enabled OB truck.