Intel streams one MLB game a week in virtual reality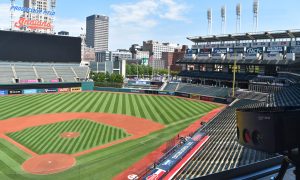 Fans have an opportunity to experience baseball in a whole new way: through a virtual-reality headset. Under a three-year agreement with MLB, beginning in June, Intel is streaming one weekly Tuesday-night game live in VR. Last week, Intel invited several journalists to Citi Field in Queens to watch the Mets fall to the Diamondbacks and to see how Intel is bringing unusual angles and a new level of personalisation to Major League Baseball.
To watch the VR streams, fans need a Samsung phone and a Gear VR headset and need to visit the Oculus app store to download the free Intel True VR app. The Tuesday-night games are free to view, although they're streamed on delay in the local markets. (Games are also supposed to be available for on-demand postgame viewing, although the Mets-Diamondbacks game was always listed as 'Coming Soon' in our testing, a situation that Intel PR was unable to explain.)
Intel's VR experience starts with the camera placement at the park. The company sets up three VR cameras capable of 180-degree recording around the bases. At the Mets game, Intel was able to put one low behind home plate for an unusual view of the action. The others were at first and third. Viewers could watch any of the cameras, but most likely chose a fourth option called VR Cast, a lean-back experience that offers commentary and producer-controlled camera changes.
Intel started experimenting with sports last year, creating 360-degree video replays at MLB All-Star Week and NBA All-Star Weekend. But it needed better equipment to deliver better results, so, in November 2016, Intel Capital, the venture arm of the company, acquired VR startup Voke.
"Intel and Intel Capital have a 30-year history of finding the best and brightest technologies out there, and we scoured the world for the best VR partner," says Howard Wright, appointed VP, business development, Intel. "We look for defensible IP, we look for scalability, and we look for somebody that could actually transition and pull this stream into any flat 2D device, not just a head-mounted display. Head-mounted display is a wonderful, cool niche in our business. but the idea is to bring this to any flat screen that exists."
That scouring led to Intel's acquisition of VR startup Voke, and now Voke's VR cameras are rebranded as Intel True VR. That's what the company uses for its Tuesday-night games. Wright hopes to see them made smaller and smaller, until they're the size of a grapefruit. Getting them that size would let Intel put dozens around a stadium without obstructing any views or getting in the players' way. This is a year of experimentation for Intel, learning what angles work best and soliciting feedback from the teams, the league, and especially the viewers.
The recorded video is piped to Intel's mobile VR command center, a van and trailer parked behind the stadium. A team of eight or so produce the feed. Two play-by-play announcers sit in the trailer and call the action, a more challenging task than for broadcast since there are no commercials. They add produced segments to some between-inning breaks. Producers select angles for VR Cast, while others constantly feather the multiple VR images together for a seamless view, a necessity given to changing light conditions as daylight turns to dusk.
Moving from town to town working in different stadiums, Intel's team has learned how to create a rich experience for fans.
"We've learned that each stadium, especially for baseball, gives us a greater appreciation for the beauty of the sport and provokes us to have a higher IQ as to how we build immersive experiences in the years to come," Wright says. "This is just the tip of the tip of the iceberg; being able to walk on these fields and see this immaculate canvas gives us an idea of how we want to spend our R&D dollars towards the betterment of MLB and all the partners we have all around the world."
For its part, MLB gains a way to appeal to millennials, crucial for a sport whose average audience is aging. The league has been aggressive in appealing to younger fans, Wright says. And Intel knows it has to act like a nimble startup to appeal to young people raised on on-demand video.
"The focus for us is not just shoving the linear feed into a head-mounted display," he explains. "It's to bring you into the life of one of the players or one of the fans and give you the ability to jump around the stadium just a little bit."