Ion Solutions partners with Absen and Vizrt for RTÉ News Studio 3 upgrade
Irish-owned Ion Solutions, a specialist provider of audio-visual solutions to companies nationwide and across the world, has designed and installed state-of-the-art technology in the RTÉ News studio.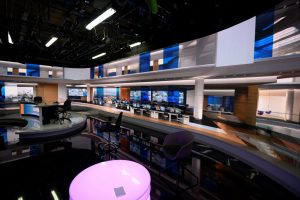 RTÉ is Ireland's national public service broadcaster, and its main news studio is home to the Six One News, Nine O'Clock News, One O'Clock News, News with Signing, news2day for young people, The Week in Politics, Leaders Questions, Breaking News Specials, Budget coverage, Referendum results coverage, and other special events live programme coverage such as national commemorations. Studio 3 is the busiest television studio in Ireland, broadcasting over 1,700 news bulletins and programmes each year.
The new upgrade includes a 24m x 3m video wall, which spans three sides of the studio and utilises Absen LED technology, Sony HDC-P1 HD camera systems and a Viz MultiPlay videowall controller, all supplied and installed by Ion Solutions. Other features include a new set design and additional presentation areas, meaning content is delivered in a more visually engaging manner which leads to a more enjoyable experience for viewers.
Ion Solutions' in-house technical team designed the unique bracket system which allows the video wall to be installed very close to the studio walls. Compared to a standard bracket system, this bespoke design increased space on the studio floor by 30 square metres.
RTÉ project manager Myles Donoghue said: "Ion Solutions were definitely the right choice for us when we chose to refurbish the studio. Their design team were able to come up with innovative, fresh solutions to the challenges we faced. From concept to design and implementation, the team at Ion Solutions leave nothing to chance and it's their commitment to achieving the best possible results for everyone involved that makes them the standout choice as our technical partner for the LED Wall in the studio."
Kevin Moore, director of Ion Solutions, said: "We're delighted that RTÉ News chose Ion Solutions to work on the upgrade of its flagship Studio 3 project. A lot of time and work has been put into this project, and we are happy that we were able to successfully meet RTÉ News' requirements.
"This project is the only refurbishment of the busy RTÉ News studio in the last ten years, and we're proud to have designed and delivered sophisticated solutions which enhance RTÉ's storytelling capabilities as it reports on Ireland and the wider world."
Alex Micallef, General Manager, Vizrt UK & Ireland, said: "Vizrt was delighted to work with our partner, Ion Solutions, on the LED wall control system for this RTÉ Studio project. The importance of storytelling has never been greater and Vizrt empowers storytellers with powerful, intuitive tools that educate and engage audiences — tools that allow RTÉ to bring clarity, balance and understanding."
Ion Solutions is a leader in the design, supply, installation and integration of audio-visual display systems, broadcast television systems, digital video production systems and computer graphics systems, as well as digital signage and wayfinding solutions. The company was formed in early 2018 when sister companies Eurotek Ireland and Avtek Solutions amalgamated to operate under a single name.
The company has worked on contracts for a range of clients across a variety of sectors including broadcast, retail, healthcare, hospitality and educational facilities as well as corporate venues. Clients include the likes of Ireland West Airport, TG4, Convention Centre Dublin, Kerry Group, Croke Park Dublin and the SSE Arena Belfast, as well as multiple projects with Virgin Media Group.
The Ion Solutions team includes specialists in IT networking, video engineering, design, integration and sales. The company is 100% Irish owned, headquartered in Sandyford, Dublin and has grown to employ over 70 people.