ISE 2019 review: Audio vendors in creative mood as AV networking takes another step forward
The latest edition of the Integrated Systems Europe (ISE) show in Amsterdam (5 to 8 February 2019) witnessed a strong creative showing by many of SVG Europe's audio sponsor companies.
Once again, there was no doubting the centrality of ISE to the annual industry calendar, with post-show figures revealing the total number of registered visitors to be 81,268 – a record for this event. Of these, 32% were attending ISE for the first time with Wednesday witnessing the largest ever one-day attendance figure for any show at the RAI.
The general mood at the show was one of creative ebullience, and coupled with the consistently strong attendance the omens are already looking good for ISE 2020 in Amsterdam – and, beyond that, the move to Barcelona for the 2021 show.
Back to the current event, though, and many of SVG Europe's audio sponsors brought new products to ISE 2019. Riedel showcased its Bolero Standalone Application, which is a license-enabled upgrade for the Bolero wireless intercom system that delivers several performance enhancements as well as standalone capabilities.
Features include the ability to daisy-chain antennas to each other in a line or a redundant ring via a low latency, synchronised TDM network; individual rotary programming; Bluetooth headset support; and a beltpack QuickMute feature that means users can set the volume of all channels to zero.
Lawo opted to focus on its latest native IP signal processing, control and monitoring solutions, namely the V_matrix software-defined IP-routing processing & multiviewing platform, the Power Core Audio Engine, SMART system monitoring and Realtime Telemetry for IP networks, the VisTool GUI builder and the VSM independent control system.
Specific products on show included the Lawo Power Core – a networked 19"/1RU audio processing unit providing 96 fully equipped DSP channels, 80 summing busses and a 1,920 x 1,920 routing matrix – as well as the smartDASH system monitoring and realtime telemetry software and the smartSCOPE deep packet inspection & network analyser, which offers a 'high density 24/7 analysis platform' for IP flows in live production and delivery.
Another company whose products are very familiar from broadcast centres and OB trucks the world over is Genelec, which showcased the new SPL S360 smart active loudspeaker to the installed audio market for the first time at ISE 2019. Features include a 10"high-efficiency woofer and 1.7" titanium diaphragm compression tweeter, with a 1" throat opening to an extended directivity control waveguide – yielding Genelec's characteristic neutral reproduction and a short-term SPL capability of 118 dB.
The new product is also integrated with Genelec Loudspeaker Manager (GLM) software, allowing integrators to configure, auto-calibrate, supervise and control every unit in installations of any size.
Genelec AV business manager Sami Makinen said: "While we originally conceived the S360 as a high-performance loudspeaker for music, film and post, it quickly became apparent that there was also demand from the installed audio market for a compact Genelec loudspeaker that could deliver high acoustic power. With its long throw and studio-quality clarity, we are convinced that the S360 will find a home in many fixed installations that require both power and precision."
Among the key attractions from Clear-Com was the new V-Series Iris Panels, which provide users of
the Eclipse HX intercom with low latency Audio over IP (AoIP) using the AES67 interoperability standard. With Iris, users can monitor and send communications over three concurrent AES67-compliant uncompressed audio IP streams, enabling systems to deliver uncompressed audio from intercom user to user with significantly reduced latency. And when connected to Clear-Com's E-IPA card – which is natively AES67-compliant – it is possible to deploy up to 64 Iris panels per card.
The Iris panels are likely to resonate particularly with production teams who have fully converted to IP-based communications for video and audio, with Clear-Com senior product manager Stephen Sandford remarking that "as the adoption of IT-centric communication continues, Clear-Com's extensive IP intercom range ensures that the widest range of communication requirements can be met. The addition of the V-Series Iris panel makes the Eclipse HX line-up even more accommodating and flexible for customers' varying needs."
Networking nirvana
With more than 350 manufacturers having licensed the technology, and more than 1600-enabled audio products on the market, Audinate's Dante is undoubtedly the fastest growing media networking technology of its generation. From an initial focus on the built environment, Dante has increasingly become attractive to users in live and broadcast too – which means its announcement at ISE 2019 that is adding video to Dante with the Dante AV module was arguably one of the most significant of the entire show.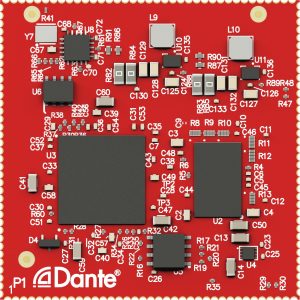 The new module – which is due to begin shipping later this year – supports one video channel and eight bi-directional channels of uncompressed Dante audio, and offers complete interoperability with the Dante-audio products already on the market. Together with the Dante AV Product Design Suite – which facilitates a complete AV over IP endpoint design – it will be possible for manufacturers to bring integrated audio and video products to market.
But the networking story of ISE 2019 was by no means written only by Dante and AES67, with the show also witnessing a notable increase in profile for Audio Video Bridging (AVB). The need to acquire new switching infrastructures to implement AVB – as opposed to utilising the existing ones possible with an IP-based approach – had been regarded by many observers as a sizeable obstacle to mass adoption. But with more, cheaper switches now available, the outlook for the new, open standard, AVB-based Milan protocol looks decidedly upbeat.
Instigated and developed by some key members of the AVB-promoting AVnu Alliance, Milan builds upon AVB with interoperability at the application layer. It is intended to streamline implementation for manufacturers with defined device requirements to enable 'fool-proof' interoperability via certification.
And with indications that there will soon be a steady stream of compliant product launches, ISE 2019 witnessed the first few confirmed Milan products in the form of d&B audiotechnik's DS20 audio network bridge and Adamson's CS7p loudspeaker.
Welcome return
Finally, the outlook for Harman Professional following its acquisition by Samsung in November 2016 hasn't always seemed particularly clear, with a lower media profile and a slowing of new product launches. But now David Glaubke, director of global communications, confirms a conclusion to the multi-year restructuring that began before the Samsung buyout, with the changes yielding the formation of three centres of competence: Aarhus in Denmark for lighting; Richardson, Texas for DSP, software and electronics; and Northridge in California for acoustics.
Glaubke says that Harman continues to operate as a separate company, although the association with Samsung does mean a boost to the availability of engineering expertise. Indeed, the number of new product launches has already picked up, with many Harman brands showing new items at ISE 2019.
All in all, it was a very positive edition of the show that means many audio companies will already be thinking ahead to next year's edition – and the last to take place at the RAI – on 11-14 February 2020.