ISE 2020 Preview: Exhibitors emphasise versatility as production needs evolve
Running from 11 to 14 February, ISE 2020 will be the final edition of the show to take place at its long-term home of the Amsterdam RAI. Having become the world's leading pro AV show – and recorded the largest-ever single-day attendance at the RAI in 2019 – ISE will move to the Gran Via, part of the Fira de Barcelona, from 2021.
A first-look at the new products geared towards broadcast production and content creation that are set to be exhibited at ISE 2020 indicates a growing willingness by vendors to address a greater diversity of production sizes and types, as well as support the more cost-efficient experience of immersive content in the home.
The advent of intercom systems that can be more easily scaled up or down to complement different productions has been a particular trend at recent shows – and ISE 2020 is no exception. For example, Clear-Com will be showcasing a new addition to its FreeSpeak family of digital wireless solutions, FreeSpeak Edge, that operates in the 5GHz band and delivers 12kHz audio quality with low latency.
Enabling advanced RF performance in high multi-path environments, FreeSpeak Edge can be scaled to accommodate the largest productions and may be combined with FreeSpeak II 1.9GHz and 2.4GHz systems – furnishing three bands across a single unified intercom system.
Clear-Com is also acknowledging the continued multiplicity of approaches to audio over IP by underlining its support for standards including Dante, AES67 and SMPTE 2110-30. Specific products on show in this area include the LQ IP interfaces – which have resonated with applications including e-sports – and Encore RS-801 beltpacks.
Clear-Com VP of sales Chris Willis indicates that communications requirements are increasingly shared across different markets. Hence at ISE, "in previous years we've met people from theme parks, e-sports, rocket laboratories, crane barges and more. Reliable communications are a universal challenge and because of our long history and accumulated expertise, we offer the broadest range of solutions for the widest variety of applications."
Riedel Communications will also be showcasing its latest wireless intercom developments, including a new standalone network mode for its Bolero system. The Bolero Standalone 2110 (AES67) standalone mode allows users to establish IP-based Bolero networks without connection to an Artist matrix. Other developments include the new Artist-1024 node for the Artist ecosystem, which provides higher port densities and full SMPTE 2110-30/31 (AES67) compliance.
Meanwhile, Stage Tec will showcase new developments revolving arounds NEXUS audio networking technology. Originally devised exclusively for networking using a proprietary fibre optic cable protocol, NEXUS can now also communicate with remote single or multiple base devices based on IP, allowing bidirectional AES67 streams to be set-up in which audio and control data are transmitted together. The feature is implemented with the NEXUS XFIP and RIF67 interfaces, both of which have been equipped with the DirectOut AES67.IO module. With an XFIP or RIF67 interface, a network of up to eight NEXUS Base Devices can be established.
Genelec is showcasing two Smart IP loudspeaker models at the ISE show. The 4420 and 4430 loudspeakers combine both high sound quality with single cable convenience, and their onboard Smart IP technology provides scalable power, audio and loudspeaker configuration, supervision and calibration features via a standard CAT cable.
Smart IP therefore offers system designers, integrators and installers an easy and cost-effective solution for guaranteeing enjoyable, high-quality audio across entire installations. Having been unveiled before a select audience of specially invited Nordic integrators in Helsinki in December, the 4430 will be making its ISE debut alongside its new and even more compact 4420 sibling – with more Smart IP models expected to be added to the family in the future.
The 4420 and 4430 are compatible with both Dante and open IP standards including AES67 and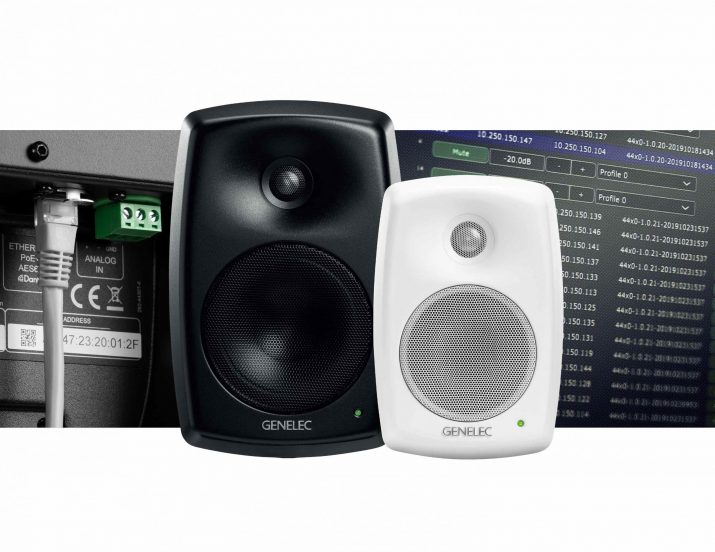 ST2110-30, and derive power via PoE and PoE+ Power-over-Ethernet formats. Both models feature a single rear panel CAT connector which also allows access to Genelec's Smart IP Manager — a software tool that allows installers to configure an almost unlimited number of rooms, zones, loudspeakers and audio channels, and includes device discovery, a versatile room equalisation tool set, system organisation and status monitoring.
disguise will be showcasing how its solutions bring what the company believes is a unique offering to production teams in esports, allowing them to make use of content that responds to gameplay and integrates with other systems. On-booth demos will show how the platform is being used to create engaging experiences for both online and live audiences, with recent applications in live tournaments and studio installs around the world including PUBG Global Invitational, FACEIT Major and Gfinity Studio projects in the UK and Australia.
At home and in the workplace
Bridging the gap between the experience of immersive audio in the broadcast centre or OB van, and that which is achievable in the home and workplace, has been another hub of R&D activity in recent years. Cognisant that many users will not have the space or finances to go the full multi-channel speaker route, soundbars that can offer a more all-enveloping audio experience have become increasingly popular.
MSE Audio is among the companies bringing new soundbars to ISE 2020, with its latest launches including the SoundTube STNet soundbar that utilises IP-based audio based around Audinate's Dante media networking technology. An ultra-thin 2-way digital end-point solution in a soundbar configuration, STNet measures only 1.5 inches thick where the bar meets the TV. It incorporates a right and left speaker with four 3-inch ultra-long throw polypropylene woofers with NBR surrounds, four bass radiators, and two 0.75-inch synthetic soft dome tweeters.
"Making the soundbar interoperable with other Dante products gives integrators additional flexibility when designing and installing audio systems," says MSE Audio VP Ken Hecht, who pinpoints conferencing and corporate AV as being among the suitable applications for STNet Soundbar.
Greater synergies between the expectations of different sectors are also apparent in solutions for video delivery. For instance, at ISE 2020, DELTACAST is highlighting its full portfolio of video capture and playout solutions for developers, underlining its focus on providing "the building blocks" needed for adding video connectivity to pro AV products.
Specific items on show at ISE 2020 will include the DELTA-12G1c-hmi10-elp multi-format interface card with one HDMI input supporting up to 4K60, as well as four SDI channels that can be used in output and output, and that individually support formats up to 1080p60 (3G-SDI) or can be combined to support up to 4K60 as either 1x12G-SDI or 4x3G-SDI. The card – which is said to be especially suited to compact, low latency and "low-density to medium-density" applications – joins a range of cards providing connectivity in numerous formats such as SDI, HDMI, DVI and DisplayPort.
Also new is what DELTACAST describes as a 'disruptive solution', FLEX, which consists of taking the video interfaces outside of the computer chassis to avoid limitations due to PC dimensions and mechanical constraints. As a result, the modular FLEX solutions can handle up to 32 AV channels while consuming a single PCIe slot in the server. To achieve that the FLEX solution is based on a gateway card and external modules either used as independent floating devices or integrated within a 1U external rack.
NewTek has also been addressing the demand for broadcast-quality video across pro AV markets, and at ISE 2020 will exhibit a number of its latest solutions "designed to allow anyone with or without any specialised expertise in AV technology to plug in and present professionally." With an overarching emphasis on alllowing the easier creation and sharing of content around the world, NewTek products using the company's NDI IP-based technology at the show will include the NewTek VMC1, 44-input digital media production system; the TriCaster TC1 16-input production systems; the TriCaster Mini production system, now offering 4K support in its 8-input form factor; TalkShow VS 4000 multi-channel video calling system, which can simultaneously connect users with up to four remote guests; and MediaDS, which provides a real-time media encoding and live streaming video delivery platform.
Mobile Viewpoint will be making its debut at ISE 2020. The company will be showcasing a range of live streaming solutions at the show, including its artificial intelligence (AI) enhanced VPilot and IQ Sports Producer products that can be utilised by a range of corporate, TV production or public safety organisations.
By using 3G, 4G, and increasingly 5G networks, along with Wi-Fi, ethernet and satellite connections, Mobile Viewpoint allows companies to create and publish live video with reduced latency from anywhere at the touch of a button. These solutions can be managed centrally using LinkMatrix, a control and management centre which simplifies the remote monitoring of video feeds.
Video is increasingly enabling organisations to achieve what was previously cost-prohibitive. These organisations range from small sports clubs to universities, corporates to law enforcement, security firms to public sector bodies and more.
The relocation of the ISE show to Barcelona for 2021 will be marked with a special event at the RAI on 14 February, ¡Hola Barcelona!, that will reflect on the show's development over the years while also looking forward to the next chapter of its story in Barcelona. The event is open to all and more details can be found here: https://www.iseurope.org/show-event/hola-barcelona-event/