iStreamPlanet, Haivision join forces on Olympic streaming platform
London 2012 Olympics Games rights holders looking to stream content out to viewers via the Web and mobile devices will rely heavily on iStreamPlanet and Haivision and Go-Live, a new platform developed by the two companies that eases the burden of multiple stream ingest and multiple format output.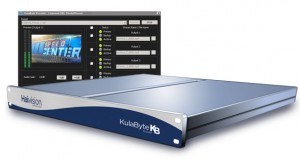 iStreamPlanet's London-based Broadcast Operations Center will power the live Internet video workflow using Haivision's encoding technology and multistream player environment, which provides the ability to stream up to 24 live events simultaneously for all 18 days of the Games.
"There are only so many linear channels and this is a new era in large sport events," says Khurram Siddiqui, vice president and general manager Europe of iStreamPlanet. "The advent of streaming allows for every sport to be served up simultaneously and viewers can watch them when they please."
Siddiqui says iStream Planet brings in the HD feeds from the EBU via satellite downlink.
"The signals are then routed and encoded using the Haivision Kulabyte system that can provide a premium HD experience and then push the content out to the secure Akamai HD delivery network," he says.
The challenge for iStreamPlanet is maintaining a quality viewing experience, regardless of the amount of traffic. "We use adaptive bit rate technology to circumnavigate buffering," says Siddiqui. "It allows us to serve up a picture whether the bandwidth is high or low. It will just drop down to the lower bit rate."
Haivision's KulaByte Internet encoding system encodes each HD feed to very high-quality HTTP Live Streaming (HLS) and Dynamic Flash adaptive bit rate (ABR) streams.
"KulaByte can handle the 12 primary feeds via 30 connected servers that work together and are provisioned with redundancy and failover," says Peter Maag, Haivision, chief marketing officer. "It's complex encoding power that is software based and can be deployed very quickly."
Caribbean sports channel SportsMax is one of the RHBs that will be using the Go-Live package to provide its viewers with Internet access to the London 2012 Olympic Games. "We're happy to showcase our region's athletes, who no doubt will represent the Caribbean well at the London 2012 Olympic Games," says Oliver McIntosh, SportsMax president and CEO. "We would like to guarantee that wherever our viewers are, they are able to access the Games at no cost."
Siddiqui adds that the 2012 Games signal the cusp of a transition for sports fans.
"In Beijing there was hardly any streaming and then for the Vancouver games there were 24 feeds available," he says. "But London is the first fully IP games and there is a transition phase for the Internet and connected TVs. The next games we expect to see many more connected TVs and content like this will be much more interactive and intuitive.
"We're just scratching the surface of functionality and in terms of monetization the content owner will have an infinite level of granularity and understanding of consumer behaviour."