Italy's ARET upgrades RAI studios and OB vans with Lawo video processors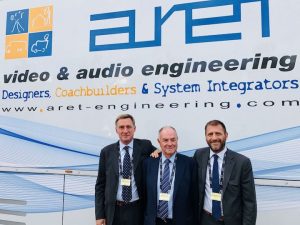 Italian public broadcaster RAI has invested in 37 Lawo V__pro8 8 Channel Video Processing Toolkits. Recently delivered to the broadcaster, the new Lawo equipment will be employed in a nationwide technical upgrade and renovation of studios and OB vans located all over Italy.
System integrators and Lawo partner ARET Video and Audio Engineering, headquartered in Milan, won the tender after participating in a test procedure which assessed prominent brands' ability to process video in broadcast environments.
Alessandro Asti, ARET's VP of Sales, comments: "The unique features and flexibility of V__pro8 – its ability to synchronize, convert, embed / de-embed and apply delay to both audio and video, as well as monitoring eight inputs at once – received the maximum technical marks in the tender. Thanks to the outstanding performance of the V__Pro8, it is the perfect tool for signal monitoring in RAI's studios and OB vans."
The RAI project is the latest in a number of joint projects between ARET and Lawo.  Another notable project, from 2017, was the outfitting of Italian production company NVP's OB4 OB Van. The heart of OB 4's audio systems is a pair of Lawo mc²56 production consoles, a Nova router and DALLIS interfaces. The complete OB Van is controlled using Lawo's VSM (Virtual Studio Manager) system; Lawo's V__pro8 eight-channel video processing units give producers control of the complete broadcast production workflow using just 1 RU of rack space. Together, these Lawo systems deliver the versatility required for multiformat operation on Europe's most challenging productions.