Italy's NVP launches multifunctional new OB truck for sports and more
Established in 1992, NVP is well-known in the field of broadcast production. Specialising in the production of live events, the Messina, Sicily-based company has been widely acclaimed for its professionalism, creativity and technological innovation.
Natalino Pintabona, founder and partner, comments: "We have had a passion for sports events, concerts, television programmes, news, documentaries, the movie-making industry and live events in general, for over 10 years. Among our main company [advantages] are customer care, design expertise, and constant technological updating.
"We have always followed the needs of a changing and more and more complex market. So, once again following in the path of innovation, we recently decided to invest in a new 4K OB truck to complement our fleet. We [are] a forward-looking broadcast production service company and, [given that we are] being called upon to operate for some of the largest and most demanding media organisations all around the world, we decided it was time to invest further – even in a period of uncertainties."
The result of these deliberations is a 14-metre flagship OB truck that has been devised "to satisfy all the demands of a constantly evolving market. [In fact] it is a model of technical and operational efficiency, since it can produce two separate events at the same time."
The driving idea is the need to produce in several media formats, including simultaneously. Hence this new truck is capable of shooting, post producing and delivering HD, UHD, SDR, HDR formats, contemporaneously.
Another keyword is the complete respect of the actual budget, which is more and more constrained in the contemporary broadcast landscape.
SI requirements
Francesco Struzzi of Video Progetti, the Italian systems integrator who built this vehicle, officially declared: "A systems integrator has to keep several concepts in mind in order to deliver solid, functional and cost-effective OB vans. Following the proliferation of numerous video formats, and delivery platforms, media content rights owners require several video distribution formats of the same event, which can be produced for multiple customers and delivered over several platforms to different regions. In such a complex market, producing multiple high quality contents in a cost-effective way allows OB production services to satisfy multiple customers and optimise OPEX and CAPEX investments."
The latest OB vehicle by NVP had to satisfy several requests: it had to be able to produce in several formats (HD-SDR, HD-HDR and UHD-HDR) and deliver media by two broadcasters over satellite, DTT and OTT. It also had to be capable of leveraging the latest technologies, such as IP, as well as take account of possible forthcoming innovations.
Delivering a facility that is fully futureproofed takes time and care, and in this case the pre-production engineering and preparation phase lasted six months. In a sense, this new 14-metre OB van could be a reference for future such vehicles since it can already produce two separate events at the same time and in multiple video formats, and can be extremely useful in productions all around the world.
And just a few months on from its official launch, the vehicle has already faced some of the most challenging TV productions in the world.
Robust and reliable
In order for it to be a futureproof creation, this new vehicle also had to be robust and reliable – so the whole range of activities and facilities are completely redundant. The 14-metre, 60 sqm, 38-tonne vehicle has two extensions on the right side and one on the left side and several access points to be able to handle any possible emergency. All service communications are enabled with the MADI protocol and ClearCom technology, while onboard two separate galleries are fed with independent inputs. The area is divided into eight distinct production zones: video gallery 1, audio gallery 1, replay 1, tech management 1, video gallery 2, audio gallery 2, graphics/replay 2, engineering and camera control area.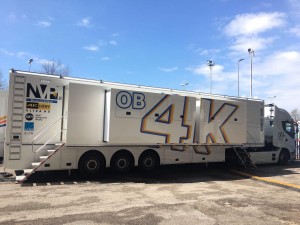 Air conditioning is double and redundant with four discrete systems, while the UPS is also redundant and modular. All production equipment is connected to two discrete power supply systems and double power controllers. The video mixer and central router are redundant. The whole onboard tech systems are controlled via redundant VSM systems which can be bypassed for manual single unit control via each panel/software on the spot.
All production resources are switchable and dynamically assignable to the eight production areas onboard. Each production area may deliver in each possible format; production formats are increasingly from SD to UHD-2 with HDR simulcast and SDR/HDR. Onboard, the SAM mixer and main central router allow traditional or IP production, just by switching the rear connectors. As a result of it being an IP-ready vehicle, through 10G remote operations audio, video, intercom, and data can be shared by several remote venues and per production and monitoring. All such remote spots are fed by a redundant 10GB IP network.
The switching infrastructure revolves around the SAM Kahuna 9600, 120 in, 64 out, 6 ME boards (=24 ME), 3 Pannelli (1x ME, 2x ME, 3xME). Other core equipment includes: SAM Sirius 840 (hybrid) 576×576 + 140 out (MW); five Grass Valley Kaleido MX 48×4 Multiviewers; TV Logic monitors; ClearCom Eclipse Omega advanced digital matrix intercom systems; Lawo mc256 mixer; and various EVS systems.
The mechanical part boasts a frame with maximum weight up to 39,000 kg; the bodywork is made of a stainless steel sandwich with fiberglass and polystyrene. All hydraulic movements have manual control, while the central counters are also hydraulic.
The whole project was devised and designed with the help of tech manager Ing. Ivan Pintabona Since its introduction in March 2017, the vehicle has used for dozen of major events, including a short track sports tournament in Turin, the Champions League, Europa League, G7 meeting in Taormina, the Golden Gala in Rome, and more.