ITV calls Wembley home for FA Cup, Champions League Final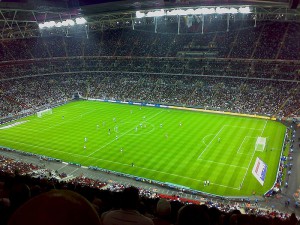 ITV's hard work for the FA Cup Final this past weekend at Wembley Stadium is being followed up with an encore at Wembley Stadium in two weeks as it plays the role of host broadcaster for the Champions League final between Bayern and Dortmund.
"Even though audience-wise the FA Cup Final and Champions League Final are not that far off, the Champions League Final is 500 per cent more difficult to host because you have a lot more facilities," says Roger Pearce, ITV,  technical director, sport. "We have two weeks to put this show together and it is as difficult as it is as there is a new press conference facility that needs to be put in place and much bigger mixed zone facilities."
The most challenging part of having a final with as much international interest as the Champions League in Wembley Stadium is that the main compound is not large enough to accommodate all of the cabins and OB units required. So while the host compound is tucked nicely within the stadium the 11 other broadcasters will be located in the green parking lot. That requires a massive fibre infrastructure to be put in place so the two locations are connected not only to each other but also to the eight pitch-view studios that are being installed inside the stadium.
"The cabling started [on Monday] and the porta-cabins go into Green Park [where the unilateral broadcasters will be located] tomorrow," says Pearce. "And by next Tuesday we will have the compound ready to go as Fox Sports US and the 24-hour sports broadcasters want to be up and running then."
NEP Visions Gemini will be at the centre of the production of the host feed and there will be a bit of OB juggling going on between now and the Champions League Final. Arena Television handled the FA Cup Final for ITV and the host feed while SIS LIVE handled ESPN's unilateral coverage while this weekend NEP Visions will move into Wembley as OB provider for BSkyB coverage this weekend of the nPower League 2 and League 1 playoffs. Then Visions Gemini is rolled into place after the League 1 final on Sunday afternoon for the Champions League Final along with OB units from Telegenic (for 3D coverage) and Arena for ITV's unilateral feed. Then following that match on 25 May Visions stays on hand for the 27 May Championship Play-off Final before Arena returns for a friendly match between England and the Republic of Ireland on 29 May.
ITV will be working closely with a number of vendors in the next two weeks on a production that will include 35 cameras for a 2D production and 12 for a 3D show. Those vendors include Telegenic for the 3D production, Presteigne Charter for RF camera needs, Fletcher for UltraMotion cameras, ACS for the PoleCam and SmartCam cameras behind the goals, and SpiderCam, the provider of the cable camera system overhead. Sound Credit will also be on hand installing more than 100 commentary positions and Arena Television will provide aerial shots from a helicopter. And last but not least, Film and TV will be on hand for power needs while EBU will handle international distribution feeds.
"The last time we hosted the Champions League Final was 2004 in Manchester and it has doubled in size since then," says Pearce.