ITV teams with Monterosa for new horse racing app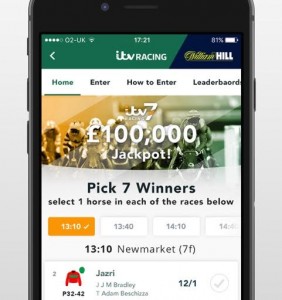 ITV has once again selected digital fan interaction company Monterosa to create a bespoke fan interaction product. On this occasion it is an app to accompany their horse racing coverage, for which the channel has taken over the exclusive UK terrestrial broadcast rights.
The app forms part of ITV's commitment to bring racing to a wider audience and features interactive and exclusive content, video clips, racecards and results, and the ITV7 competition, which allows viewers to pick seven winning horses for the chance to win a grand prize of up to £100,000. The app and competition are free to download and enter to all UK residents aged 18 and over.
Having recently delivered the hugely successful I'm a Celebrity fan interaction app for ITV, Monterosa leads the way in companion products to accompany television programming and sports events powered by its fan interaction platform LViS.
Sheena, Peirse, Online Editorial Director, ITV Digital Studios: "We're very pleased to be working with Monterosa again on this exciting new product. Horse racing is a major priority for us and we see the app as a crucial way to reach new and existing fans of the sport and launch the ITV7 competition."
Ben Barker, Director of Sport, Monterosa: "With horse racing returning to ITV for the first time in 31 years we wanted to ensure that the app allowed ITV to engage both core racing punters, but also the wider ITV audience. The app powered by the Monterosa LViS platform is well-suited to deliver the huge scale that ITV will see for the main festivals of the racing calendar, whilst also delivering multiple capabilities during the course of the year."
The ITV Racing app is available to download now from the App Store.