Japan and back again: Claudia Corbisiero on her passion for creative directing and producing
A passion for creative directing and producing in sports broadcasting has led Claudia Corbisiero around the world and back many times. As a producer at Noah Media Group, an independent production company specialising in high end sports content, most recently she was in Japan at the Rugby World Cup, and Corbisiero is now gearing up to get back to Tokyo for the Olympics next year, working directly with Olympic Broadcasting Services (OBS), the Host Broadcaster of the Games.
Sport has always played a big role in Corbisiero's life. She explains: "I'm a big sports fan and always have been. I think sport showcases some of the rawest emotions humans feel; passion, patriotism, sacrifice, elation, devastation. Sport is the ultimate story of human endeavour and plays out in a concentrated period of time that's often really well documented, which is great for storytelling."
Yet she adds: "I didn't necessarily set out to go this far in sports broadcast, but I've loved my journey and where I am now. I really love the fact that you get to be so hands on with so many levels of the production. You come up with an idea and often execute it yourself, from development to post production. It's an amazing feeling."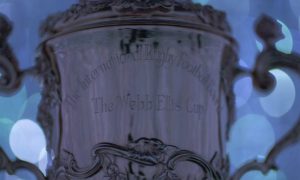 Japan and back again
At the 2019 Rugby World Cup Corbisiero was tasked by IGBS, the Host Broadcaster, with creating a 50 minute short documentary review of the tournament, telling the most emotive stories she could find.
That meant, "finding and filming interesting people, places and players, utilising both the additional content crews travelling around for the tournament, a camera operator in Tokyo and my own camera, and then working with an editor to put these stories together".
To tie this in with Japanese culture Corbisiero linked some distinctive Japanese cultural traits with traditional rugby values, like respect, bravery, and unity, and used these to punctuate the film. "I found a performance artist who created giant Kanji characters of these and filmed her painting our seven Japanese values and used these as a theme," she continues. "Alongside this, I also produced 10 creative promos, filming with Taiko drummers, manga artists and at light museums and tea houses around Tokyo. It was an incredible experience; I fell in love with Japanese culture. It's an amazing blend of tradition and innovation and so visually rich, which is wonderful to capture on camera.
"It was quite a tough eight weeks with a tight delivery time, but overall I absolutely loved my time there and the content I created, which was picked up by broadcasters all over the world," she notes.
Tokyo 2020 is the next feature on Corbisiero's horizon. She says: "The project I am working on now is for Tokyo 2020, creating Sport Guides for OBS which essentially break down each Olympic sport for viewers. We decided to use 3D animation for these and set them in a futuristic Tokyo world, with the athletes represented by holograms performing their sport on rooftops against a neon backdrop.
"To achieve this I directed a motion capture stage at Pinewood Studios, filming with about 50 athletes over a six week period to get the data needed for the animation," explains Corbisiero. "This project has also meant managing a team of researchers, editors and graphic designers who are working tirelessly to get this project delivered for March."
She adds: "Whilst working on this project, I also produced and directed a campaign for UEFA Euro 2020 to announce their Mascot, creating four promotional videos for their marketing department. Additionally I travelled to Canada in July for a series we are creating for the IPC that follows young aspiring Paralympians."
At the Olympics itself Corbisiero is again going to be working on promos. She says: "Next year I will be working on a promos team with OBS at the Olympics, producing creative content around the tournament. This means coming up with interesting ideas to film and intertwine with the best sports footage from the event. The Olympics is always an incredible event as it really does bring the world together for a few weeks. I also cannot wait to get back to Japan!"
Fortunate series of events
On how she got into her first job, a series of events led to her becoming a runner for the multi-sports team at Sky Sports. Corbisiero explains: "From a young age I loved cameras and video editing; I used to adore Windows Movie Maker and obsessively edited footage I shot on my dad's digital camera. I would make trailers for movies that didn't exist and cut music videos starring my long suffering younger brother.
"A family friend was an assistant producer at Sky Sports and they managed to get me some work experience sitting in with an editor there the summer before I left for university. Through coming in for work experience, I became friendly with the 'pub sports' team who worked on darts, speedway, snooker and pool. In all honesty I knew absolutely nothing about those sports, but the team were incredibly creative and used to produce some really interesting content around the tournaments which really stood out," she continued.
Corbisiero started doing odd jobs for the multi sports team, such as organising their tape library and logging old rushes comps, and eventually she started running on outside broadcasts for them, making teas and coffees.
She goes on: "When I left for university, I continued working on OB's and doing office days in my holidays or on weekends. I would do the World Dart's Championship for three weeks at Christmas up at Ally Pally and the World Matchplay at Blackpool over the summer as well as the Mosconi cup and Speedway meets. I slowly began to produce the odd 'story of' feature or opener. When I graduated University, although still ad-hoc, I started working with editors and cutting more and more content for them, as well as working on their live productions too. I learnt so much from my time at Sky; there were so many creative producers on that team and I feel really lucky to have worked with them at such a formative time in my career."
On Sky, Corbisiero says: "Sky was an amazing place to learn the ropes. Being such a big organisation it could be quite intimidating at times, but it was filled with experienced creative producers to watch and be inspired by. Because the team I worked with did more marginal sports, it meant that there was room to try new things and push the boat out a bit creatively. I was lucky enough to work under Georgina Faulkner when I was there who was a great role model as a female producer in a senior position. She was extremely supportive and encouraging to everyone around her and I tried to learn from her efficiency and the calm way in which she dealt with issues at work."
Moving on up
Corbisiero progressed onto Sunset+Vine in 2013, seeking opportunities that were not available at Sky Sports. She says that although there was opportunity to move forward with a career at Sky, people tended to stay in positions for five or even 10 years, which made it a difficult place to move up.
She continues: "When I heard that BT Sport had acquired rights to Premier League Football and Premiership Rugby (amongst others,) I wanted to know more. I saw that BT Sport had enlisted a production company, Sunset+Vine, to do their coverage. I sent in my CV and was asked to come in for an interview.
"I remember being incredibly nervous going into their Hammersmith office. Thankfully the interview went well and I got the job of assistant producer on their Rugby coverage," she says. "I was delighted. Many of our production team were quite young (I was only 22 when I started!) and had limited experience in sports television so those early years were quite an adventure. We all look back at them now as an incredible time."
Working at Sunset+Vine with a new sports channel was a whole, thrilling new ball game for Corbisiero and the team there. She explains: "Rugby coverage up until point had been very traditional and BT Sport wanted to approach it in a completely different way, which was so exciting. I was used to making openers and promos that pushed the boundaries a bit from my time with the darts team at Sky and tried to bring that to the rugby content we were creating."
However, she adds: "Although the live trips and studio shows were a great experience, all I really wanted to focus on was the creative content that accompanied the coverage. I managed to craft a role for myself on the team as the go-to person for an opener, just because I was so passionate about them. When BT Sport won the rights to the European Champions Cup, it was hugely exciting for us and I was lucky enough to make the opener that brought us on air for the first night of coverage, which involved carting a large 'box' (that was supposed to contain the trophy!) around Europe for two months."
After two years working for Sunset+Vine at BT Sport, Corbisiero wanted a new challenge, as well as to move away from live sports to increase her experience in other areas. She saw a role advertised for a job on Gillette World Sport, a weekly magazine show that was broadcast globally. The job entailed finding top athletes all around the world and organising interviews with them, building big trips to countries like the US, New Zealand, Canada, South and Central America, and filming as many stories there as possible.
She notes: "Then you would come home and craft these into five minute features to go into the shows, doing a lot of the editing yourself. I spent two years travelling the world and learning how to be a more self-sufficient producer."
While travelling the world, Corbisiero was also able to continue her work with Sunset+Vine: "During this time, I also worked on tournaments for Sunset+Vine's other productions, spending six weeks in India for the 2016 ICC World Twenty20 as a features producer on an additional content crew. Myself, a cameraman and an editor (neither of which I'd met before!) would travel around from city to city finding stories. Sunset+Vine was full of amazing people; it was a wonderful place to work for the four years I was there."
Next up in Corbisiero's career progression was Noah Media Group, which she began working with in 2017. Corbisiero had met two producers through work that had gone onto work for Noah Media Group, and she says, "I had also heard of John McKenna [co-founder and CEO at Noah Media Group] and loved the promos he produced for tournaments and I was very keen to be involved in more high end creative work".
She continues: "Pete Thomas, an executive producer at Noah, who I had worked with at Sunset+Vine, told me of a new eSports project that he was working on for Noah and mentioned there might be a role there. I applied and came in to meet with Pete for a chat. Although eSports was definitely not something I had ever thought about working on, I felt it would be a great way to get involved with the company. I worked for six months on the project before they hired me full time and I became involved with other projects at Noah."
During her time at Noah Media Group, Corbisiero has worked on a great variety of projects, from additional filming for the Bobby Robson Film and the FIFA One to Eleven documentary series that involved travelling to New York and Los Angeles, to working on the Premier League Productions title sequence and creating promos for Formula E, Cricket World Cup and Rugby League World Cup. She also went to Russia for the 2018 FIFA World Cup as promos producer, which was an intense six weeks of non-stop filming and editing.
She adds: "I was proud to be the first ever female promos producer at a World Cup for Noah, and I made the closer for the tournament which I really enjoyed. I spent a few days in the Russian space archives pulling together some amazing footage of Yuri Gagarin and Valentina Tereshkova (the first woman in space,) and doing some additional filming [see her work here].
"After I came back from Russia, I produced and directed the 2019 FIFA Women's World Cup city profiles, spending a month filming in the nine French Host Cities with local female footballers and editing 20 different deliverables for the tournament," she continues.
Progress despite adversity 
As to how she has moved her career forwards and why, Corbisiero talks about what she has been aiming at or looking for as she moved from job to job. "I've always tried to start looking for a new job opportunity when I feel like I have stopped doing a lot of learning in a role that I am in. I feel like it's really beneficial to work in different environments and not ever get too comfortable and I think moving from job to job has really helped my progression. I've always just wanted to be challenged and to work in roles that push me. Being around people who are also striving for something has definitely helped too. Throughout my career, I guess the goal has always been to make more high end content, and eventually start producing and directing my own films or adverts, and I've always been drawn to the creatives in sport production because of this. I definitely think Noah is a place where I can keep striving towards this goal, working under mentors like Torquil Jones and John Mckenna."
Overall, she is enjoying her time and travels with Noah Media Group. Corbisiero comments: "Working at Noah has been an amazing experience. It is full of incredibly creative producers and directors and I've found it so beneficial to my development having my work critiqued and enhanced by my colleagues here. I've also had the opportunity to work for some of the biggest sports federations in the world. It's a great working environment; everyone is extremely collaborative and supportive."
Although her career has been an exciting one and she has forged her path well, being a woman in sports production meant Corbisiero had to overcome a certain amount of bias and assumptions on what she ultimately wanted to be in the industry.
She says: "The creative side of the sports TV industry was extremely male dominated, and still is today. I found that being a woman in sports, there was and is sometimes an assumption that you don't know as much about the technical side of the game, so it was always important to have your facts right and be extra prepared to create the right first impression.
"I often found it frustrating that people you'd meet when working would assume that you wanted to be in front of the camera, as if you were only doing this role to get to be a reporter or a presenter," she says. "To be fair, this did happen quite often at Sky and at other places I've worked, where women assistant producers would transition to in front of camera roles, but it meant that you were constantly trying to assert that you actually wanted to be a creative producer and this wasn't just something that you were doing to get on TV! This just made me want to work harder to prove that I was serious about moving up in the creative side of Sports production."
Change is coming
She adds that sports broadcast is definitely still a man's world, but adds that things are starting to change. "I think sports broadcast has taken longer than other working environments to become diversified but it's getting better. Traditionally, women have done more of the organisational roles in sports broadcast, which is no small task as they are often the backbone of the whole production. However, I'd like to see more women directors, creative producers, sound engineers, camerawomen, EVS ops etc. When you look in the production trucks at OB's you still see nearly all men in there, which is quite crazy for 2019. On screen, it has gotten better though. It's amazing to see more women commentators and pundits being included."
Corbisiero has been fortunate not to have clashed too often with an old boy's network over the years, however when those clashes have occurred, she has sometimes felt that reporting them would not be good for her career progression. She says: "Thankfully, most of the teams I've worked on over the years have been run by fair, decent people. However, I've definitely run into a few of the 'old guard'. There have been moments where things have happened that you'd like to call out, but you feel it might negatively impact your career. Things have changed in the last couple of years though and I think there's more support for women when they do need to speak out about bad behaviour. At the end of the day, I think women just want to be able to get on with things and do the best job they can and it's about giving them the best opportunity to do that. There's still more work to be done, but we're getting there. For me personally, I've tried to let my work do the talking and be the most efficient, most creative producer that I can be."
However, the sports broadcast world does need to do more to improve diversity within its ranks, Corbisiero says. She explains: "I think it's important that when women join sports broadcast companies at entry level that they are not immediately funnelled towards production coordinator roles, as often happens. It's important that they choose their path themselves and know that all roles are available to them, and I think this will be easier when more women are in senior or creative jobs in sport production, so younger women can envision themselves doing the same thing.
"At Noah, I'm proud to say that nearly half of our company are women. Although the majority of our senior creatives are men, we have some incredibly exciting up and coming female producers and I know Noah is committed to helping us reach our full potential," she continues.
Concluding, Corbisiero says: "I've always thought that it's incredibly important for women to help each other in this industry and I make sure that female researchers, edit assistants and producers at Noah know that I'm there for them if they ever need help or support. I want to set a good precedent for them, as has been set for me by other women that I've worked with, that women don't need to be pitted against one another and that we're stronger when we help one another."