Japan's NHK purchases another Lawo mobile audio kit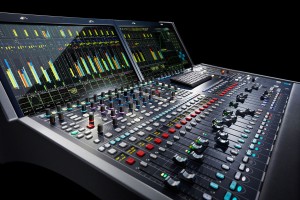 Japanese public broadcaster NHK has purchased a further Lawo mobile audio kit, comprising a 24-fader Lawo mc²36 with a Lawo Compact I/O unit. The kit is designed to accompany NHK's video trucks, as well as other mobile video equipment, for work on a wide range of sporting and cultural events.
The new mobile kit is one amongst a complete fleet of Lawo fitted NHK units. With their individual video and audio units that can be combined freely, NHK achieves highest flexibility resulting in efficient workflows and reduced setup times in their mobile TV production.
NHK is the biggest user of Lawo equipment in Japan. At present they are using around 20 mc² systems – studio and mobile installations using mc²90, mc²66, mc²56 and mc²36 audio mixing consoles. NHK and Lawo have a long common R&D history in which they have worked together to develop the tools and practical applications needed to create an immersive audio experience with 3D surround audio (22.2), and both companies are committed to developing further technical innovations.
The mc²36 all-in-one mixing desk as it is utilised also in the NHK mobile kits provides a comprehensive feature set that covers broadcast, theatre, house of worship, live and install applications. A powerful 96-DSP-channel micro-core with internal 512×512 port audio matrix, and integrated I/O make it ideally suited to mobile and permanent installations with limited space. As it is natively equipped with RAVENNA/AES67 technology, the mc²36 integrates seamlessly into IP infrastructures. And for operational security, the console not only has redundant power-supplies but also DSP redundancy.
In terms of connectivity, the console's interfaces include 32 mic/line inputs, 32 line outputs, eight digital AES3 inputs, eight digital AES3 outputs, eight GPIO ports, one MADI (SFP) port, three RAVENNA/AES67 channels, and a headphone jack. In addition to the onboard I/O, a MADI tie-line connection and three RAVENNA/AES67 Audio-over-IP ports provide future-proof connectivity for up to 384 external inputs and outputs, offering a total capacity of 496 physical inputs and outputs.
The Lawo Compact I/O is a convenient and cost-efficient way to expand the mc²36's connectivity and to provide a distant stagebox solution in addition to the on-board I/O. Connected via CAT5 or fiber (optional), the ruggedized 5RU stagebox provides 32 Mic/Line inputs, 32 Line outputs, 8 digital AES3 inputs, 8 digital AES3 outputs, 8 GPIO and a MADI (SFP) port. The mc² 36 allows for connecting up to three mc² Compact I/O.