Journey to Japan 2019: Rugby World Cup host broadcast plans fall into place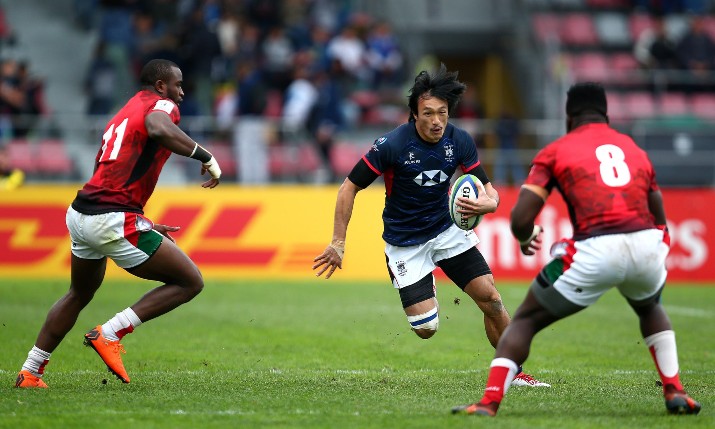 "IGBS has brought the 'dream team' concept to the Rugby World Cup (RWC) with production teams from the major rugby territories — France, UK, South Africa, New Zealand and Australia."
That's how David Shield, co-project director, IGBS, describes the preparations for this year's rubgy extravaganza in Japan. IGBS (International Games Broadcast Services) is a joint venture between HBS (Host Broadcast Services) and IMG Media and will be the host broadcaster (HB) for Rugby World Cup 2019 Japan.
This will be the first time a specialist host broadcaster has been appointed by World Rugby and shows the commitment to maintaining high standards throughout the six-week tournament.
"The 2015 World Cup in England saw records broken. In fact, it was hailed as the biggest rugby tournament so far. World Rugby is seeking to continue that momentum with the Cup in Japan," said Shield.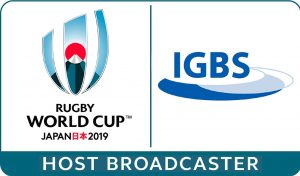 So, what are the main challenges facing the HB? "The distances between the 12 venues that will play host for the matches are considerable. In addition, there is limited broadcast compound space at those venues, plus there are four varieties of local power — 100V/50Hz, 200V/50Hz, 100V/60Hz and 200V/60Hz. But these are challenges to be overcome and plans are progressing well."
Shield continued, "having a host broadcaster on board means that a number of innovations can be introduced. For example, ENG crews will, for the first time, follow teams at training facilities and team hotels. A new matchday preview show will make use of this footage together with all the content held on the IBC Media server. In addition, IGBS will dramatically increase the content available to the rights-holding broadcasters of the RWC with the introduction of multi-feeds including the Additional Content Feed (ACF) and the Tactical Feed, enabling them to provide much more analysis of their own teams."
Beyond that, the IBC Media Server, which is being supplied by EVS, will enable Rights Holding Broadcasters (RHBs) to access all the content either at the IBC or remotely at their home studio. The social media content production team will enable rights holders to simply populate their own streams, websites and apps with high-quality content. That social media content package will include short-form video clips, 360° video and infographics."
Centre of operations
The International Broadcast Centre (IBC) is currently being constructed near the Tokyo stadium, the venue for the Opening Ceremony and eight matches. Building work is on schedule and will be ready towards the end of August. Although no studios are incorporated into the IBC, there will be a number of Avid edit suites available for the RHBs.
"Personnel from IGBS will handle the bookings within the IBC as well as provide post-production services as needed," explained Shield. "We will be offering a daily, weekly and tournament highlights package from those facilities within the IBC."
Turning to incoming and outgoing feeds from the IBC, Shield reveals that the contribution network is based upon dual 10Gbit paths provided by NTT carrying 3 x UHD, 22 x HD and 6 x return HD circuits from every venue. One exception will be the Tokyo venue which will use a dual 40Gbit dedicated path.
"The 2015 World Cup in England saw records broken. In fact, it was hailed as the biggest rugby tournament so far. World Rugby is seeking to continue that momentum with the Cup in Japan."
The UHD standard is 4k SDR 2160p/59.94, while HD standards are 1080p/59.94 and 1080i/59.94. There will be a number of venue feeds available including the World Feed, which includes unilateral pre/post-match interviews, Basic Stadium Feed (BSF), a Clean Stadium Feed, Additional Content Feed, a Tactical/Beauty Shot and the output from nine isolated cameras.
"There is a Ku satellite back-up of the BSF from every venue. The distribution network consists of dual diverse 10Gbit paths from the IBC to IMG Stockley Park where feeds will be routed to IMG satellite lease capacity and RHBs own fibre connectivity," explained Shield.
Onsite operations
Moving away from the IBC and to the matches themselves, Shield reveals there are no plans for remote production. Rather OB facilities will be provided by NEP using flypacks – four of which will be IP-based.
Brian Clark, sales director, Major Projects at NEP UK said: "We have ten flypack 30+ camera UHD systems deployed with technical crews covering all the venues used for the 2019 RWC coverage. These flypacks include specialist camera systems and RF cameras and replay."
He continued, "We are providing these systems from across the NEP Group, with five systems from NEP UK and five from NEP Broadcast Solutions in Singapore co-ordinated by NEP in the UK. The technical crews and expertise are being drawn from across the entire NEP organisation."
Donald Begg, director of technology at NEP Major Events added, "Our IP flypacks are built around Arista core switches, with Grass Valley's IQ UCP solution, and Kahuna vision mixers. On the audio & comms side the flypacks use Calrec Audio mixers, RTS Telex talkback systems, and Glensound commentary Units. Overall control is managed by Axon's Cerebrum control system. Bringing all of this together is NEP's team of highly skilled engineers and tech managers, supported by an excellent logistics and coordination team."
"There is a specification for 23, 28 and 32 cameras according to the rating of particular matches," stated Shield. "In addition, Broadcast Sports International – a part of NEP – will be providing the first 1080p corner flag cameras. Spidercam will be available at 34 of the 48 matches, considerably enhancing the coverage."
He adds that NHK will provide 8k coverage to the domestic market only, under the IGBS umbrella. "NHK will be using nine cameras together with some host 4k cameras upconverted."
IGBS will be providing a number of facilities for RHBs at each venue. These include commentary positions (tribune and sideline), a commentary camera, unilateral interview slots, studios, announce platforms, unilateral flash interview positions, unilateral camera positions (pitch level and gantry), compound space for trucks, SNGs, tenders, portacabins, technical power, unilateral vision and audio feeds to the IBC and foreign language graphics.
"The broadcast title and graphics were designed by the Ignite agency, but will be operated by Alston Elliot. Graphics for the BSF will be created on-site, while those for the UHD BSF will be made at the IBC. NHK will use Japanese UHD graphics created on-site. Some Augmented Graphics are planned especially in conjunction with Spidercam."
Hawkeye will be providing facilities for the Television Match Official (TMO), and for Citing and Head Injury Assessment.
Shield concludes by saying that a second World Broadcaster Meeting will be held in September, just before the start of the event. "This will enable the RHBs to recap the final plans before the action kicks off with Japan against Russia on 20 September," he said.