Kenzo Ishizuka appointed president of Ikegami Europe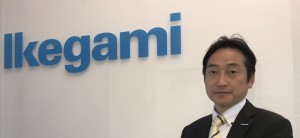 Ikegami has announced the appointment of Kenzo Ishizuka to the role of president of its European office. Effective immediately, Ishizuka is responsible for heading up Ikegami's European operations as well as managing all key customer accounts, system integrators and channel partners across the EMEA region.
Ishizuka brings a wealth of experience and industry knowledge to the role, having worked for Ikegami for over 30 years. Starting with the company in 1987, Ishizuka has worked in both the Japan and US offices, with his most recent role being General Manager of Domestic Sales in Japan.
Ishizuka will be taking over from Ikegami Europe's previous President, Masanori Kondo, who is moving to Ikegami's Japan office.
"I am thoroughly looking forward to using the expertise acquired throughout my extensive time with Ikegami to bolster the company's presence throughout the EMEA region," comments Ishizuka. "Kondo-San has done an impressive job with the EMEA market and I am excited for the opportunity to carry on his great work."