LaLiga and Microsoft unveil Beyond Stats football analysis portal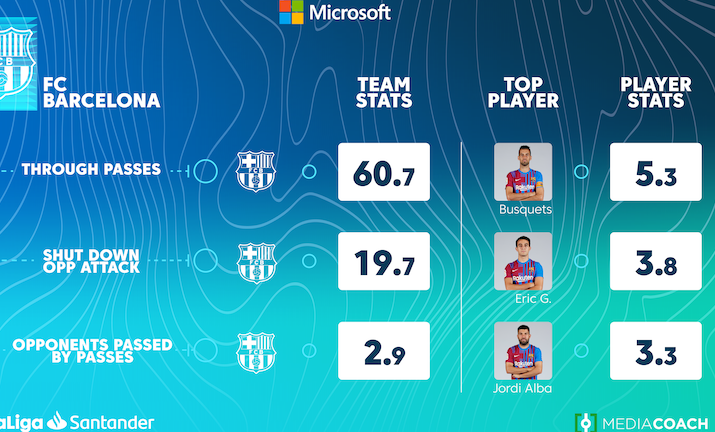 LaLiga and Microsoft have joined forces to launch Beyond Stats, a football statistics initiative involving a fan-facing web portal. With artificial intelligence and machine learning capabilities powered by Microsoft Azure, Beyond Stats analyses vast quantities of dynamic match day statistics from LaLiga Tech's Mediacoach tool. LaLiga Tech is a specialist technology solutions company that works across the sports and entertainment sector and began operating in 2021 under the LaLiga umbrella.
Beyond Stats is part of LaLiga's global fan engagement strategy and offers free content and match day analysis in both English and Spanish. There are plans to extend to in-television broadcasting with highlight metrics throughout the game.
"The Beyond Stats portal offers us a direct link with supporters and represents a clear step towards a new entertainment era: the interactive integration of the digital experience within the audiovisual environment," said Miguel Angel Leal, director general of LaLiga technology. "Mediacoach is a football analysis platform that has been constantly evolving over the past decade and, thanks to the possibilities offered by Microsoft Azure, we're now able to offer fans a set of metrics that were previously only available to those directly involved in the industry, such as the clubs themselves. Now fans can evolve from being passive spectators to active participants in the game."
"We're delighted with the product we've achieved with Beyond Stats," said Rebeca Marciel, enterprise commercial lead at Microsoft Spain. "It's so valuable to be able to offer fans around the world the level of detail that is obtained through the application of artificial intelligence and machine learning on the vast amount of data generated during a a game. We'll continue to work alongside LaLiga Tech to pursue further innovations in this field and optimise the advantages offered by the cloud."
The Beyond Stats portal captures a huge amount of data which is generated in real time during every game, thanks to high-resolution fixed perimeter cameras for optical tracking, of which there are up to 19 installed at every LaLiga stadium. These cameras follow the position of the ball, players and referees and record their positioning with accuracy at a rate of 25 times a second to yield over 3,500,000 statistics per game.
The Mediacoach platform, which is also supported by Microsoft technology, then processes this raw data collected by the cameras and manages it with the use of tracking and eventing technology. Tracking is based on the positional data collected by the cameras and allows for the generation of metrics such as the number of sprints, top speeds and distances covered. Eventing records the key technical/tactical incidents, including shots, crosses into the box, directionals changes, substitutions, fouls and offsides.
Once the data has been processed, new algorithms are created that allow for the visualisation of the metrics that supporters are able to access via the Beyond Stats portal.
The average number of players involved in a period of possession, moves that end in a shot on goal and dribbles that break the defensive line are just some of the statistics that fans will be able to check ahead of each round of fixtures.