LaLiga announces return with free viewing of live matches on Sky UK
Coverage kicks off Monday 1 June at 8pm with Guillem Balagué's exclusive interview with manager Mauricio Pochettino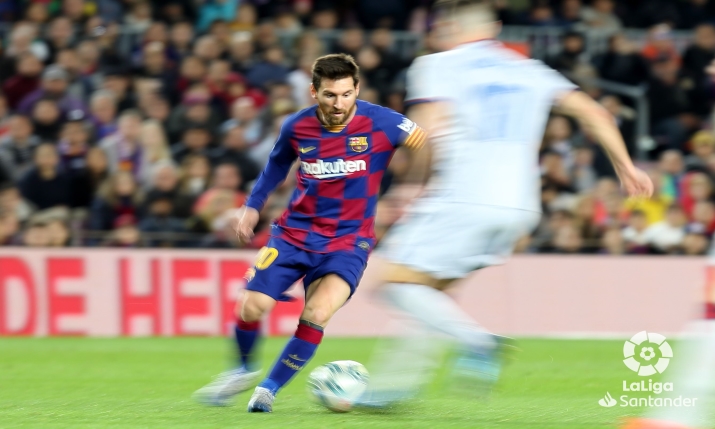 LaLiga, along with broadcast partner Premier Sports, has announced that LaLigaTV, the flagship 24/7 channel offering all live matches from Spain's top-flight, will be made available for free across the UK to Sky customers throughout the month of June.
Sky UK subscribers will be able to enjoy the return of Spanish football from next month, including the title race between FC Barcelona (58 pts) and Real Madrid (56 pts) as LaLiga prepares to resume its 2019-20 season in line with a progressive return to everyday life in Spain.
In addition to full access to LaLigaTV HD, including all live matches, subscribers will also get 24/7 LaLigaTV streaming access via the Premier Player app.
In addition to the top players and clubs of Spanish football, LaLigaTV viewers enjoy exclusive daily programming including classic matches from the past two decades of LaLiga and the weekly #BackToWin special chronicling the lead-up to the resumption of football in Spain, as well as the Talking Football series hosted by Guillem Balagué, which on Monday 1 June at 8pm BST will air an exclusive interview with former LaLiga player and manager Mauricio Pochettino.
Launched in January 2020, LaLigaTV is the UK and Ireland's only 24/7 television channel offering all live matches from a top international football competition. With over 25 hours of live studio programming each week, the channel features expert analysis from renowned Spanish football pundits, including: Gaizka Mendieta, Gus Poyet, Guillem Balagué, Graham Hunter, Sid Lowe, Terry Gibson, Albert Ferrer, Lauren Bisan-Etame, Andrea Orlandi, Quique de Lucas, Semra Hunter, Simon Hanley, Duncan McMath, Phil Kitromilides, Sara Canals, Toni Padilla, and many others.
Since the mid-March postponement of professional football in Spain, LaLigaTV together with Premier Sports' free-to-air channel FreeSports have featured a variety of innovative programming, including a weekly #LaLigaClassics Fan Pick of the Week, in which fans get to select a top LaLiga match from the past two decades; as well as new shows such as #StayAtHome and LaLiga Nations, showcasing top LaLiga stars of various nationalities. LaLigaTV has also broadcast live events including the #LaLigaSantanderChallenge eSports tournament, won by Real Madrid's Marco Asensio, as well as the #LaLigaSantanderFest live benefit concert, which raised over €1 million euro to help combat COVID-19.
Sky subscribers in the UK can activate Channel 435 by visiting premiersports.com and registering their details with the promo code BACKTOWIN. From 1 July  subscribers would be charged a standard monthly fee of just £5.99, which can be cancelled at any time.
In addition to Sky channel 435, LaLigaTV is also available on Virgin TV channel 554 in the UK, as well as via streaming on the Premier Player app. Non-Sky subscribers can also have a free month's access to LaLigaTV by signing up for the Premier Player service using the same BACKTOWIN promo code. Virgin TV customers can access LaLigaTV in a bundle, together with Premier Sports 1 and 2 HD channels, from just £9.99 a month.