LaLiga teams with D-Smart on Turkish partnership for next three seasons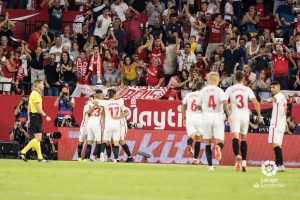 LaLiga has announced a new agreement with Turkish pay platform D-Smart to broadcast the competition in Turkey until the end of the 2021-22 season. D-Smart will broadcast LaLiga on its pay platform while showing one free-to-air match every week via YouTube.
A minimum of six matches per game week will be shown on D-Smart's sports channels, SporSmart and SporSmart 2, while D-Smart will also distribute LaLiga Santander matches on its digital application D-SmartGo.
In addition, one free-to-air match per game week will be offered to the entire Turkish population. It will live broadcast LaLiga's 1600 CET (1800 local time) Saturday match via D-Smart's official YouTube channel.
Commenting on the news, D-Smart's chief content and marketing officer, Basar Basarir, said: "We are very proud to partner with LaLiga to bring Spanish football back to Turkey. As this top quality brand certainly deserves, D-Smart will do everything in its capacity to promote and communicate LaLiga to all audiences within our territory. I am sure with this new partnership there will be a new synergy that will also shape all other dynamics within the Turkish pay-TV market."
Owned by the Demirören Group, D-Smart is a fast growing platform providing TV and internet services to more than two million households in Turkey. As part of the deal it will carry out significant promotional activities for LaLiga throughout the duration of the agreement.
D-Smart will begin transmissions this coming game week.