LaLiga to add data-driven AR graphics to world feed for 2020-21 season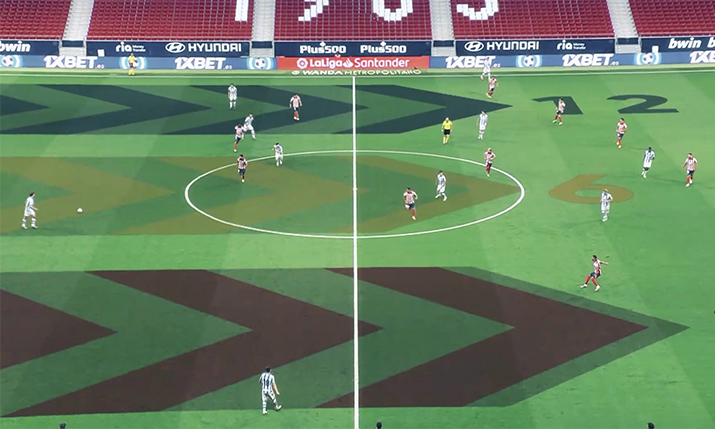 Augmented reality (AR) on-screen graphics featuring live player tracking and team performance data are to be added to the world feed for LaLiga match coverage when the Spanish top-flight returns this weekend.
Working with host broadcast production partner Mediapro, the league will overlay graphical representations of live data feeds during matches that show several different aspects of the game, from where previous penalties have been struck to the areas on a pitch where a team most frequently attacks.
LaLiga head of content and programming Roger Brosel believes that the introduction of the new graphics will help to better tell the story of each match.
"LaLiga is entertainment but we want to be informative too," he said during a conference call with journalists.
"We also want to take advantage of key components of the LaLiga brand which is fan orientated and technologically innovative. That is a feature in our state-of-the-art studio but also how we use technology to tell the story of our games and our teams.
"We've created the artistic part [by drawing] complex data that can be easily understood by a regular fan. We want to display data in a helpful way."
"One of the biggest innovations we will introduce is new 3D graphics in our international live feed of games. They are pretty spectacular. They tell you a lot about the game, which is what we are aiming for."
The data for the graphics will be taken from Mediacoach, the proprietary video motion analysis tool that was originally developed by Mediapro for LaLiga teams to use as a coaching tool. Mediacoach makes use of ChyronHego's TRACAB optical tracking system.
"For this season, we've connected the Mediacoach system with our graphic engines so that the data can be available live for the TV directors and producers," continued Brosel. "Then we've created the artistic part [by drawing] complex data that can be easily understood by a regular fan. We want to display data in a helpful way.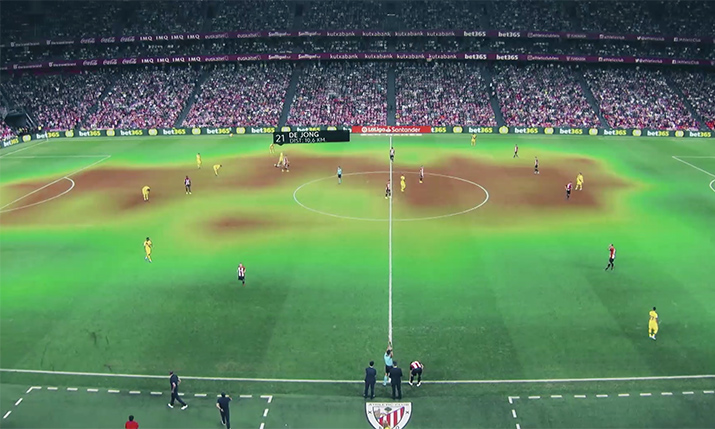 "We've got a dozen different graphics," he continued. "They won't all be featured in every game. We've got them for penalties, for example. You won't be seeing the typical graphic of a goal with dots where the last goal was scored but [instead] a 3D representation behind the goal of where the player shoots. It will be much more visual."
An AR heat map on the pitch (pictured, above) will show where teams attack while overlays will show free-kick and corner kick trends. Predictive data will be used to anticipate what might happen next in a game. The graphics will also be used in other LaLigaTV programming where tactical analysis is required.
"The results we have seen so far have been good," added Brosel. "From Match Day one we will progressively introduce these graphics."
---
View the new graphics in action
---
As was the case with the end of the 2019-20 season, virtual fans will again be added to LaLiga coverage while matches are played behind-closed-doors, with both simulated crowd sound and in-stand visuals part of the package.
A plan is in place to allow for a hybrid approach when fans are allowed back into stadiums.
"Adding the virtual fans plus the sound helps make the games more recognisable for the viewer," acknowledged Brosel. "You don't want the stadiums to fell empty. That is a bad viewing experience. This season we are still going with that until the government allows us to reintroduce fans. There has been talk about allowing in one-third of fans [into stadiums] but I don't think it will happen in the first weeks."
If or when that does happen, he added, LaLiga's approach "will depend on how many fans are allowed in" and "how they are allowed to sit."
"The technology we have allows us to mix the reality with the augmented reality," he confirmed.
LaLiga coverage will also feature additional aerial camera systems from the start of this season, including at the stadiums of newly promoted teams such as Huesca.
"One of our goals is to have an aerial camera on almost every match day, not only for the biggest games of the season but also for just about any match," said Brosel.
"We want to that to be our standard. This season we will have up to 14 aerial cameras permanently fixed in stadiums so they will be featured in just about every game."

One thing that will be missing from the coverage, initially at least, is the green screen links that were introduced in the early part of 2020 to allow for live holographic player interviews inside a virtual studio set (pictured, above).
Brosel acknowledges that the hologram interviews won't be available for the start of the season because of social distancing regulations but LaLiga "hopes to be able to resume that as soon as possible."
LaLiga 2020-21 season starts on Friday with Granada vs Athletic Bilbao.