Largest AV deployment in LaLiga history takes ElClásico around the world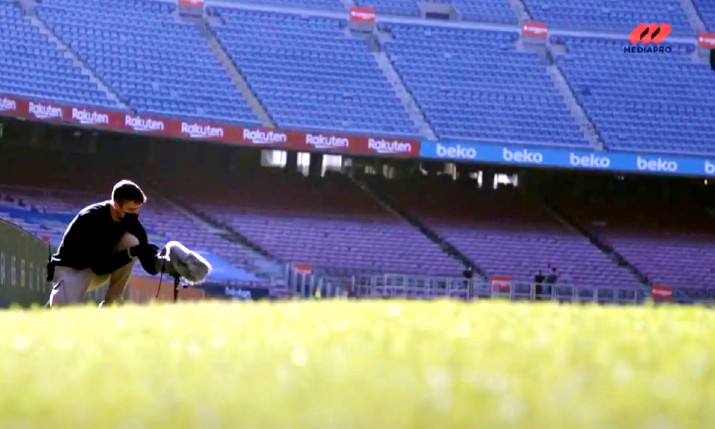 At the latest ElClásico between FC Barcelona and Real Madrid, LaLiga, Mediapro and Movistar produced a broadcast never seen before with more than 30 cameras, multi-camera signals for each team, narration and previews with caster Ibai Llanos, cutting-edge graphics and much more.
ElClásico reached every corner of the world thanks to the 83 international broadcasters and over 500 journalists accredited for the match.
"Never before has a football event been enjoyed with this kind of deployment. Hundreds of millions of fans around the world experienced every detail of the match as if they were in the stadium thanks to more than 30 cameras, unprecedented previews and unparalleled graphics, with a special focus on social networks during the moments leading up to the match to offer the youngest fans special content," said Melcior Soler, audiovisual director of LaLiga.
Starting this season, LaLiga and Movistar are offering a new multi-camera signal in their broadcasts, consisting of four windows on a single split screen, plus a real-time statistics module, extracted from LaLiga's own Mediacoach game data analysis system.
This signal is based on the live master camera shot, complemented by Mediacoach statistics and 3D graphics, as well as special camera shots, with the aim of offering viewers an alternative match signal in which they can enjoy different perspectives and match data.
For ElClásico, the traditional signal was complemented with two multi-camera signals: one for FC Barcelona fans and another for Real Madrid fans. Thus, each had their own LaLiga Casters narrators, and the shots and statistics were geared towards the fans of each team.
Real Madrid fans were accompanied by casters Ibai Llanos and Ander Cortés, while Marc Mayolas and Tresco narrated the match in Catalan for Barça fans.
"Movistar+ has covered ElClásico offering an unprecedented experience for this match. Throughout the whole week leading up to the game, the audiovisual deployment was very complete: the best team of experts from past and present, 24/7 news coverage, a special preview from the Camp Nou with many surprises, personalised multi-camera channels for FC Barcelona and Real Madrid fans, and in addition to the traditional narration by Carlos Martínez and the rest of our analysts, we offered our own audio casters for each team," said María Inmaculada Martínez, head of football at Movistar+.
LaLiga's audiovisual production, carried out by Mediapro, was also taken to the next level for ElClásico: 4K-HDR production; live 3D graphics, with LaLiga being the only national competition in the world to use live 3D graphics technology to generate virtual graphics in the broadcast; Replay 360º, with technology that uses 38 ultra high definition cameras around the stadium to create volumetric 360º videos for spectacular replays; and a total of 32 cameras.
Among these 32 cameras were 10 super slow-motion cameras, four high speed, two cinematic cameras to create a cinematographic effect and act as FanCam, two high speed Pole Cams located behind the goals, two cameras to follow key players, one aerial camera (located 21 metres above the ground), a helicopter and a drone.
One of the new audiovisual features in LaLiga broadcasts this season is the introduction of drone graphics. Different augmented reality graphics were projected on an aerial view of the stadium, including the scoreboard, statistical data of players and clubs, and relevant information about the match.
Óscar Lago, Mediapro's head of production, explained: "ElClásico is the best showcase to show the world the quality of LaLiga's broadcasts with an even greater display. At Mediapro we continue to work on introducing all the technological innovations that improve the viewer's audiovisual experience."