Last-minute changes don't ruffle the feathers of Sky Sports' PDC World Darts Championship coverage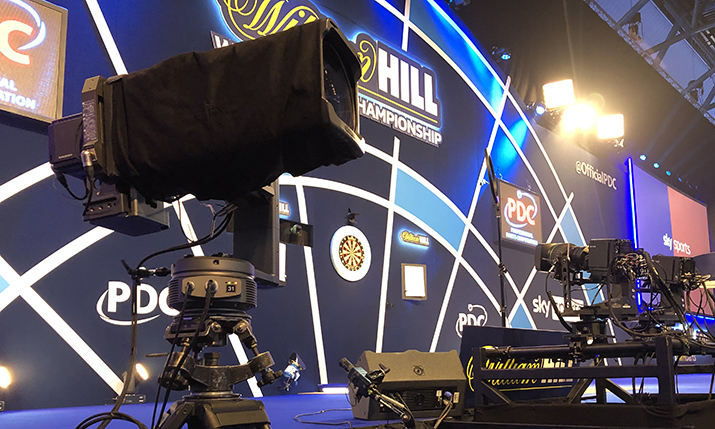 "Welcome to the Worlds, but not as we know it," says Andy Holmes, senior production manager at Sky Sports, wearing a mask and talking over Zoom from the TV compound and Great Hall of Alexandra Palace in London at the half-way point of the PDC World Darts Championship finals.
In a normal world, Sky Sports would have begun planning the production of the pinnacle of world darts in late August, outlining what, if anything, needed to change from 2019. COVID laid that to rest.
"We've had to think on our feet about the other events, not just darts, we were doing at the time, which pushed thoughts of the Worlds back slightly because we didn't know what state production was going to be in," Holmes says.
"In all honesty, 27 November to 18 December was a complete blur. But everyone has been brilliant. There have been no prima donna attitudes"
Sky Sports' darts production team was also busy producing events like the Grand Slams behind closed doors but with spectator restrictions about to be lifted these plans were scrapped.
"At the end of November, the UK government relaxed rules to allow fans into venues. For the Worlds that meant 1000 fans were to be allowed into Alexandra Palace, down from the usual 3000. We met with the PDC [Professional Darts Corporation] and revised our plans accordingly."
Socially distancing and other health regulations were still a priority for Sky Sports and its staff. The biggest change was in the position of the studio.
"We couldn't have it anywhere where our crew would interact with the public so we had to relocate it to stage right with a very acute angle looking down to the stage. It was the only position for us to be free of public access and yet enable safe access for our staff."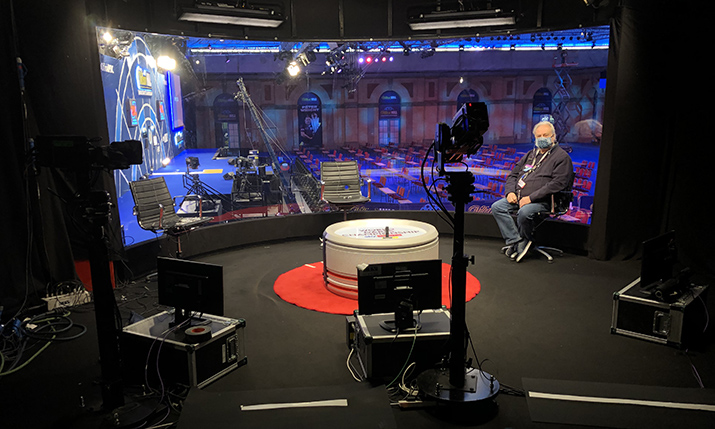 COVID-19 changes part 1
Traditionally this studio is large enough to comfortably fit one presenter plus three guests along with four production crew. Sky Sports tasked global event contractors Trans-Sport with designing and building a new studio with double the capacity to accommodate one presenter plus two guests and a sound technician. It's an enclosed space with fresh air ventilation incorporated via ducting from the outside world.
The three regular studio cameras were replaced with Aerial Camera Systems-supplied SMARThead 2 remotes with Sony HDC-P50 cameras remotely operated from the OB compound.
Two front of stage cameras were already remote-controlled by a touchscreen. As in previous years, these were Mark Roberts Motion Control (MRMC) SFH-50 IP-controlled pan tilt heads operated backstage. However, a six-speed slo-mo was also converted to an ACS SMARThead 3 system with P50 for remote operation.
"The rail-cam didn't need changing since the operator sits backstage and not in the venue," says Holmes.
"The only operated camera in the venue was a Jimmy Jib. We worked with the PDC to ensure the operator remained at a safe distance from any fans."
"Augmented audio has been the biggest success in terms of creating tension and drama inside what is an empty space"
There were two Sony 4300s backstage which would normally work in close proximity. Again, one of these was remoted using an MRMC SFH50 carrying a Sony HDC 4300 and Canon CJ20 lens. This head was controlled using a remote control Panbar head.
Another four locked-off and remote positions were mounted on the truss above the stage. One of these was purely for the 'spotter' who sits in the OB truck and acts as the "eyes and ears" of the director, for instance giving an informed opinion as to where the player will throw next and giving a heads-up to the director (who is also vision mixing).
"Pre-COVID, the Worlds would have been a 24 camera, 16 camera-person operation," Holmes explains. "We went down to 18 cameras and reduced the number of operators to seven."
Some cameras were easy to cull. Even with limited fans, it was decided not to deploy the usual Batcam wired solution for overhead crowd shots. Nor was there deemed to be a need for handheld roving radio cams.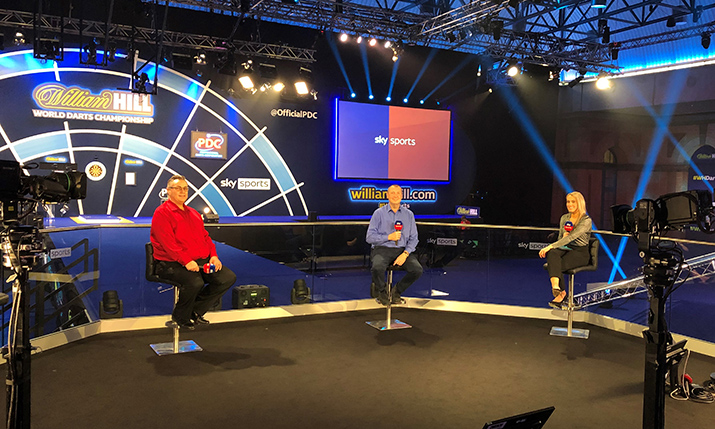 COVID-19 changes part 2
All of this was in place ready for the tournament opening on 15 December . Then the UK government's coronavirus restrictions changed. Overnight, the PDC World Darts Championship went behind closed doors.
"Suddenly we had no fans," says Holmes. "This meant that our presentation position wouldn't work. There was this huge gap where the audience should be. So, with our directors Sean Randle and Jools Holmes and with the PDC, we went back to the drawing board. We gave Trans-Sport another huge task. Within 24 hours they had loaded up their trucks, driven down here and installed a walkway centre stage for the players to enter the arena – which before and with fans they were not allowed to do.
"They installed an LED screen to one site and at the end of the walkway built an open presentation platform. We moved the studio cameras, re-cabled them and re-rigged and had to install extra lighting. Everything was in place for the first session."
Commentary set-up
"We would normally use a single 8ft commentary booth with two commentators and comms box each," Holmes explains.
"We'd have multiple commentators working in pairs, swapping out after each match. In a COVID world this would not be possible, so to enable us to achieve the same level of commentary safely, Trans-Sport constructed two 8ft booths, adding a Perspex window so commentators could visually interact. Each booth had three comms boxes, lip mics and headsets, so each individual commentator had their own allocated kit."
Normally, the commentary booths would be located in the venue, however, with the event due to have crowds Sky Sports moved the booths into the TV compound to avoid any crossover with the general public. This was the same reason they moved the studio from its traditional position to its new position by the stage.
Augmented audio
Another huge change is the use of augmented audio, but unlike for football coverage, this audio is played live throughout the venue as well as to viewers at home. Designed by sound supervisor Adam Brewer for Sky's earlier behind closed doors darts coverage, Holmes says the players appreciate the simulated atmosphere.
"They really react to it. Augmented audio has been the biggest success in terms of creating tension and drama inside what is an empty space.
"In many ways, this is a traditional OB. The saving grace of many of the darts venues we've been to this year has been the ability to park inside. That means that we can maintain a similar number of operators but maintain social distance because we can allocate them their own space outside the OB."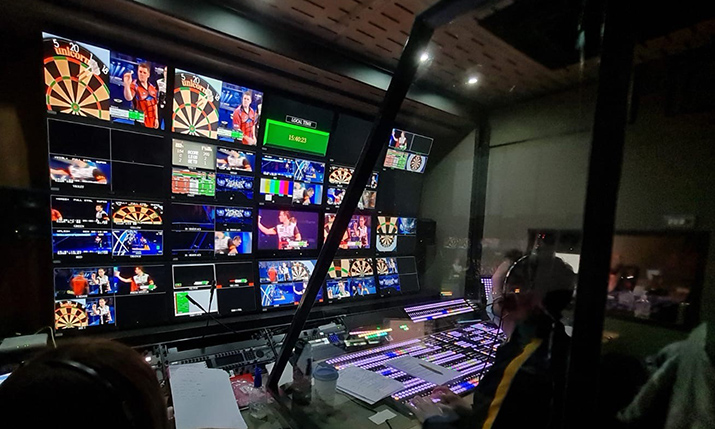 On-site and remote workflow
The truck used was CTV's OB4 UHD facility "which works really well for us", Holmes says.
Within the gallery sits the producer, spotter, DA and director between plexiglass protective shields. The adjacent VT area onboard houses four operators with the VT guarantee remoted to MVT5, a server truck which also houses one edit suite, a media manager position and an assistant producer. The edit support was provided by CollecTV, which manages two further editors remotely at Isleworth.
The event spanned 16 event days over the Christmas and New Year period, including 28 sessions (12 are double shifts for the production crew) and at least 110 hours of broadcast (sessions usually overrun).
That equates to around 40TB of footage which is all stored on-site and managed by the CollecTV guarantee who sits in the engineering section of MTV5.
AE Live (formerly known as AE Graphics and historically as Alston Elliot) provided graphics once again, this time with two rather than the usual three operators in the van to maintain social distancing and one located outside the van.
"In all honesty, 27 November to 18 December was a complete blur," Holmes says. "But I've got to say that everybody at PDC, Sky, CTV, Metropolis (lighting) and Trans-Sport – everyone has been brilliant. If there's one bonus about this year it is how the crisis has thrown people together. There have been no prima donna attitudes. Everybody has worked together so well."
The PDC World Darts Championship took place 15 December 2020 to 3 January 2021. 
---