Lawo mixes it for Gearhouse Broadcast at Australian Open Tennis in Melbourne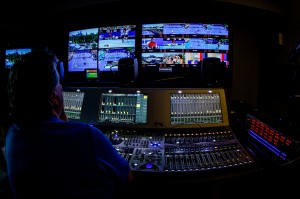 Rental provider Gearhouse Broadcast has brought in nine Lawo mc²56 audio mixing consoles, 21 x Lawo V__pro8 video processor units and a Nova73 HD router for the broadcast of Australian Open tennis in Melbourne. Lawo staff went down under in order to support Gearhouse in setting up and commissioning the systems. Of the nine mc²56 consoles, five are networked via a Nova73 HD to provide sound feeds for host broadcaster, Tennis Australia. Four of the mixers are deployed to deliver sound from the Rod Laver Arena, Hisense Arena, Margaret Court Arena, and Courts 2, 3, 6 and 8. A further mc²56 provides the world feed for the rights holder.
All stageboxes are interlinked by the central Nova73 router, and are assigned via access rights management to the respective audio control rooms. The mixed 5.1 surround signal is send to the V__pro8 units for embedding.
"System distribution flexibility was key for us during the design process and it's why we chose to network the system. There were several surprises on the courts during the early days of the tournament and the technical infrastructure really held its own – as expected," said Nick Bowey, Gearhouse's senior audio engineer.
"The inherent resilience of the networked system provided us with ultimate control of signals on the fly by use of extended matrix capability across six systems. We have also been able to provide a set of complete backup control rooms through the distribution and duplication of these networked signals," said Bowey.
Gearhouse has also supplied an additional four mc²56 mixing consoles to rights holders ESPN, Tennis Channel, Channel 7 and WOWOW. One of the large installations is local broadcaster Channel 7. The console in use here is a 48 channel MKII fitted with an additional 16-channel fader module, all of which are fully utilised on every layer with the channels from five DSP cards. The console is operated in Split Mode, with two separate monitoring outputs.