Lead audio engineer Ollie Bianchi reflects on his sports broadcasting career and immersive production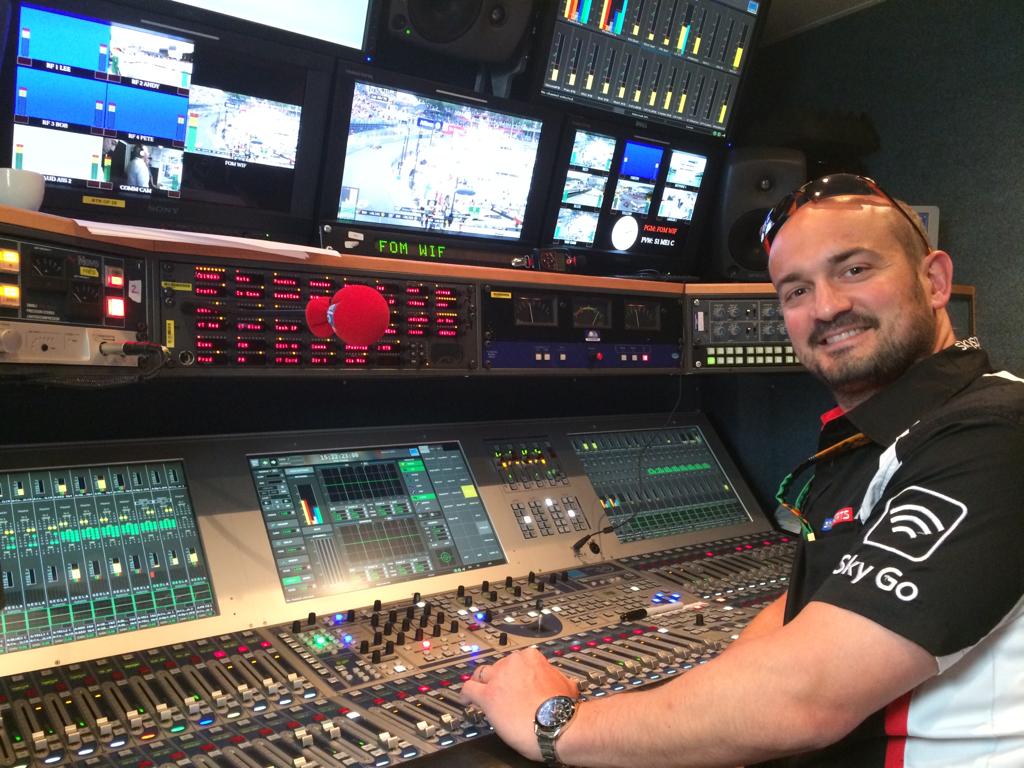 The recent news that Gearhouse Broadcast had appointed Ollie Bianchi to serve as its lead audio engineer underlines the significance that the facilities supplier continues to place on sound quality and progress.
By any standards Bianchi has been a pivotal figure in broadcast audio – primarily for sports, but also in news and entertainment – for 25 years, working with Formula 1 Management for two extended spells before concentrating on freelance work during the last five years.
Previous experiences of working with Gearhouse in other capacities had always been "very positive; they were a company I always respected and felt were committed to doing a great job on every project. I was not consciously looking for a lead engineer kind of role when they approached me, but it quickly became clear that it was a very interesting and exciting opportunity… so here we are!"
Bianchi certainly comes onboard at a busy time as plans advance for Gearhouse's supply of equipment, personnel and services to the Australian Open in January. "It's a huge project," he confirmed, "with a lot of warehouse stock being flown out in readiness, along with equipment from our other offices."
Other significant commitments for 2019 include the US Open and work with a leading federation serving another sport that is expected to "include at least some IP-based installations".
So plenty for Bianchi to get to grips with, but from our conversation it's clear that his experience over the past two decades mean he is very well placed to meet the needs of evolving workflows.
Fast-track to F1
Bianchi wanted to "work with sound mixing equipment" and has been fascinated by "the idea of live sound" for as long as he can remember. A degree in acoustic engineering at the University of Salford provided a solid grounding for a career whose first major position was as a member of the Formula 1 Management broadcast team, Bianchi having concluded that it was the "extremely far-reaching and interesting tapestry of opportunities" in that sector to which he was most attracted.
Once ensconced at Formula 1 it soon became apparent that he was on a fast track (pardon the pun) to gaining a comprehensive mastery of every element of sports audio. "Formula 1 was always something I had taken an interest in growing up – although I can't say I was an avid fan! – but once I was working there it soon became apparent how fascinating and complex [the technical issues involved in the production] were," he said.
After an initial spell at F1 from 1996 to 2002, and then a brief tenure at Sky, he returned to F1 as principal audio engineer in 2003. Then began a hugely innovative period in which Bianchi implemented a thorough upgrade of the "entire approach to audio production. My passion for the project really came through in terms of wanting to try and convey the excitement of Formula 1 – as if the viewer was trackside."
"[Future engineers] are now being very well-prepared by audio schools and colleges. They accept these new technologies as part and parcel of their working lives."
The number and position of microphones used to capture events was one ongoing theme of this second period at F1, not least when 5.1 production was deployed for the first time in 2008. "We weren't using surround microphones as such; our approach was more about wanting to capture the shifts in the sound as, for example, a car moves around a corner. So ultimately we used a combination of cardioid, omnidirectional and shotgun mics to blend and exaggerate the polar responses. Then we implemented an audio-follow-video system with the audio mixer that was pre-programmed [with multiple individual settings]."
The end result was a major step forward in terms of "painting with audio a picture that [matches up to] what you are seeing on screen". All the same, Bianchi said "for me the jury was always slightly out when it came to 5.1. It was OK but I always knew that more could be done in terms of 'immersiveness' and the whole viewing experience."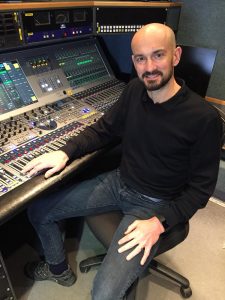 Not surprisingly, then, he has been enthused by the more recent rise of Dolby Atmos and other immersive audio technologies. At F1 he was involved in some early Dolby Atmos trials, and has subsequently played a role with try-outs with other organisations and broadcasters. No doubt, he says, immersive will play a growing role in his considerations at Gearhouse, although like many other observers he believes "it's too early to be sure" quite how central immersive audio production will become to sports broadcast per se.
It's clear, though, that Bianchi has rather more concrete reservations about the other overriding audio trend of the moment – IP. "I have attended a lot of events, including some SVG Europe ones, where IP audio is being discussed, and my current view is that there is an element of reacting to a new technology for the sake of reacting to a new technology."
"There can be significant advantages to AoIP where a real de-centralised audio network is required"
He cites A-to-B cable replacement, observing that using AoIP "to this end does not necessarily offer any advantages over MADI. However, depending on the use case, there can be significant advantages to AoIP where a real de-centralised audio network is required."
Like many other broadcast industry stalwarts Bianchi remains an advocate of the "wonderful" serial digital connectivity standard, MADI. Originated and first deployed in the early 1990s, it is "extraordinarily enduring and I don't think it's going anywhere! Everyone understands it; it is the ultimate in interoperability; and you only need two people to test one signal path."
So although a certain hybridisation of workflows to include at least some element of IP audio is probable, there is good reason to suggest that MADI will remain in demand for a long time to come – especially, one might suggest, as we move into an era of remote production when on-site team numbers are bound to dwindle further.
Planning and preparation
For all his obvious passion for sound production workflows, Bianchi says that "planning large-scale projects and thinking about how to use new technologies to provide solutions" has always been a crucial element of his work in sports audio. "It was always really half of my work with Formula 1," he recalled, "and I loved the whole business of planning and overseeing system builds, choosing new equipment and so on."
Evidently, these are aspects of expertise that will come in very useful at Gearhouse, which he identifies as being "on an exciting journey" that will see it become even more responsive to changing modes of production.
As our conversation draws to a close, and he prepares to return to planning for 2019 events, Bianchi sounds an optimistic note about the availability of engineering talent who will underpin this next phase of industry development. "I actually think there is a great standard of younger engineers already in, and preparing to move into, the industry," he said.
"Education is a big part of that, and I think that [future engineers] are now being very well-prepared by audio schools and colleges. They accept these new technologies as part and parcel of their working lives, so that puts them in a great position in terms of their career development."