Leading the way: Sunset+Vine gives Crufts the major sports event treatment
'Paws' for thought about the production team that brings the world's biggest dog show to our screens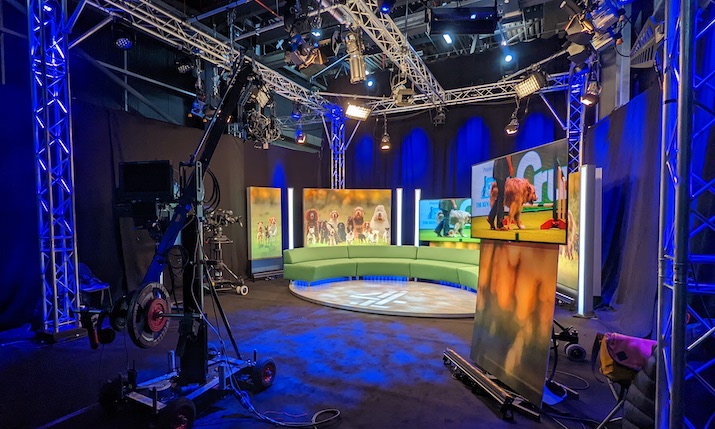 Even those with only a peripheral interest in dog shows know Crufts. The annual event, run by The Kennel Club since 1891, draws entrants from across the world. Returning after two years due to pandemic lockdowns, Crufts 2022, which took place from 10 to 13 March, saw over 20,000 hounds competing. The live broadcast came from Birmingham's NEC to an international audience on Channel 4 and the event's YouTube channel, and enjoyed the same production values and attention to detail as any major sporting event.
The latter is not surprising as the OB is produced for The Kennel Club by Sunset+Vine, better known on these pages for its coverage of rugby, cricket, sailing, riding, football and other sports events.
According to Jeff Foulser, chairman at Sunset+Vine Productions, the relationship between Sunset+Vine and The Kennel Club goes back 12 years, when the production company streamed coverage of the main arena and the judging live on YouTube. A year later Channel 4 took some of the content, including the culmination event, Best in Show, for its main channel.
"It's just grown from there," says Foulser, speaking to SVG Europe at the end of day one of the show. "The channel has been incredibly supportive of Crufts and The Kennel Club, and The Kennel Club is a very loyal client [to Sunset+Vine]. It's a fantastic relationship, and the contract has just been extended until 2024."
"This is the 11th year that Crufts has been on Channel 4," he continues. "It's become a big part of their schedule and it rates really well. In terms of production, this year is the biggest one we've ever done. We've got more than 16 hours of coverage across Channel 4 and More4."
This compares to a major OB sports event in terms of production; the approach has some familiar points too.
"We tackled it initially in a similar way to sports, in that we have what we call the match truck, the event truck, which covers all the happenings in the main arena," says Foulser. "We've got three trucks from EMG UK via CTV OB; the event truck for the arena, one with all the gear to do the presentation areas for Channel 4 and we've got a separate truck with four edit suites. We've got a good timing system in place, with graphics provided by AE Live and Odata from Germany providing all the timings for the arena."
"We cover Crufts all day separately for The Kennel Club YouTube channel and then events like the flyball, agility and all the group judging that happens go on to the Channel 4 programme," he continues. "We've also got a digital team, separately engaged by The Kennel Club, and they go around shooting content for social media such as TikTok."
All in all there are 135 crew – no small amount on any event – and this year it includes 10 students from various universities and colleges in the West Midlands.
The main studio is at the back of the arena, out of the way of the crowds, says Foulser.
"When you're on the air late in the evening all the halls are empty. So, this year for the first time we've got a separate [additional] studio in hall three, which is right in the middle of all the action," he explains. "During the afternoon show, when it's all going on, we do a lot from there. It's got a real buzz about it."
There are eight cameras in the main arena, including a jib. "This year for the first time we've got a two-point wirecam system from Batcam, and that's really raised the level of coverage," Foulser says. "We have three cameras in the second studio and then we have three crews running around shooting features and additional concepts. It's a big operation."
Running to time
The old TV adage is 'never work with children and animals', but Foulser feels Sunset+Vine has refined the process for Crufts. "I think we work incredibly well with the event team at The Kennel Club. In terms of the timings, of us joining in the arena, that's really well thought through and co-ordinated. Flyball is a live event, for example. While for Best in Show, we must get the timings right because it's on the main channel and we've got to be off the air by nine o'clock. So, it's crucial that the event runs to Channel 4 timings. We can put breaks in when we want to and all that, so it's a very much a co-ordinated effort between our team and The Kennel Club."
Clare Balding, returning to the show for her thirteenth year, hosted daily highlights live from the NEC and was joined by a team of reporters including Radzi Chinyanganya and Crufts newcomer Sophie Morgan, along with canine experts.
"We have top talent covering the show," says Foulser. "Claire Balding is the main presenter, she's supreme, she really loves the dogs. For the commentary we brought in sports TV legend Jim Rosenthal a few years ago ­– he's given that a whole new lift.  He's doing the commentary along with Graham Partridge and they're a terrific double act."
"Because of our sporting background, people do ask, 'why are you doing Crufts? It's so different from covering rugby or cricket or football'," says Foulser. "But in a way, there are lots of similarities. It's a big event, with things going on in an arena. Our director who covers the main arena is Daniel Hudson, who's one of our rugby directors; he directed the Rugby World Cup finals in 2019.
"We've got some absolutely top people. Our executive producer is Gary Francis who was behind all the Channel 4 cricket coverage, and he's done a lot of work with us. He's semi-retired, but I persuaded him to come back because he's just a brilliantly organised EP. Then there's Diana Keen, our senior production manager; she runs the whole operation with military precision. When you've got over 130 people, you need to be well-organised."
As with any broadcast coverage, there are challenges to overcome, but the recent relaxation in COVID restrictions in England has made things easier. "We're still telling the crews wherever possible to wear masks and to try and keep socially distanced as much as they can," says Foulser. "But, while we're being careful, we're able to operate more normally than we would have done had this event happened six months ago."
Then there is the international angle. "There were going to be 40 or so entries from Russia, which The Kennel Club quite rightly prevented from coming. Some dogs were coming from Ukraine, which sadly couldn't get here because they had to be evacuated from Kyiv. They're more concerned about preserving their lives and the lives of their dogs than being in a dog show. It is, of course, really sad, but there are still dogs coming from all over. It's very much an international event."
The other problem, and it's common with all events of this scale, says Foulser, is that it takes a bit of time to get up to speed.
"We do dozens of rugby and football matches a week and everyone gets into a rhythm of doing it. You have to find your rhythm straightaway when you do one-off events. You can't really rehearse until the dogs are here," he adds. "You just hope that with the preparation and organisation that has gone into the pre-planning to be able to hit the ground running. It's not easy, but I've always worked on the principle that if you get the best people you will end up with a pretty decent product. And I think we had the strongest day that we ever had yesterday."
Seeking shots
"We've upgraded the coverage quite a lot over the years," adds Foulser. "Fair play to Channel 4, they've increased the budget and enabled us to put more on the screen."
In terms of shots and scenes, the producers are trying to make it as entertaining as possible.
"The traditional thing is the group judging and that can all be a bit serious; we've got cameras everywhere, looking at the dogs," he says. "For the two really fun events – flyball and agility – we've got the jib, the wirecam and six other cameras, but we've also got radio cams on the jumps. We're treating them almost like a live sports event and it's going really well. The idea is to make the whole show look as entertaining, as glossy and as modern as we can."
"You have to find your rhythm straightaway when you do one-off events. You can't really rehearse until the dogs are here"
The Channel 4 coverage is still approached in traditional fashion, though the production encourages viewers to send in clips and photos of their dogs.
"We run that into the presentation, it's quite an interactive thing with the viewers," says Foulser. "People just want to engage with the show and show off their own dogs, so we encourage that and put them on the air."
There are also feature packages, such as a visit to the home of a past winner of Best in Show, or the Friends for Life shorts. "[The latter] features dogs that support people who are either disabled or ill," says Foulser. "They're really quite moving features. Some get shown in our programmes, some get shown on social media or on the website and in the arena. So, it's a very joined-up approach."
Other external content comes in the form of video calls into the studio with the presentation team. "We've got a couple of screens in the studio for Clare to do interviews over Zoom," says Foulser. "I think if you looked at the show 10 years ago, it's very different now. The technology is different in terms of engaging more directly with the viewers. But we still don't lose its essence, which is that people love to see dogs. The judging side is really important, especially to The Kennel Club, to show great examples of each of the breeds."
The relationship between the organisers and Sunset+Vine is obviously very strong.
"They're extremely loyal," Foulser says. "They like what we've done for them, and we've looked after and supported them. It's nice to work with people who appreciate what you're doing, and we appreciate their support."