LeTV Sports drives live sports programming with Kula switchers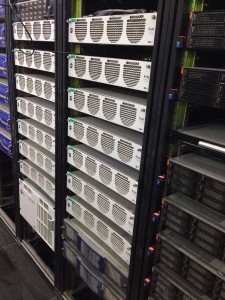 China's LeTV Sports, a division of LeTV Group, has purchased 14 Kula live production switchers from SAM to form the backbone of its studios for live sports programming. Announced at NAB 2016, Kula has generated momentum in the market as a powerful switcher and one that makes 4K a viable option for broadcasters.
LeTV Sports is one of the fastest growing sports companies in China and holds the lion's share of the country's sports programming including basketball, tennis, football, cycling, Formula 1® and other live events. Each Kula was installed inside one of the broadcaster's 14 studios and is being used in a 1M/E configuration on the advice of systems integrator CSS, who managed the installation.
Mr He, Yinwei, General Manager of CSS Technical said "We recommended to LeTV that they should take a close look at SAM's Kula switcher. After a detailed evaluation of multiple switchers in the market, it didn't take LeTV long to realize that Kula was the best solution.  Kula meets all of LeTV's requirements in terms of functionality, size, and price. Its compact frame aligns perfectly with the size of LeTV studios, plus its Multiviewer function gives the broadcaster the flexibility to work with multiple inputs and outputs during broadcasts. With Kula, LeTV also has the option of broadcasting in 4K, which was definitely a mitigating factor in their choice. We couldn't be more pleased with the performance of the Kula's in LeTV's studios."
Available as 1, 2 & 3 M/E's and 1 M/E 4K versions, Kula can handle multiple formats making it both future-proof and adaptable for today's production environment. The 2M/E HD/SD version can be switched to 1M/E 4K mode, allowing users to benefit from higher production values.