Levelling the playing field: Grass Valley discusses the benefits of cloud and IP workflows for lower tier sports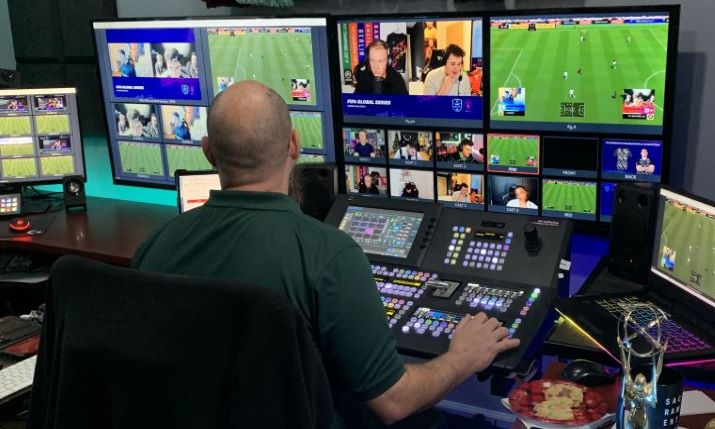 By Larissa Görner, director of live advanced solutions, Grass Valley
One of the major success stories of the past year was the Tokyo Olympics and specifically the window into global primetime for many so-called niche sports. From climbing and BMX to skateboarding, taekwondo, softball and surfing, professional competitions outside the mainstream gained invaluable exposure to new audiences keen to learn more about the artistry and athletes involved.
We can look forward to similar supercharged interest in lower profile events at the Beijing Winter Games when mixed male-female events, including freestyle skiing aerials, ski jumping and snowboard cross, will be thrust into the limelight.
Exposure to alternative sports content often sparks appreciation, which in turn drives the demand for more content. For audiences that are used to the same Tier 1 sports dominating their screens week in and week out, the variety on offer makes for a refreshing change.
However, wanting to capitalise on that interest and being able to do so was until very recently neither economic nor practical for Tier 2 and 3 sports rights holders or media enterprises.
Cloud changes the game
Change was already in motion with the introduction of IP-enabled tools and broadband capacity for a direct to consumer (D2C) product, but this has been leapt forward several years by the impact of the pandemic, which forced greater understanding of battle-hardened end-to-end live cloud production.
At the SVG Summit in 2020 Joe Zaller of Devoncroft Partners reported that industry economics had already shifted significantly as the cost savings from diversely located IP-based production had established a new baseline for budgets and operations.
He cited Brazil's TV Globo, which is no longer enhancing or building control rooms to support Tier 2 or Tier 3 events. Of nearly 3,000 sports games per year, it has transitioned to cloud-based systems to handle more than 1,000 of them.
A year later and delegates at SVG Europe's Sports Production & Technology Summit in November were sharing how the sheer speed of change enforced by the pandemic has driven the adoption of IP and cloud workflows and tools.
Many core functions of a live workflow like transcoding are now available as a commodity available in virtualised form at the push of a button. In turn, vendors are obliged to offer greater flexibility on price by moving towards software as a service (SaaS) business models in tune with the market demands to move from CAPEX to OPEX.
Much of the industry focus is on the gold rush to stream the most popular games and leagues over the top (OTT), but in truth this will be a ten year transition as rights holders of the major leagues are reluctant to throw in the guaranteed reach of traditional TV, and TV is clearly going to do all it can to preserve lucrative long-term rights deals.
No little league mentality
Instead, the major initial shift to D2C fuelled by cloud production will come from smaller sports organisations eager to find their audience. Cloud and OTT has reduced barriers to live production by eliminating the need to contribute video over traditional satellite or fibre, while enabling staff from director to vision mixer and even camera operators to work at a central MCU or from home with little impact on their workflow and no noticeable impact on the quality of the end user experience.
Cloud is perfect for streaming sports events and COVID undoubtedly shifted the perception of it as a viable technical solution versus on-premises for video workflows.
Its elasticity means you can scale up your resources any time, stream events in parallel and only pay for what you use. If there is no event, there is no cost. Cloud can expand the scope of production without significantly impacting the cost to produce more content.
This is not confined to the few Tier 1 sports with mass appeal but to any sport and any media company like never before. Cloud has levelled the playing field. The ability to spin up production in the cloud, pay for it during use – then let it evaporate – is unlocking new opportunities to widen the diversity of sports on TV and across OTT platforms.
For sports and esports
Take the FIFA World Cup Qatar 2022, without doubt the most highly anticipated event of the year and likely to break records for the most watched live event of all time. Its production will be steeped in innovation, including the likely use of production workflows that include the cloud. The use of these pioneering workflows should put to bed any notion that the cloud is not suited to a mainstream flagship event.
At the same time, the same technology can be tapped for less high profile sports such as lower tier soccer leagues, US regional college football, handball, volleyball and the rapidly growing world of esports.
The EA Sports FIFA 21 Global Series, for example, was picked up by 21 broadcasters, covering 115 countries that generated 47 million viewers. Not bad, considering that the average television viewership of a regular season NFL game in 2020 was just under 15 million.
Yet, unlike the last (physical) FIFA World Cup in 2018, which had thousands of production staff across Russia, EA's production teams used an end-to-end cloud workflow to deliver its broadcast-quality storytelling to a global fanbase.
World-class production tools
At the heart of production, tools and systems including production switchers were powered by the GV Agile Media Processing Platform. Although it may be unfair to compare the two World Cups at a technical level, the pace at which cloud-based production is progressing is staggering. A few years back, managing half a dozen feeds into the cloud was an achievement. Today, 40 is realistic, and in a few years, this number will grow exponentially.
Engineering teams have solved the fundamental technical hurdles like low latency, synchronisation and high quality contribution and now it is more a case of scaling the solutions based on the nuances of cloud architectures and IP-based networking technologies.