LimeLight Networks announces seminar on overcoming latency in streaming video
As viewers spend more time online watching live and on-demand video content, broadcasters and content distributors are under increasing pressure to deliver an exceptional low latency live video streaming and on-demand experience, on any device. To help solve this issue, on Tuesday 24 April LimeLight Networks is set to host a webinar titled 'Overcoming the Latency Hurdle in Delivering Streaming Video' to look at the possibilities.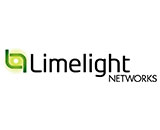 Starting at 4pm BST, listeners can join the video delivery experts from Limelight Networks as they share strategies for implementing a cost effective solution at global scale, without sacrificing the quality your audiences expect.
In this webinar listeners will learn how to: deliver live video at three to five second latencies through HLS and DASH chunked streaming techniques or sub-second latencies through emerging WebRTC technology; reach the widest possible audience with multi-device streaming; and optimise all points in your video workflow to ensure broadcast-quality experiences.
Interested parties can register by clicking here.