Link-up play: How Input Media is covering the FIFA Women's World Cup remotely for BBC Sport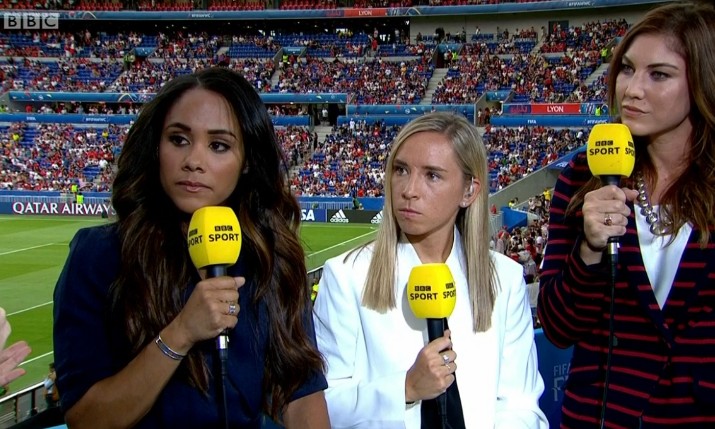 Currently working on its second FIFA Women's World Cup for BBC Sport, Input Media is making use of a hybrid remote production set-up to produce the corporation's programming for the 2019 tournament.
The match feed is being taken in full from the host broadcaster, Host Broadcast Services, but the live presentation and analysis, before and after the match and during the half-time interval, is all being done remotely from Manchester.
The 'at home' workflow includes the daisy-chaining of Input's facilities in the UK.
Vision and sound mixing technology housed in its facility in London is linked to a bespoke gallery in Manchester where live camera feeds of the BBC presentation from France, sent by satellite, and the match feed, delivered by fibre, are switched.
"All the kit that is doing the production – the switcher, the audio mixer, the matrix – is all in London," Nick Symes, Input Media's director of technology told SVG Europe.
"What is in Manchester is the control surfaces and the video feeds. It is a quite interesting example of a particular type of remote production whereby we're not doing a full multi-cut of lots of cameras but what is actually a fairly simple remote production. The difference is that we've long-lined where people are actually doing it."
"Most of the presentation from site comes back via satellite but we've used the fibre network in the UK, connected to the IBC, to bring all the match feeds back."
Analysis, replays and packages are also produced in Manchester with reverse vision being fed back to the platform presentation positions.
The set-up is different to the one used by Input Media for the 2015 tournament in Canada which was more traditional, taking the world feed and then wrapping around studio presentation from London.
For France 2019, because it is closer to the home and the profile of the women's game is on the rise, BBC Sport was keen to go bigger with its World Cup coverage.
"We gave BBC Sport three options," continues Symes. "A studio wraparound. Full OBs on site. Or a hybrid of the two which is presentation from site but with most of the programme production done remotely from the UK. They chose the hybrid option.
"Our final connectivity solution used satellite, the FIFA venue network and our own network.
"This hybrid solution allowed us to use both satellite and fibre options. Most of the presentation from site comes back via satellite but we've used the fibre network in the UK, connected to the IBC, to bring all the match feeds back as well as fibre backups of the presentation feeds."
Great link-up play
The 'daisy-chaining' of facilities was done for good reasons.
The BBC Sport contract for the Women's World Cup was a regional tender which meant that the production had to take place outside of London.
"For this project, in order to meet the specifications of the tender, the production had to happen in Manchester where we have a facility," says Symes.
"To make it all work, rather than install significant amounts of new kit in Manchester, we have long-lined our London production facility up to Manchester and built a new bespoke gallery there instead. Here, the production team are cutting between our unilateral cameras and the match feeds."
Symes was initially concerned about satellite delay but this was counteracted by cueing early and encouraging the talent not to be too fixated with the outgoing VT.
"It has worked well," he adds.
An expansive game
Televideo is providing the SNG facilities for Input Media in France.
"Working out the logistical plan for how the SNG trucks would get around France was very complicated," reveals Symes. "But Televideo are very pragmatic and flexible and they have helped us to make it happen."
For this tournament, Input Media has expanded its Clear-Com matrix, put IP panels into its Manchester facility and added Clear-Com LQ interfaces into the SNG trucks.
It has also deployed facilities at the IBC in Paris for the collection of all live match feeds and digital content from FIFA Max for its own use and for BBC Sport.
For England games, back-up fibre services are added to ensure an extra level of resilience.
The technology being used includes;
Clear-Com for IP talkback
Brainstorm Aston 3D for graphics
Grass Valley Kula vision mixer
Lawo mc² 56 audio mixer
NEP for satellite capacity
EVS for replays
Piero graphics system for analysis
"Touch wood, everything has performed really well so far," says Symes.
"The network that we built has been robust and hasn't let us down. We haven't had any technical failures. We have had the occasional bump on a satellite path when there has been poor weather. But generally, it has been very smooth. The build was busy and quite stressful but once we were on air it's technically been very settled."
Building for the future
While this hybrid remote production set-up has been ideal for BBC Sport's coverage of France 2019, it isn't the full works. Match coverage is still being done locally.
Symes is confident that effective multi-camera full match coverage being produced remotely on a regular basis is just around the corner.
"Remote production is quite a broad term. Cutting a couple of unilateral cameras around a world feed has existed for a long time. I think now there is a definite shift to being able to cover regular events, like weekly football or rugby matches, in a more drastic way: bringing the camera channels back and cutting them at a central broadcast centre.
"This very much relies on the right infrastructure being in place at the venues and stadiums," he adds.
"You can do it using satellite but that is expensive and complicated. Where it works best is if it's known commodities at well-connected venues where you have an established network and kit that is well supported. In that scenario, it is certainly do-able.
"We've upgraded our Manchester facility. What we want to do now is to continue to use it. There is nothing to stop us being able to go to a full multi-camera remote production, if it is required. It all depends on the venue having the right capabilities."
BBC Sport will broadcast the FIFA Women's World Cup third-place play-off between England and Sweden in Nice (6 July) and the World Cup final between USA and Netherlands (7 July) in Lyon live on BBC1 and on the BBC Sport website and app.