Little footprints: Extreme E, Aurora Media Worldwide and NEP ready broadcast production for launch of extreme new race
NEP Group announced as technical production partner
Extreme E, the new racing series that combines extreme locations with sustainability, equality and climate change awareness, is set to launch in March 2021 with the help of production partner Aurora Media Worldwide and technical partner NEP Group.
The run up to the launch has carried on despite the pandemic, which has inadvertently helped highlight why producing sports events remotely, with minimal crews and with as light a footprint on the globe as possible, is so important today.
Ali Russell, chief marketing officer at Extreme E, tells SVG Europe how the perception of the race has evolved over the past year in the face of the pandemic: "It's a sport that is very progressive. We talk about a sport that links the environment with equality, with green technology in terms of electrification, and then [we have] the prism of a very future-facing sport and it's also biosecure at a time when sport is going through severe challenges; I think it's captured people's imaginations."
Sport without fans
"Our Achilles heel last year when we launched was that we were a sport without fans," Russell goes on. "People were saying, 'is it not going to be a bit strange to be doing a sport in the middle of nowhere, with these beautiful vistas, without any fans?'. Now what people are saying is, 'thank goodness that you can operate in these extreme environments at a time where the world is shutting down, and you're able to conduct a first-class sporting event, which is trying to be very future-facing'."
Meanwhile, Lawrence Duffy, managing director at Aurora Media Worldwide, has travelled the world on Formula E for the past seven years. He says: "Around the world there was a baton being passed of climate change, a baton that nobody wanted. From the fires in California down to deforestation in the Amazon, to deglaciation in the Alps, there was a big problem. I'd been to Greenland a couple of years ago with Alejandro [Agag, founder and CEO, Extreme E] and a team of people to create some media up there. When we were there it was the hottest July they'd ever had; in 2019 the ice was melting in front of our eyes.
"So just from a personal point of view, I thought [Extreme E] was something that we wanted to look at."
Russell adds: "We didn't want to just become an electric rally or electric rally cross; we wanted to have a higher mission, a higher purpose and a higher goal. [This is] a sport with purpose and I actually think we've gone one stage further with Extreme E. That purpose is, fundamentally, the climate emergency and using sports, which is connected with so many people. [We are] using sport as the main medium for connecting the story of climate change and what can be done, what people are doing and how we are combating that."
Developing the concept
Duffy says on the development of the Extreme E broadcast concept: "It had this kind of modern signature, which was very 'of the moment'. It was a way of talking about climate change without talking about climate change, and climate change is a story. People can get fatigued with the same story; I think it's up to the production community and entrepreneurs like Ali and Alejandro to do something."
Hybrid storytelling is a key feature of what Aurora is hoping to achieve for Extreme E. Duffy explains: "Hybrid storytelling is key here. We aren't messing around; as well as using the car data, the track data and the sporting data to tell the story of what's happening, we're also using the planet data to fuse the story of these challenging environments with the story of the racing. By that I mean latitude and longitude, temperature of the ground, amount of potential sea level rise, amount of deglaciation, the square meters that the Amazon is being deforested by.
"It's very important to us that we are combining the theatre and the background of the locations we find ourselves in with the central proposition, which is the race. And I think that coming together is an important editorial first."
Remote little footprints
The locations for Extreme E – Saudi Arabia, Senegal, Greenland, Brazil and Patagonia – are particularly challenging as they are remote and infrastructure-free, and the plan is to have as little footprint as possible from a production point of view.
Duffy says that while some of the locations have been filmed in before, "producing live content to the world, to the level we're doing, I don't think has been done". He goes on: "I think there'll be a number of firsts here, which are new both in terms of how we're producing and the type of content that we're producing."
"Once in a lifetime these things come along and Extreme E was fascinating and hit a zeitgeisty moment in the sports industry. But this is bigger because we do feel a responsibility to tell the story of what's happening in these places, so it's suddenly vocational and it's just a joy and privilege to be able to be able to look at this and figure out how we do it"
Extreme E will be based on remote production, Duffy says: "Live sports programming with this level of remote production has not been done in these parts of the world before; in Greenland we are in a valley with a glacier on the side, in Senegal we are at a beach location next to a Lake, in the Amazon we'll be in the middle of the deforested area. Getting live pictures out of these places with the level of integration that we've got just hasn't been done before."
However, Duffy says: "Extreme E has gone to a new level [on remote production] because we made the conscious decision early on to take as few people as possible.
"You just can't take a big crew. It's counter-intuitive to what we're trying to do. So we have to use remote technology. We have to position the cars' onboard cameras to help us tell the story of what's happening on the racetrack. And that's why we're using the drones because we don't want to take a helicopter. We want to come and go as lightly as possible."
To make a small crew work, Aurora has found people with multiple talents, so some people such as camera operators can do their own rigging or editing, says Duffy. "We're taking 'predators' instead of editors and camera operators," he adds. "We just went through the crew list with NEP and thought how can we do this resiliently, because that's vital of course, but also trim the crew. But in going remote in the first place, you are by definition reducing the amount of people that you're taking on site." Although he notes that when the entire remote and on site crew is added up, it comes to more of a regular OB-sized team in terms of numbers.
Sustainable technical production
The team is currently in pre-production and testing. The project has taken all of 2020 to develop in terms of the creative aspects, logistics, technicalities and operations.
Duffy adds: "The creative is particularly interesting. The pre-production phase is now testing. It's seeing the graphics, it's seeing content, it's fitting the cars with the onboards, doing the site surveys – although we've done a couple of site surveys now we've had to stop for obvious reasons – and it's really beginning to map the production and stress-test the operations. So that's where we are now. We'll move into a rehearsal period, then we've got the first quarter of next year to finetune."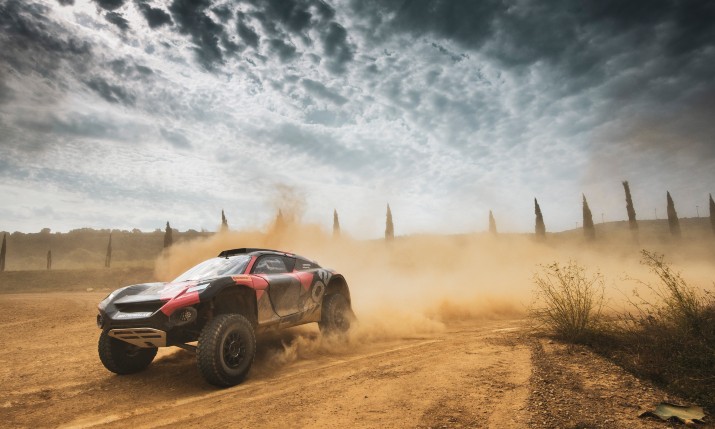 Aurora and NEP have had to build a technical solution that can be deployed in any circumstances. Duffy says: "It's a full IP broadcast remote solution, virtualised [in that] all the feeds come back from [location] to sites in a London hub. The master show is produced in London, the sporting graphics will be from Al Kamel Systems in Barcelona, Spain, the AR and VR will be from NEP in Hilversum, the Netherlands. So already you've got four sites involved to produce one show."
As technical production partner, NEP is delivering the broadcast production in the most sustainable way for the new race series. Together, NEP, Aurora Media Worldwide and Extreme E have spent 18 months designing a technical solution that reaches the most remote locations while reducing the environmental impact across the entire production.
NEP has created an end-to-end solution that will include flypacks, remote production, crewing, satellite and fibre connectivity, edit, ingest, augmented reality (AR), GFX, display and projection, and specialist cameras including RF.
The system design and build is under the direction of Donald Begg, NEP's director of technology for major events. Begg is overseeing the broadcast remit amid the challenges of both COVID-19 restrictions and the unique requirements of where and how the equipment will be used.
NEP has recently tested its technology solution at the ex-RAF Bentwaters airfield in Ipswich, UK, alongside Extreme E's other broadcast suppliers, including motorsport communications experts MRTC and Al Kamel Systems.
The specialised flypack, designed to survive extreme temperatures and conditions, will be connected back into NEP's new UHD-ready centralised Broadcast and Media Centre, which is located at Gray's Inn Road, London. The production will make use of the centre's extensive connectivity, remote production galleries, remote replay, edit and live centre monitoring, all currently being built at the London location.
NEP's Netherlands-based team in Hilversum has also developed new AR tools for drone tracking and in-car GFX, along with the innovative use of RF technologies to work around environments where cable runs are limited but still need to achieve maximum and resilient coverage from the cars.
Avoiding either fixed wing or helicopter RF solutions to remove some of the environmental impact, the company has achieved a ground-based system of remote IP RF links and clever integration of the coverage systems to maximise the number of feeds.
Combined with advanced drone technology, the AR GFX teams have worked with Extreme E and Aurora to develop live mapping and overlays of the diverse course from the drones, providing the viewer with a whole new experience in race time GFX AR overlays.
Layered broadcast approach
Aurora is using a layered approach in terms of cameras, graphics, AR and VR. Duffy explains: "That layering is really deploying an amount of track cameras, POV cameras, the onboard cameras, of which there are four per car, and then specials, which are three drones."
The drones – supplied by Aerios Solutions along with operators for each of them – are racing devices, two of which will be used to track the cars from above at each location, while the third will provide an overview of the entire track.
"These are all really great technologies, but for us they're fundamental to the product. They're not nice to haves. They're actually genuinely allowing us to do things in different ways. New technology for us has been really, really important for helping us to narrate a very, very exciting story"
Duffy comments: "The drones can do 90 km an hour, but they're also very agile. The other key thing for us was that they can fly in pretty much any conditions; they can fly into 35 knots of wind, so they are robust."
He adds: "Drones have been terrific in post production, but in live production, they've been a challenge up until now, but we trialled them at Goodwood SpeedWeek and the quality [of the] output was amazing."
All the onboards and drone signals are fed to four nodes which are positioned around the track. The nodes pick up all the signals and send them back to the onsite TV compound. The signals are cut into a race cut on site, then that plus around 30 feeds go back to London, where they are then augmented with the sporting graphics that come in from Barcelona and the AR and VR that comes in from Hilversum.
Adds Duffy: "If the producer or director wants to cut in onboards in London, they can, they can overlay the onboards or they can choose whatever feeds they want to master the show with."
Animated telemetry
Extreme E is adding more to those layers with its technical partner for timing and data graphics, Al Kamel Systems, with 3D telemetry using NEP's four Unreal Engines. While Formula E and Formula 1 use a 'heads up' display that enables fans to see the telemetry, speed, position on the racetrack and more, Extreme E is going one stage further with animated telemetry.
Explains Duffy: "In the driver's eye, we've got animated telemetry where you see the car moving. The reason we wanted to do that is because of the nature of the tracks; whether you're going over rock, ice, sand, contours, up a gradient, down a gradient, we wanted to see the car ebb and flow. So we felt on the data itself, we wanted to go a stage further and see how the car was moving based on the telemetry and the telemetry points, even the way the wheels are turning and how the car is moving around on its chassis. We created a 3D telemetry model that we're using in the live broadcast, which may be first, but it's certainly a first for us."
The AR will be an overlay of the field of play, so fans can see where the cars are at any one time. For the VR, Aurora and Extreme E are creating a virtual world, mapping the track for each location based on a drone survey.
Adds Duffy: "So the layering approach has got a track camera, onboard camera, POV cameras, drones, sporting graphics, AR and VR. It's a much more significant toolkit than is [normally] available. This is a very modern approach in terms of how we're creating the format."
Russell adds: "These are all really great technologies, but for us they're fundamental to the product. They're not nice to haves. They're actually genuinely allowing us to do things in different ways. New technology for us has been really, really important in helping us to narrate a very, very exciting story."
Duffy concludes: "Extreme E is an amazing project. Once in a lifetime these things come along and Extreme E was fascinating and hit a zeitgeisty moment in the sports industry. But this is bigger because we do feel a responsibility to tell the story of what's happening in these places, so it's suddenly vocational and it's just a joy and privilege to be able to be able to look at this and figure out how we do it.
"Also, to tell it for an audience which is interested in that kind of hybrid storytelling, and to engage an audience that may not necessarily come to motorsport as the first channel hop, but they'll come to this because it's a motor race, but it has some other really compelling component elements as well."
The five-event calendar starts in March 2021 in Saudi Arabia, before moving to Senegal in May, Greenland in August, Brazil in October and Patagonia in December.