Live 29-camera games part of first SportsInnovation showcase in Düsseldorf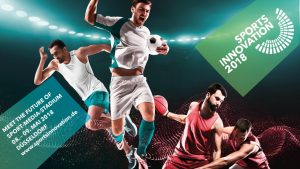 At the inaugural SportsInnovation event in Düsseldorf on May 8 and 9, technology providers will showcase their latest products live and in real time, including in three specially organised football matches at the Esprit arena.
SportsInnovation 2018 is being organised by Messe Düsseldorf in partnership with DFL Deutsche Fußball Liga.
"Since its establishment DFL has been driving innovation, and taking part in the SportsInnovation event is the next logical step in this process," says Christian Seifert, Chief Executive Officer of DFL. "The event underscores that the courage to embrace technological progress is a hallmark of professional football in Germany."
All Innovation Games will be produced with up to 29 cameras in UHD quality, and state-of-the-art camera systems will be used throughout the stadium – both inside and out. Some of these have been specially designed for this purpose and have never been used before in football production. During the Innovation Games, six teams will face off: the under-17 teams of Fortuna Düsseldorf and Bayer 04 Leverkusen, the under-23 teams of Fortuna Düsseldorf and Borussia Mönchengladbach, and the under-17 teams of 1. FC Köln and MSV Duisburg.
Before, during, and after the Innovation Games, participating companies will come together on two floors of the ESPRIT arena's boxes and business zones to present their latest technologies through live showcases on the following topics:
Broadcasting – such as broadcast technologies, graphics and animation, as well as infrastructure (e.g. satellite transmission, fibre optic and IP networks)
Stadium Experience – topics such as fan entertainment, stadium lighting, apps, physical and virtual advertising, as well as ticketing and payment systems
Match Analysis – performance tracking and recording, data collection, processing and visualisation, as well as the evaluation of performance, position and vital data
Digital Services – like platforms, channels and applications, second stream solutions, as well as E-sports
Matches & Tournaments – radio systems, goal-line technology, video assistance referee systems, gear and equipment, along with sports medicine and physical therapy
Exhibitors at the event will include SAP, Gold Sponsor deltatre, Sony Europe (Switzerland), Dolby Germany, EVS Broadcast Equipment (Belgium), Riedel Communications, Kinexon, NeuLion, ChyronHego, Canon, Panasonic, Vizrt, Lawo and Muso Sports Lighting (USA).
Attendees will include representatives of FIFA and UEFA and of numerous clubs from the Bundesliga and Bundesliga 2, Spain's La Liga, Italy's Serie A, the English Premier League, France's Ligue 1, the Swiss Football League and Japan's J-League as well as decision-makers from the local and international media industry.
Additionally, the Steering Group of the World Leagues Forum (WLF), the international association of professional football leagues, will meet during SportsInnovation 2018. Formed in 2016, the World Leagues Forum now has 34 member leagues representing around 1,100 clubs worldwide. The Steering Group consists of representatives of twelve leading professional leagues, including DFL, the Premier League (England), LaLiga (Spain), Serie A (Italy) and Ligue 1 (France), as well as Major League Soccer (USA) and the J-League (Japan). The WLF is headed by a Management Group comprising Chairman Richard Scudamore (Premier League), Enrique Bonilla (Liga MX, Mexico) and Christian Seifert, Chief Executive Officer of DFL.