Live from Aintree: NEP prepares RF for ITV's Grand National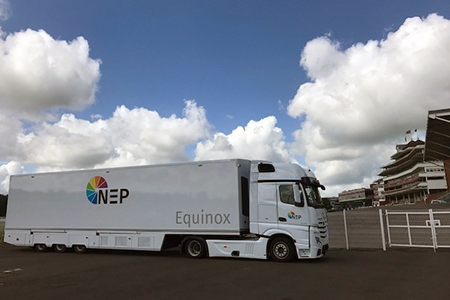 NEP's trucks and team travelled down from Kelso in the Scottish borders on Sunday to set up at Aintree on the outskirts of Liverpool for ITV's coverage of the Grand National.
It's the biggest televised single race on the racing calendar but that's not the only reason it's also the most complex to produce.
"With horse racing, it's all year round, 94 transmission days a year," says Jon Harris, technical projects manager, NEP.
"We literally go from one event to another. There's barely time to think and plan. But the scale of Aintree means it's almost a turnkey operation. Aintree's geography is massive so the logistical side of covering it all from remote areas means we're very reliant on RF."
The team drove straight to Aintree from Kelso and had three days to complete the cabling and fit in all the cameras before going to air on Thursday morning for the start of the Grand National Festival.
In terms of build time, that's pretty tight for a job of this scale, adds Harris. "The efficiency with which we are able to do this comes from working with one team and one core truck."
The Equinox stable
Harris is a veteran of 17 years horse racing coverage while NEP has held some of the sport's main OB contracts for the last thirty years.
Since a catastrophic fire ripped through its inventory in late 2015 and spurred on by re-gaining the contract for new rights holder ITV in early 2016, the supplier set about investing for the long term.
"Aintree's geography is massive so the logistical side of covering it all from remote areas means we're very reliant on RF."
This included the build of Equinox, an HD 3G truck (pictured above) that is based around an Imagine Communications IP3 router, includes a Sony 4 M/E 72 input switcher and a Calrec Artemis audio desk and is wired for 32 cameras.
On the road to racecourses up and down the UK since May last year, the truck is making its Grand National debut.
"Equinox is not a truck that has come off a rugby match – this is a bespoke unit dedicated to ITV racing," reveals Harris. "It's the main foundation to the whole OB. Everything runs off of it."
Well backed
NEP's racing provision also included hefty investment in an in-house RF department, as Harris explains.
"The ITV contract was a natural point to form an RF department within the NEP group. Because it's a long-standing contract it enabled us to invest in the necessary equipment and from that to broaden the engineering team to look at new technologies like the tri-motion camera."
Used in anger for the first time at the Cheltenham Festival in March, the tri-motion teamed Grass Valley RF cameras with Vislink HCAM wireless transmitters to offer the ability to capture Super-Slow images fed directly to an EVS, while recording live images at 1080p150 and providing return video to the camera operator.
"The flexibility of having a portable RF-based super slo is a tremendous production asset," says Harris.
"It's new technology so we're finding out what the limitations are, how we best use it in workflow and the way we fully maximise coverage with it but the biggest benefit for us is we could have a number of these units on Steadicam which can be used to cut into normal coverage."
Picking a winner
"If we can get a shot of the winning jockey as they lead the winning horse back into parade ring and punch the air – that's the champagne shot for us," continues Harris.
"Normally, taking that shot, there would be a delay while the footage went back to the truck, plus we'd be cabled or in a fixed position.
"With Steadicam we will get the best possible shot. All the photographers want this shot and we are in the best position now to get that – in high motion."
Harris says that having an in-house integrated solution to RF has also allowed NEP to expand its roster of gadget style cameras to give the coverage a new perspective. There are 16 radio camera channels in place at Aintree, some with tracking vehicles.
"The dependence on RF for race coverage is massive for this event," he says.
The set-up includes a simple handheld pan and tilt RF unit overlooking the race starter and a diversity system around the main betting area.
Should a presenter, who may spend 95 percent of their time in this area, wish to move into an adjacent part of the course, then the RF should seamlessly swap over.
On the nose
Of course, RF is not just used to capture pictures.
"There's a moment at the start of the Grand National where the horses are led to the first fence, to get a first look and feel for what confronts them," details Harris. "It's a very intimate moment and it's a lot quieter there than nearer the grandstand. With RF we can now capture sound and vision from that moment and since we're the only cameras there it's quite exclusive."
The RF is also intended to reign in the more isolated areas of the course, notably the two commentary positions in addition to the one in the main stand. The site is so large that the race requires three such 'race callers' since one alone cannot see all the way around the course.
Rather than continue to hide these structures away, ITV has made a point of including the comms towers at the Canal Turn and at fence 3 in its presentation.
"We've put mini-cams into the remote comms boxes so viewers can see how far apart they are. ITV want to show that in-vision. It's useful for us too since we can actually see when the commentator is ready in their position."
Over fences
The position of the comms towers make a natural break to place fibre termination points and from that cable to the fences where NEP has installed a number of cabled mini-cams and FX mics.
Shots captured here tend to be used in post work and promos where more artistic angles come into play.
"In terms of technical coverage Aintree is the biggest challenge," says Harris. "The Cheltenham Festival and Royal Ascot may be as large in terms of race days and spectator attendance, but these are courses which NEP and ITV visit four to five times a year.
"That means the cabling infrastructure is fixed and we are more familiar with the whole facilities and circuit. We go to Aintree once a year and we install temporary cabling in February which means our plans have to be in place well before then."
The complexity of talkback is also considerable. With such a large presentation team working in separate areas, delays in the audio path are inevitable without NEP's sound management.
"Even one presenter working alongside another can cause issues if the planning is not done precisely."
First, second and third
Compounding all of this is the requirement to produce two major live shows each day of the three-day Aintree festival.
ITV broadcasts a morning magazine-style show and then the afternoon racing coverage, each having a different production team, producer and director, although the camera operators are shared.
"No sooner is the morning show off air at half past ten we're straight into prep for the next show."
"This adds another level of complexity to the facilities, but we also want to ensure we're not doubling up on kit and resource," says Harris.
"No sooner is the morning show off air at half past ten we're straight into prep for the next show. We manage to make that switchover seamless by switching over two production trucks.
"We fire both production tucks up in morning and produce all talkback out of one with the production team in another. This allows us to get the afternoon racing team in their truck and settled in with their paperwork while the other production is on air. The additional HD truck gives us that capacity."
There's also a separate Mercury VT truck housing nine EVS XT3 LSMs. The Equinox itself carries a further four EVS' on board.
Straight forecast
ITV will further split its race coverage into two with one team concentrated on the live steeplechase while a second clips angles for the re-run just moments after the winner has celebrated in the paddock.
Harris continues: "As a VT coordinator – which I was for the BBC on the National at one time – this is intense because a producer will come over to you while the jockey is taking the congratulations and you've got to be ready for the re-run, which is run as a separate show.
"Whereas the main live race is all about following the story of who wins, the re-run is keenly watched by viewers wanting to know where their horse came, where it fell or pulled up. You have to diagnose what happened at each fence – did the rider get unseated or did the horse pull up – by pulling as many angles as you can together and trying to outdo the job the team did last year. It's a very busy 20 minutes or so but attracts the second biggest audience on TV for a horse race. This only adds to the pressure."
"I've been doing this a while and it's been really refreshing to see a new team come in wanting to give everything a try," concludes Harris.
"ITV have a production team that is very expert in sport coverage but relatively new to racing. They are keen to bring in new ideas from other sports and to explore fresh options on how to cover it. It's been very terrific working with the ITV team to come up with new ideas, take on board new technical requirements and then deliver that and finally see it in action."
ITV's coverage of the Grand National Festival starts on Thursday 12 April at 2pm. The 2018 Randox Health Grand National is due off at 5.15pm on Saturday 14 April.