Live from Cricket World Cup: Player tracking, AR and Buggy Cam bring fresh perspectives to ICC TV's world feed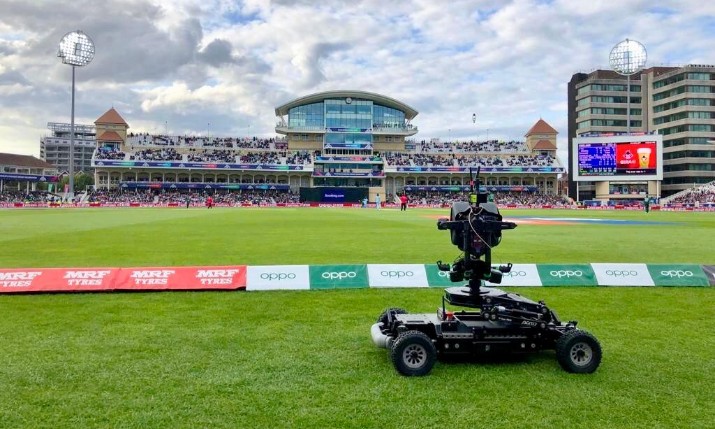 In part two of our interview, ICC TV executive producer Ajesh Ramachandran, chatting alongside various members of the production and facilities team, outlines the R&D that went into the Cricket World Cup 2019 coverage and discusses some of the production enhancement technologies being used.
Working closely with production services partner Sunset+Vine, and executive producer Huw Bevan in particular, ICC TV's Ajesh Ramachandran is ultimately responsible for the production of the World feed at the Cricket World Cup 2019.
As the ICC's senior manager for broadcast he has assembled (and is overseeing) a team of facilities providers and producers who, working as ICC TV, will cover all 48 matches until the final on 14 July.
As he explains, the introduction of new technology has been crucial in bringing a distinctiveness and a freshness to the coverage.
"For us at ICC TV it was very important to create a visual signature, something that is a little different but adds to the game at the same time."
"For this event, we have put a lot of emphasis on new technologies," he says, chatting with SVG Europe at Lord's during England versus Australia.
"For us at ICC TV it was very important to create a visual signature, something that is a little different but adds to the game at the same time.
"Sunset+Vine has solid experience on the cricket front, but we needed to enhance that with a lot of technology. We signed up several partners. We have paid a lot of attention to the graphics look and feel, for example. It's an effort that started almost three years ago."
That planning and preparation has seen a number of innovations added to the output including player tracking for fielding graphics, the Piero graphics system for multi-angle replays, Spidercam for long sweeping shots of the wicket and square, AR graphics (including some on Spidercam), a Batcam drone for aerial views and Buggy Cam which provides a ground level view of the action.
UAVs and Buggy Cam
Cricket World Cup viewers may have noticed the mole's eye view of the pitch that is being captured by what looks like a remote-controlled car with an RF-operated camera head strapped to its back. Even the on-air commentators have mentioned it during matches where it has been used.
This is the Agito from Motion Impossible, or the Buggy Cam (pictured above and right) as it has been named for this tournament.
For ICC TV's world feed, the bidirectional trackless camera system is being operated by the UAV company Batcam (who refer to it as Batcam Drive) and is capturing live tracking shots and replay content both on and around the pitch and of the crowd, at certain venues.
"Buggy Cam gives us fantastic replays, especially from behind the wicketkeeper," enthuses Ramachandran. "It keeps moving and gives us a nice tracking angle. It's a UK first. We wanted to use it in a big way in the Cricket World Cup."
Bevan, who also shared his thoughts with SVG Europe at Lord's, is a fan of this new production toy too, describing it as "new and different."
"Buggy Cam is eye-catching because it allows a live shot at ground level, particularly as the bowler is running in or by moving behind the slip cordon. It gives us a very dynamic view of the action."
As well as Buggy Cam, Batcam is also providing and operating a drone that is capturing a bird's eye view for use by the match director. Unlike Buggy Cam, the drone is being used on every match, capturing the geography around the ground as well as the action taking place within it.
"The key thing for us is that the ICC was keen to use some different technologies to get some unique angles that bring something fresh to the event," adds Batcam chief executive and co-founder Jon Hurndall.
"The Buggy Cam is essentially the best remote-control car you have ever seen with a stabiliser and 10x zoom head. It gives some unique tracking shots in and around the boundary rope and on the pitch in the changeover between batsman.
"The Batcam [drone] has been used a lot by Sky Sports on international and domestic cricket. At the Cricket World Cup, it is being used to capture dynamics shots in and around the ground but [in each case] it is dependent on the operating zones at each of the grounds.
"At Lord's, it is used to get the London skyline, the area in and around Regents Park, people arriving at the ground and of the field of play. It shows the location and geography of the area."
Spidercam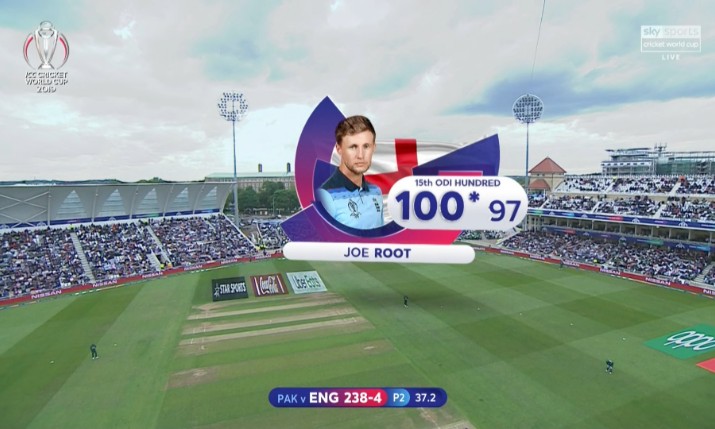 Although not available at every ground, a Spidercam, which is rigged from one side of the playing area to the other, is used frequently during the coverage to punctuate the action at specific moments.
"The directors are using Spidercam really well," says Jeff Foulser, chairman of Sunset+Vine. "When a new batsman comes in to bat, it swoops down and over them. You get a real sense of being in the middle of the action."
"We like to showcase all the cricket at our events with lovely aerial sweeps and angles," adds Ramachandran.
"But we've taken [the use of Spidercam] much further than that at the World Cup. To make it more dynamic and appealing to younger audiences, we have added some quite spectacular Spidercam AR graphics.
"[These are used] at key moments such as when there is a new batsman coming in to bat and when we are showing the playing elevens at the start of the game. There are a number of things that look great in AR."
To make this possible, ICC TV completed significant testing with Spidercam at the Women's T20 World Cup in West Indies last year, practising camera moves and trying out graphics ideas.
One example of AR being used for this tournament sees a 3D version of the World Cup trophy added to a live Spidercam shot.
"Putting the World Cup trophy in the centre of the screen offers a lot of potential," says Matthias Kluth, Spidercam project manager.
"Once you have the 3D objects [in the shot] you can fly around them and under them. With plain graphics, you can go left and right but it's not as appealing."
Using AR with Spidercam is not an entirely new concept, but it is yet to be widely adopted. "[It] is slowly catching on with broadcasters," says Kluth.
Piero
Frequently used for football analysis, Ross Video's Piero graphics system is being used on Cricket World Cup coverage for the first time this year.
As Ramachandran explains, the technology stitches together raw cameras feeds and, wherever it makes sense, is being used to provide 360-degree replays.
"It'll take a few high and low cameras and create an arc that freezes at the point of impact or delivery and allows the perspective to be shifted from a straight on view to a square on view."
"Each replay takes 10 minutes to create," he adds.
The technology is being operated by Hawk-Eye, the company that provides the ball-tracking technology.
The ICC TV analysis team is then responsible for offering usage ideas and suggestions to the match producer.
"If the game is very exciting, by definition you don't need as much analysis. But when there is a lull, there is an opportunity for us to do more storytelling from an analytical perspective."
"You can freeze the action and play it out as a replay," continues Ramachandran. "Or you can paint over, magnify and put tags and graphics on it. It is used in studio productions a lot. We have a strong analysis focus [at this tournament] so we have taken that studio work into live coverage."
There are storytelling benefits too, adds Bevan: "Piero gives us a 360 analytical view of the game but it can also provide some insight with its drawing capabilities which is handy for explaining the game.
"If the game is very exciting, by definition you don't need as much analysis. But when there is a lull, there is an opportunity for us to do more storytelling from an analytical perspective."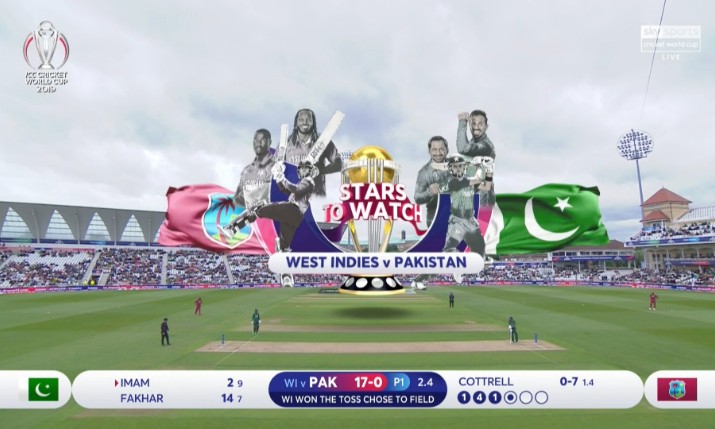 Graphics and Augmented Reality
AE Graphics is behind the on-screen graphics, including the augmented reality (AR) elements. All the various templates and elements were pre-built in its Vizrt engine for the Cricket World Cup. The stats for many of the graphics are being provided by CricViz.
In total, more than 100 different graphics templates have been devised for use on the world feed, including a sponsor-free version for matches involving India due to advertising restrictions.
At each venue, AE Graphics' six person-strong crew is delivering core match graphics, including data collected by AE operators, while the AR content, using Spidercam and its Vector System is being made available at The Oval, Durham, Trent Bridge, Old Trafford, Hampshire, Edgbaston and Lord's. Four crews are covering the tournament for AE Graphics.
In addition to this, the company is also providing big-screen graphics and a range of unilateral presentation graphics for Sky Sports and Star Sports India during certain fixtures.
"It is one thing for something to work in isolation but [it has to also work] when the rest of the production shows up, when there are so many moving parts."
When coming up with the designs, younger viewers and less experienced cricket watchers have been taken into consideration.
"Different demographics perceive data sets in different ways," says Terry Charlton, AE Graphics' project manager for the Cricket World Cup.
"We've tried to use big punchy text with certain key graphics in the info bar. We've tried to keep things from being a list. We used to have lots of top 10 lists, such as the top ten leading run-scorers. Now, instead, it's top five lists with big punchy photos. We're always thinking about what we do next. You want the kids to watch the broadcast."
For the AR elements, the AE Graphics AR operator works closely with the Spidercam pilot, he explains, and the duo not only responds to the director but also collaborate to come up with new moves and find new angles around the pitch. Some of this work is based on the R&D completed at the 2018 Women's T20 World Cup.
The AR is a real focal point for the tournament coverage, adds Charlton.
"We have really re-invigorated the AR graphics with the use of Spidercam."
Player Tracking
Ball tracking has been used in cricket coverage (and for umpire review decisions) for some time. But player tracking is a new innovation.
At the Cricket World Cup, the tracking has been added to AE Graphics' workflows and makes use of the Tracab application from ChyronHego.
The optical tracking product shows viewers the exact live fielding position of players on the pitch and how far they are apart as well as a range of data points including running speed and distances covered.
To get the technology right, a trial was conducted at the 2017 ICC Champions Trophy using player tracking in a live environment, says Ramachandran.
"We were very clear about what we wanted," he says.
"There was a lot of R&D work that went into it. We did some testing on county games too and at the 10 World Cup warm-up games where we could integrate it with the rest of the production. It is one thing for something to work in isolation but [it has to also work] when the rest of the production shows up, when there are so many moving parts."
"It took a little time to get it operationally working as we wanted it to," acknowledges Bevan.
"But after the tournament proper got underway and people got used to it, it has really been a value-add because it has brought the cricket field to life in a way that maybe has not been possible previously."
Ultra HD (or not Ultra HD)
Despite the emphasis on technology, there is no Ultra HD coverage this year. And that despite 10 matches being produced that way at the last Cricket World Cup, in 2015.
"We considered UHD but around the world, there wasn't a demand from our licensees," says Ramachandran. "There was a little bit from the UK and Australia. But from the rest of the world where there are big numbers, we didn't get anything."
"Whenever there are enough [set-top] boxes in the world and the hunger is there, we will do it again," he adds.
The ICC Cricket World Cup 2019 is an ICC TV production. The tournament runs until 14 July.
Pictures courtesy of ICC TV