Live from London: Croatia's HRT puts tape to good use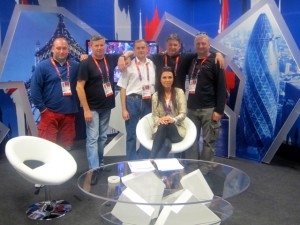 Wandering the floors of the IBC, one can see nearly every conceivable workflow for sport-content creation and distribution in HD. But there are still a couple of networks working in SD and recording on tape, although that wasn't necessarily the plan. Case in point? Croatia's Hrvatska Radiotelvizija (HRT), a network that had planned to go to a complete file-based workflow, but, because of budget cuts,  the network is one of two networks within the IBC that are recording all events on tape and cutting linearly.
"When we prepared the project, it was for a file-based workflow. We had public tenders for the equipment, but our management board stopped it because it was too expensive. So we decided to go with VTRs," says Zvonimir Jukica, technical manager for HRT.
That decision was made only three months ago, forcing the production team to change direction quite quickly. So now, with the help of 21 Sony IMX VTRs, Grass Valley and Blackmagic downconverters, two fibre paths back to Zagreb, a Sony DVS-9000 production switcher, Yamaha audio board, and Grass Valley Trinix router, the network delivers more than 10 hours a day of content back to Croatia.
"We also have three Avid editing systems, and we have a file-browsing station so we download from the OBS system," adds Jukica. "If we only want a small part of the event, we will put it on the Avids."
The network has commentary positions at 10 venues and also has an off-tube studio in its facility within the IBC. Commentary circuits come in on a Reidel matrix and recorded directly to tape as all incoming OBS feeds are first recorded to tape.
Three ENG crews are also available and also working with Sony IMX camcorders. And the use of two SD circuits back to Zagreb gives some additional flexibility, allowing the network to switch to the backup feed in case there is a sport they want to switch to.
"Everybody here knows how to work the tape machines because that is what we use back in Zagreb," adds Jukica. "It is much slower, of course, but everyone knows how to do it, and it isn't something strange."