Live from London: OBS CEO Romero looks back ⎯ and ahead
The London Olympics will be remembered for a number of technical accomplishments by Olympic Broadcasting Services (OBS). There were the impressive demonstrations of Ultra HD, offering 16 times HD resolution, and 3D, adding new sports to the "been done in 3D" roster. There were new tapeless workflows with EVS and Avid that continue to increase the speed at which content is delivered to viewers. And then there was the continued evolution of the Olympic News Channel and fully produced channels of content delivered around the globe via satellite.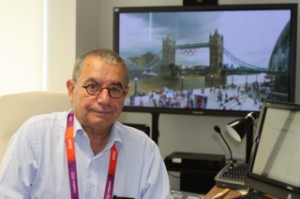 But, for OBS CEO Manolo Romero, the 2012 Olympics represent the end of an era, of sorts, because he is shifting roles and will become vice chairman of OBS as of 1 January. His replacement as CEO will be OBS Deputy Managing Director Yiannis Exarchos, who has worked alongside Romero since the 2004 Athens Games. Romero's new role is still to be defined because the IOC has asked him to remain involved with both OBS and the IOC.
"I am leaving the CEO position, but it does not mean that I am retiring," he says. "I hope I have work to do, and I will have more time to think about things and not be in the day-to-day pressure."
The London Olympics, nearing their completion, will be remembered for some unique additions to the day-to-day pressure list (more on those later). But those pressures have been balanced, and the job done by the OBS team has once again met Romero's lofty expectations.
"I feel we have gone a step forward in the art of coverage of the Olympic Games," he says. "And I always get that feeling, that we have made a significant step forward in how we covered the games and serviced the broadcasters. We have pushed technology to limits not seen before. And we have achieved that in a magnificent way in many areas."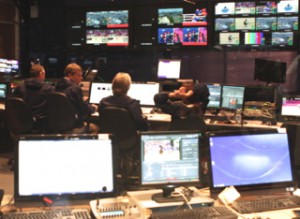 At the top of the list is the Olympic MDS (Multichannel Distribution Service), a satellite service that is available to rightsholders and includes 10 channels of event coverage plus the Olympic News Channel (ONC), which offers around-the-clock highlights and interviews. All the channels are available in three languages: English, Spanish, and Arabic.
"We have made progress to bring the games to parts of the world that were not able to previously see what they are seeing from London, and, overall, the viewership of the games will grow significantly," Romero points out. "There is a huge payoff for that service, and we're proud of it because rightsholders can receive it without having to come to London or be here with limited means and maybe one ENG crew."
A service like MDS is important from another standpoint. With more Olympic Games rightsholders, there is more demand for space, credentials, and other resources.
"There are many more broadcasters here than before because of the way the rights are distributed by the IOC, and the demand for facilities is bigger and the number of accreditations limited, as is space at the venues," says Romero. "And the IBC is at full capacity. So with MDS, ONC, and bookable facilities at venues where we can arrange and produce interviews for networks at the mixed zone, broadcasters can do much more without increasing the footprint of the games."
Romero says that 3D was another important step at this year's games. The productions covered the obvious sports — gymnastics, swimming, diving, track and field — and also some new sports, such as slalom canoe and trampoline.
"The production efforts there were significant and took much planning in a very short period of time," he notes. "But, from what we are hearing from broadcasters, it was very positive. The number of viewers does not have the impact of HD, but it was a very important step in bringing new technologies to the Olympics."
The production is still ongoing in London, but whether 3D will make a return engagement for the Sochi Winter Olympics in 14 months remains to be seen.
"I am not saying we won't have 3D there," says Romero, "but, right now, it is not part of the plans because it is a mini-pool organized with broadcasters."
What is part of the plan for Sochi? MDS will once again be offered, although the number of channels may be different. He also says broadcasters can expect to have plenty of fibre infrastructure, despite the relatively remote location of the Russian resort: "I have no doubts it will be sufficient."
Super HiVision was another major debut at the London Games, the BBC, NHK, and OBS coming together to provide an experience on a 350-inch projection screen, a 145-inch Panasonic plasma, and an 85-inch Sharp LCD display offering 16 times HD resolution and 22.2 channels of surround sound. Given that NHK expects to have HiVision camcorders available in 2014, odds are pretty good that it also will make a return engagement.
With respect to the more "here and now" HDTV productions, the biggest improvement from Romero's perspective was the development of super-high-speed cameras.
"It was not only the number of cameras but the quality as they solved issues with lighting and strobing," he points out. "We also introduced an experimental virtual camera that people call the 'Matrix' camera, cable cams, and other new systems."
The inroads HD has made in the eight years since it debuted in a single OB unit at Athens are such that it is now the core production format.
"In Beijing, there was a commitment to HD, and here it is a regular technology so we didn't have to push it except for the super-high-speed cameras," says Romero. "It's a very stable platform, and that was not the case in Beijing."
The use of HD was at the core of EVS servers that played a major role in recording incoming feeds from venues and the mixed zones as well as for an Avid system used to package content for the Olympic News Channel.
"And now, for the ONC, we are doing live interviews with medalists, something we did not do before," Romero adds. "We have interviewed more than 2,000 athletes, and those interviews are being sent to the IOC archives as part of the preservation of memories from the London Games."
The OBS team is nearly 6,000 people strong, scattered throughout London and beyond at football matches and sailing and rowing events taking place well outside the Olympic Park boundaries. For many who were involved in the technical buildout, the biggest challenge was not the first day of the actual Games but the weeks prior. Construction delays, historically wet weather, and some not-so-typical red tape all made the final infrastructure buildout more difficult than it might have been.
"We are the last element of the food chain, and, when we arrive, the clock is ticking," says Romero. "We had some issues to overtake, and, at the end, everything started very well. It was a very, very, very fine line, but we made it."
One of the buildout headaches mentioned by nearly every broadcaster was the health-and-safety requirements.
"We want to have healthy and safe operations as good as possible, but it took a lot of time from the broadcasters and ourselves to deal with that during the IBC installation," says Romero. "They simplified procedures after broadcasters made some strong pleas."
So, with the games coming to an end and Romero's role as CEO entering its final four months, one could think it would be a time of reflection. But there are still the London Paralympics. And planning is well under way for the Sochi Olympics and Paralympics (only 14 months away). Work has even begun on the 2016 Summer Olympics in Rio, and then there are the Youth Games. So there is still plenty to do.
"The decision to leave CEO was taken right after Beijing, but you need a long-term succession plan so that it is an organized transition," says Romero. "I wanted to have a clear plan so that OBS continues to be a leader in what they do and sets an example for future Games."