Live From London: Sky New Zealand Delivers Nine Channels 24½ Hours a Day With Small Staff
Kiwis are getting a massive dose of Olympic action, courtesy of an "@home" effort by Sky New Zealand that requires minimal staff in London and ultimately delivers viewers eight pay channels of action and a free-to-air channel that takes only a half-hour break from Olympic coverage for a 30-minute newscast. And they're pulling it off with half the staff that TV New Zealand used when created less programming during the Beijing 2008 Games.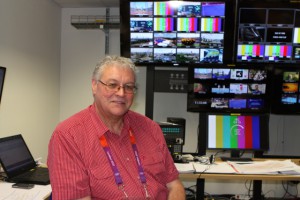 What Sky New Zealand is pulling off is an example of the power of the Olympic Broadcast Service (OBS) Multichannel Distribution Service (MDS), which delivers 10 channels of content and the Olympic News Channel to rightsholders via satellite. With a broadcast centre located about as far from London as one can get, using satellite instead of fibre means reduced costs and less need for additional infrastructure at the IBC.
"The MDS service is a no-brainer," says Kevin Cameron, head of production for Sky New Zealand. "And we worked out a good package deal with OBS so we get the service delivered to our doorstep in Auckland."
The OBS channels are sent via satellite from the IBC to Auckland, along with two unilateral channels that are used to transmit not only sports that may not be in the MDS channels but also live ENG and studio reports.
"The model is working quite well for us, and, from what we're gathering, the viewers are enjoying the options that have been thrown at them," says Cameron. "One comment is, people are confused about where to go and what to look for. So that is one thing we can do better next time." He points to an app created by Foxtel in Australia that features a programme guide that is updated all day.
The IBC facility also manages commentary circuits for the most popular sports: swimming, track and field, rowing, and cycling. In addition, there is an off-tube studio that can be used to call other sports, such as hockey.
"We also have live cameras in the mixed zones at swimming, rowing, and track and field, so we can grab interviews," adds Cameron.
One new piece of technology that Sky New Zealand is using is the LiveU cellular-based ENG transmission system. Three such systems are available for ENG crews to get live reactions from athletes.
"The LiveU systems have been really good, and they've been used to get some great things," says Cameron. "We've often gone live to air."
Doubling down
The technical backbone of Sky New Zealand's facilities was put together by BSE, with the integrator supplying both the facilities in London and more than 20 racks of equipment in Auckland. The Auckland kit includes four pods, each handling two incoming MDS feeds on EVS servers. An EVS IPDirector manages scheduling and commercial insertion.
"It's been fantastic working with BSE," says Cameron. "we've been very, very happy with that partnership.
"We have a good team," he continues. "It's been long hours, and we average around 12 hours a day, but that's the Olympics. You work what you have to to get the job done."