Live from Madrid: Mediapro produces TV spectacular for UEFA as Liverpool beat Spurs in Champions League Final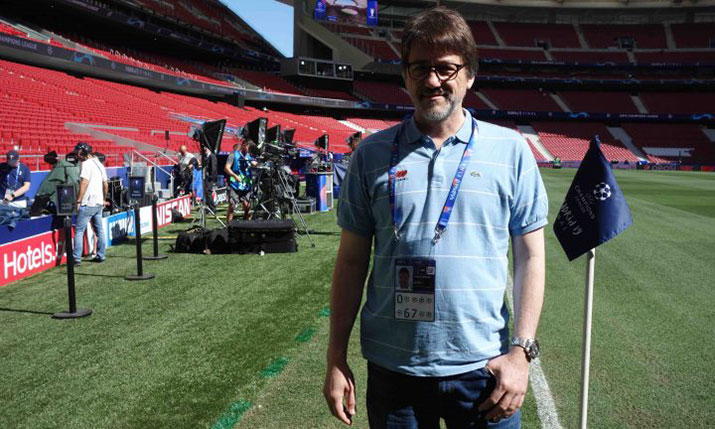 Saturday night in Madrid saw a 2-0 victory for Liverpool FC over Tottenham Hotspur in the Champions League Final and the successful broadcast signal delivery of European club football's showpiece event by the Mediapro team on behalf of UEFA from the Wanda Metropolitano.
The UEFA Champions League Final is one of the most-watched televised sporting events in the world, with viewership greater than even the annual US Super Bowl. The Mediapro Group was chosen by UEFA to produce and deliver the host broadcast signal. Mediapro was also responsible for producing the host signal for the CL finals in Madrid 2010 and Lisbon 2014.
The dedicated Mediapro team of 290 people at the home of Atlético Madrid deployed 42 cameras for the production including eight super slow-mo, two ultra slow-mo, two travelling cameras behind the goals, two ultra slow-mo Polecams, Skycam, five tactical replay cams, three beauty shot cameras, two net cameras, two cameras focused on fans in the stands, seven to cover the team arrivals and five tunnel cams to cover players entering and leaving the pitch.
The match was produced in 4K UHD and HD quality in simulcast, the second final after Kiev to be produced with simultaneous broadcasting in both formats. It was produced in HD-SDI 1080i50 and UHD (four quadrants), utilising a single dual format OB van. Dolby surround sound was available on the HD feed, while Dolby Atmos immersive audio was also available on the UHD feed.
Both UHD and HD camera output was used simultaneously, but the HD production feed took priority and was the primary deliverable. All format conversion, resolution upscaling and colour mapping was processed in the main vision mixer with simultaneous UHD/4K and HD-SDI outputs. All vision control and colour matching was done as for a HD delivery.
The host production operation was separated so that while camera shading and Lawo-based audio production was undertaken in the main truck, the vision production and EVS replays (16 units and 12 operators) were transferred to nearby temporary cabins in the TV compound. This provided two calm, cool and spacious areas for main match production team with director Oscar Lago and also the entire match replay team operation.
The Mediapro TV match director, Oscar Lago, also directed the UCL Final in Madrid in 2010. He has been directing Champions League matches since 2009 and La Liga since 1991.
The opening ceremony TV director was Daniel Lozano. He has directed the Real Madrid CF UCL celebrations in 2014, 2016, 2017 and 2018, has been a TV match director on La Liga since 2005 – and also directed Placido Domingo at Santiago Bernabeu 2016-2018.
"We have nine OB trucks here, and for the international feed we have 290 people. And we are covering the pre-match show, which of course is not sports. We provide a director specifically for that show, specialising in directing musical show events."
Imagine Dragons performed live at the opening ceremony, presented by Pepsi. Following on from Dua Lipa's performance at the 2018 final, the 2019 opening ceremony featuring a further enhanced level of production for a UEFA Champions League final.
"The first thing is that we need the best professionals for this kind of event," Mediapro CTO and operations manager Emili Planas Quintana told SVG Europe in the TV compound at Wanda Metropolitano. "We are using Mediapro people from all parts of the world – Portugal, Argentina, Miami and obviously Barcelona, Madrid and Valencia plus some from France. We have a lot of special cameras working in UHD with the maximum quality required by UEFA, all supplied by Mediapro.
"Of course we have people working on LaLiga and other leagues all over the world on a weekly basis. This is useful; but coordinating different people and different equipment from different countries for the same match is a challenge," he said.
"In terms of numbers, an El Clasico (Barcelona vs Real Madrid) match is around 35 cameras and this is 42 cameras for the host broadcast of the international feed. The big difference is that we are covering pre-match with arrival of the buses as well, which required five or six cameras, plus the press room. We added another OB with more cameras for unilaterals and the multilaterals. We supply more OB vans for this match (than El Clasico) as the interest in this match is greater.
"We have nine OB trucks here, and for the international feed we have 290 people. And we are covering the pre-match show, which of course is not sports. We provide a director specifically for that show, specialising in directing musical show events," said Planas Quintana.
"This stadium is quite new; it's amazing to work here. Cabling is a little bit complex. For cameras positions the stadium is perfect, but for this event we are not in the regular TV compound [which is located in the stadium, not in the car park] so we needed to use new cables for each camera.
"But in terms of lighting this stadium is perfect: all the lighting is new and it is all LED. These lights provide very good colour quality and intensity in the field. It's perfect for super slo mos and high-speed cameras because we have no flickering – perfect for this kind of production," he said.
"The biggest difference to the last time Mediapro produced the Champions League Final for UEFA is the UHD. This 4K needs to be produced in simulcast. It is not acceptable to produce with less cameras. UHD needs to have exactly the same number of cameras and replays as HD. This is now accepted for all kinds of productions at a high level.
"Kiev last year was the first simulcast UHD/HD production; but for us to do this is not complicated as we are doing it every week on LaLiga. In fact, it's more complicated for LaLiga as we produce two games per week in HDR; for the international feed of this event we are not producing HDR, rather UHD SDR.
"Not all the cameras here are UHD; 90% are, but with wireless cameras and links the technology is still not sufficiently advanced due to latency issues so we have a 1080p link with maximum quality to synchronise with the rest of the cameras.
"We have an OB van ready to be used at the flick of a switch as a backup to the main production, if something went wrong with equipment in the main OB van. This is something agreed with UEFA.
"We deliver signals to the Technical Operations Centre, but TOC is the responsibility of UEFA. The TOC was our responsibility when we last produced the Final in Madrid and Lisbon, but now it is the responsibility of UEFA. It makes sense, as they are already dealing with all the rights holders," said Planas Quintana.
Delivering football for broadcasters all around the world
Both the UEFA-managed Cable Interface Room (CIR) and TOC areas were located in the TV compound, with the CIR cabling technology supplied by Mahlzeit and the TOC infrastructure – running on an all-IP backbone for the first time at a Champions League Final – supplied by Gearhouse Broadcast. UEFA also operated the Hawkeye-driven VAR system itself, with VAR deployed for the first time at a Champions League Final.
The UEFA host broadcast team handled all unilateral requests from rights-holding broadcasters from all around the world. There were two existing pitch view studios in the south stand and six temporary pitch view studios added for the final – each with pre-cabling, power and lighting truss. Seven temporary Tribune positions were available, with a maximum two camera setup. Four existing indoor studios were available in the flash area.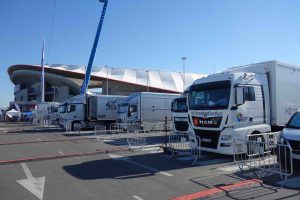 Sixteen pitchside presentation positions were available to broadcasters, 14 unilateral and two multilateral. In addition to the 16 pitchside presentation positions, additional limited space was available for ENG/bonded camera stand-ups. Further pitch reporter positions were available next to both benches for the broadcaster from the country of the finalist clubs, with five positions available behind each goal.
VIP interview positions were shared between broadcasters from the country of the finalists and the HB. Fourteen positions were available in the flash interview area between the dressing rooms and the player tunnel. Super flash interview positions were only available to unilateral broadcasters from the country of the finalist clubs.
Broadcasters could choose a non-equipped commentary position; partially equipped commentary position; fully equipped commentary position; or fully equipped with pitch reporter. ComCam systems were provided by UEFA on request – either with presenters in-view and pitch in the background or with Tribune in the background. The remote control panel for the ComCam was made available at the commentary position or in the OB van, with ComCam monitoring and control handled on behalf of UEFA by a team from TV Skyline.
Pitch camera and pitch reporter positions were taken up by BT Sport UK, Fox Sports LatAm, Digi Sport Romania, Arena Sports Serbia, CCTV, ESPN LatAM, Match TV Russia, Media Group Ukraine, MTV Finland, Turner, Perform Canada, POLSAT Poland, RAI Italy, Tottenham Hotspur FC, RAI, TV2 Norway, Eleven Sports, Univision, Mediapro Spain, RMC, Sky Italia, Esporte Interativo Brazil, DAZN, PPTV China, Cosmote TV Greece, Sky Deutschland, Univision, Pro Plus Slovenia, MTVA Hungary, RTE Ireland, Sony Six and Liverpool FC TV.
Pitch view studios and tribune presentation positions were occupied by Mediapro, BFM TV, Turner, BT Sport, Univision, ESPN Latin America, Esporte Interativo/Facebook, Viasat, DAZN, Canal+ Afrique, Fox Latin America, Sky Italia, and RMC.
Super flash, flash and indoor studios were taken by PPTV, Polsat, Teleclub, Eleven Sports, Cosmote TV, BT Sport UK, Fox LatAm, Mediapro, Esporte Interativo and Univision. The unilateral post-match super flash on the pitch was BT Sport, the domestic rights holder for the country of both finalists, Tottenham Hotspur and Liverpool FC.
The 2019 UEFA Champions League Final took place on Saturday 1 June at the Wanda Metropolitano in Madrid