Live from Paris: World-leading remote production for Riot Games' League of Legends Finals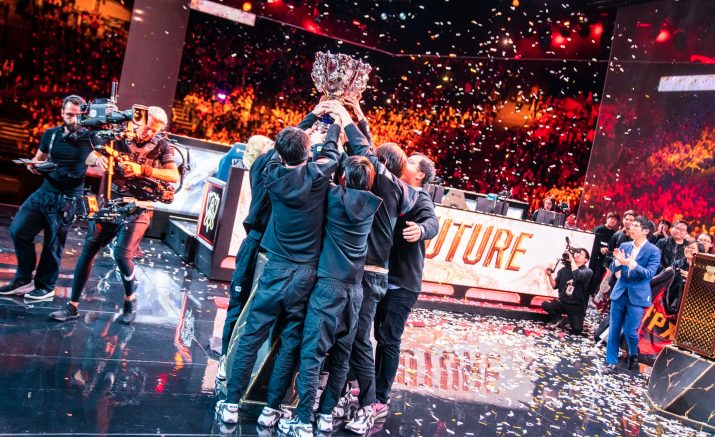 The Finals of Riot Games' 2019 League of Legends World Championship were held on Sunday (10 November) at the AccorHotels Arena in Paris, with the winning Chinese FunPlus Phoenix team lifting the Summoner's Cup as 2019 World Champions and taking home more than US $2 million in prize money.
Riot Games chief executive Nicolo Laurent described the Finals as "the biggest event in the history of esports," with an estimated 100 million people watching around the world.
The 2019 League of Legends World Championship is the ninth year for the tournament, arising from the competitive multiplayer online battle arena (MOBA) game developed by Riot Games. The Championship was held in Berlin, Madrid and Paris, with 24 teams from 13 regions competing for the tournament, having qualified from regionals circuits in China, Europe, North America, South Korea and South East Asia. More than 15,000 esports fans packed into the AccorHotels Arena to see the Finals match live last Sunday.
Technical complexity for the Finals is ramped up each year by the demands of the in-venue Opening Ceremony. In 2017 Riot Games deployed a virtual dragon flying through Beijing National Stadium.
"LA is handling the World Feed and it is then given to our partners to add their own graphics and voice it themselves in their own language. Our show is streamed live in 19 different languages and we have over 40 distribution partners."
Last year AR was factored into the Opening Ceremony at Incheon Munhak Stadium in South Korea, allowing in-game band K/DA to be virtually inserted onstage into the opening musical performance alongside Madison Beer, Miyeon and Soyeon of (G)I-DLE, and Jaira Burns.
This year's Opening Ceremony featured hip-hop collective True Damage, along with League of Legends characters Qiyana, Akali, Senna, Ekko and Yasuo. The show featured four Holonets from Kaleida, giant hanging fine metal meshes that are highly reflective and also see-through — giving the effect of being a hologram.
The meshes were positioned on either side of the stage, so the audience could see in front of and behind the talent on stage – with eight 4K screens positioned all around, each individually controlled.
The Riot Games team has over the last few years evolved what may be the most sophisticated at-home production model in the world, seeking to produce the world feed show from its studio in Los Angeles no matter where its tournament event is being staged – and in the process dramatically reducing the number of trucks and production people required on-site.
This year, in addition to the world feed being produced in LA, the English language show was produced at Riot's European headquarters facility in Berlin. So, for 2019, the League of Legends World Finals featured not one but two remote productions.
And in the heat of battle, Riot Games' Esports Technology Group decided to innovate with the new JPEG XS compression format – realising what is probably the first trans-Atlantic remote production undertaken using JPEG XS.
All of which meant the Finals were produced and sent to 40 distribution partners around the globe with just one OB truck on-site at the Accor Hotels Arena in Paris. That was NEP Sweden's UHD 1, used to cut the Opening Ceremony segment of the show, the in-venue screens production and to provide infrastructure for comms, signal distribution and some camera shading.
NEP Sweden combined with fellow NEP company Creative Technology (CT) to provide the audio infrastructure for both broadcast and in-venue, built around a Riedel Mediornet network with 280 ports and Riedel Bolero comms with around 70 beltpacks. Creative Technology also provided Roe LED screens and Barco projectors for the in-venue stage show, working closely with Riot's long-time technical production services partner Concom.
At the Arena on Saturday evening NEP Sweden engineer-in-charge Linus Malmborg told SVG Europe, "The first part of the show is the Opening Ceremony, which is produced and directed here in this truck. In parallel with that we have an in-house production doing the screen feeds.
"And then when the Opening Ceremony is over we change to game mode. The producers for the game show will be here, but it will be cut and finalised in LA. That's mainly because all the servers for the observers [the computers providing the video of the game] and all the graphic elements are in LA and so it minimises delay and always keeps quality high. The end product is going out from LA.
"The truck is basically a workplace and a huge stage box, which is linked to the huge stage box inside the venue provided by CT. Since this truck is based on Riedel's MediorNet we have extended all over the venue together with CT. Everything is on the same network.
"We need to always bear latency in mind, which is why this solution was chosen rather than doing conventional signal distribution out from a hub. There is a fully redundant system here, so if LA goes down or fibre goes down there are game observers picking up here so we could do the show from here," said Malmborg.
Secret sauce: Riot Direct backbone
The core enabler for Riot Games production approach is its own Riot Direct network (the ISP used to service all LoL gameplay) to send feeds from tournament remotes back to the Los Angeles production facility. With multiple terabits of edge capacity, it's a resource they trust and leverage for the most reliable network. Riot sources local ISPs for the last mile to connect the closest Riot Direct ingest point.
To connect to Riot Direct, the team selects diverse routes for its traffic to traverse, avoiding any shared PoPs or long-haul fibre routes. The ultimate goal is to always survive a fibre cut anywhere along either path by dynamically routing over the best path and failing over all traffic in a few tenths of a second.
Everything from cameras and in-game observer feeds to caster audio and crowd microphones were
encoded to video and audio streams and transmitted back to the primary remote production centre in Southern California. Riot's broadcast engineers used a few different codecs for transporting the various video feeds based on roundtrip time, importance of signals and quality considerations.
The codecs used were a mixture of H.264 and JPEG2000 streams – with this year a major innovation in introducing JPEG XS compression using IntoPIX codecs, with greatly improved video compression quality and sub-1ms latency. The total bandwidth dedicated to the test was 2.7 gigabits per second between LA and Worlds.
As part of the test, Riot used SMPTE 2110 both at Worlds and in Los Angeles to distribute both uncompressed (ST2110-20) and compressed (ST2110-22) video signals in a dedicated network segment.
At the Arena on Saturday evening, Riot Games Esports Technology Group head Scott Adametz told SVG Europe, "Some broadcasters choose to come here to produce their shows and we give them space. From here there's over 100 feeds going back and forth between us and our regional partners and our headend in Los Angeles and our co-produced facility in Berlin, which is handling the English language feed.
"LA is handling the World Feed and it is then given to our partners to add their own graphics and voice it themselves in their own language. Our show is streamed live in 19 different languages and we have over 40 distribution partners, some of them in this room. Twitch and YouTube are our major providers and distribution partners in the US, and abroad there are 38 other partners.
"Now we're going across 6,000 miles and we're doing it with brand new cutting-edge codecs for distribution of content over the internet. We're using JPEG XS: we think it might be the first time JPEG XS has been used in production, over 6,000 miles, with trans-Atlantic [routes]," said Adametz.
"It's the IntoPIX codec running on Nevion hardware. So it's Nevion to Nevion for both JPEG-2000 and XS; Haivision for MPEG-4; and Lawo for some legacy J2K. Haivision has been a huge partner of ours for MPEG-4 transmission and now Nevion is becoming another partner for other codecs.
"We're excited about it, as it's an R&D project for us. It's super-important that we have targeted R&D for every show, so we can have something bigger and better every time.
"The reason we brought XS in for this is we want to up our game on quality – and it also reduces latency by about 150 milliseconds. That's huge in gaming, and it should be huge in video so that our fans and players watching at home can see it faster. I think it is going to make it into our next major show as a production standard.
"If you put everything in one place you limit yourself to the capabilities of that one place, be it the truck
or the rack or whatever it is," he continued. "Once you break apart the venue and the production from the equipment that's producing it, suddenly a lot of options open up. One of those big options is not having to fly our entire crew out to all these different stages, but getting a consistent quality level regardless of what country we're in.
"This is a giant arena that does concerts; but we haven't had to change the methodology as to how we produce the content. We have solved that equation. We just have point-to-point circuits that we trust and rely on to get all our signals back to a central place where we can make them look amazing and do some cool things.
"For Riot Direct we peer freely with other providers. The idea there – and this is what has made the game perform so well over so many years – is that we get the traffic for our game onto our backbone where we can guarantee quality as soon as possible.
"We don't rely on the internet to route to our game servers. We pick that traffic up freely from any provider that will offer it to us, and then guarantee it gets to its destination and return. Latency is usually lower when we can peer directly with ISPs because we can provide an optimised path to the nearest game server. Riot Direct spans the globe," he said.
"I always feel this is like a Super Bowl show for us, plus a half-time concert [the Opening Ceremony] because it is of that scale — and also an 'Apple keynote' because we're unveiling new things. That's what our players and fans come to expect from us. This is not just a sporting event, but it's also not just a concert and it's not just 'an Apple keynote'; it's really all of those three things in one.
"We're handling well over 100 feeds, into and out of the facility. That's individual cameras, graphics engines, ten ProView feeds, ten face cams for the players – it adds up quickly. It's not a small amount of data – multiple gigabits per second. Way more than any other sports production I've ever done, by maybe ten times.
"We are in a unique place: for traditional sports broadcasters their job ends at the field. They point cameras at the field, and then it's someone else's problem. We have both problems; ours doesn't stop. We point cameras at the field – and then we're responsible for the field itself too. We're responsible for the game, the competitive integrity and the half-time show. Riot as a company isn't just esports or gaming or entertainment. It's a mix of all of them.
"Our amazing events wouldn't be possible without the talented broadcast, audio, network and systems engineers at Riot Games. It's truly a global team effort from the best minds in the industry across all our regional and central teams. Special thanks, appreciation and all credit to them, the real heroes that make World's possible," said Adametz.
The annual League of Legends World Championship is described as the closest thing to the Super Bowl in esports, attracting nearly 100 million views from around the world. Next year the World Championship Finals head to Shanghai, headquarters of the LPL, China's premier League of Legends esports league. The tenth Finals will be held at the Shanghai Stadium which can seat 55,000 fans – more than twice the capacity of this year's venue.
Top photo credit: Riot Games