Live from Paris: ARD and ZDF share resources and coverage for FIFA Women's World Cup
ARD and ZDF are sharing the German rights package for the FIFA Women's World Cup France 2019. As part of that deal, the two broadcasters have also agreed to share broadcasting resources.
This agreement allows each broadcaster to cover every game live, although the pair have divided the broadcasting schedule to alternate games each.
Double the budget
The two broadcasters are able to get coverage together that alone they would not be able to stretch to, by combining both their people and kit. There are several outside broadcast vans – two from ZDF and one from ARD — travelling around France making sure every game is covered, along with one editorial production crew that is literally zigzagging across the country providing pitch-side reports live from the stadiums in semi-augmented studios.
However, sometimes a van owned by one broadcaster covers a live match on behalf of the other, in a true partnership.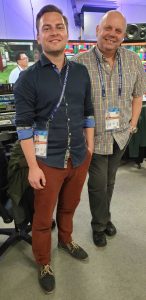 Speaking to SVG Europe in the IBC in Paris, Josef Vitino Zoiro, head of engineering for ZDF, says: "We have different OBs travelling around the country for ARD or ZDF, but we share the resources, as we share the rights but have divided the broadcasting days. Our teams are working together, news and the sports department, to make this possible. For our editorial and production crew travelling around the country, it's quite a tour for them!"
Adds Erik Schumann, international sports coordinator at ZDF, the geography of France means it is possible for the size of the joint ZDF and ARD operation to provide full coverage, live in-stadium, whereas at the men's World Cup in Russia that was physically not possible for these broadcasters.
Schumann explains: "In Russia the distances [between venues] was huge so to go everywhere with our OB vans was too much. But here [in France] it's not too much, the distances are ok, so we can be pitch side at every match. It really helps the atmosphere [for the viewers]."
Augmented studios
At its in-stadium studios, ZDF is using a form of augmented reality (AR) to enhance the sets for the presenting teams. Says Zoiro: "We are using AR in our studio sets in the stadiums which has meant we needed to use a larger space [than we would if we hadn't used AR] at all the stadiums. This means for the people at home they can see added stats and graphics, which looks really good."
One reason the broadcasters chose to use in-stadium studios is to help build up the atmosphere for viewers at home, notes Schumann: "Being pitch-side you get closer to the people and the match. Our build up before the [women's] matches is around 30 minutes, while for the men's pre-match build up we begin up to two hours before."
ZDF is doing its live editing here in Paris at the IBC, while ARD is doing its editing and much of its presenting in Cologne, Germany.
ZDF and ARD are both producing in 1080i but what is broadcast to viewers on air is 720p.