Live From PyeongChang: OBS CTO Sotiris Salamouris on the challenge of the Winter Games
The Winter Olympics are in the midst of Week 1, and it has already been a challenging one: two consecutive days of alpine events had to be rescheduled because of high winds. And, for the team at Olympic Broadcasting Services (OBS) and the dozens of rightsholders onsite, the change in plans has required juggling of schedules, personnel, and technical facilities. But, for Sotiris Salamouris, chief technology officer (CTO), OBS, preparing for such occurrences is in the Winter Games' DNA.
"While the Winter Games are smaller than the Summer, the possibility of cancellations and delays are much higher, and it can wreak havoc with the schedule," he says. "The only way to deal with these sorts of changes is to have the resources available to be able to adapt and to use technology to help."
The challenge of handling cancellations and delays is not only about coming up with another production plan. It's also about making sure that all the downstream processes, like the apps and other ways in which content is distributed, are instantly aware of the new reality.
"Digital platforms have to be accurate as to when things start and stop," Salamouris explains. "We use that information to drive not only the apps but encoders, switchers, and more, so, when we make changes, they have to propagate to all of those different applications."
What happened this week with the alpine events exemplifies the powerful role that data and metadata feeds play within Olympic operations. And it is one of the reasons the Broadcast Data Feed (BDF) technical area in the International Broadcast Centre (IBC) continues to expand in size and scope. Data powers everything, from graphics creation to archiving and then for broadcasters to more easily find the most relevant content for their needs both at the Games and in the years to come.
"The BDF is more prominent in our operations," Salamouris says. "It's not just audio and video but data and metadata that are part of the product delivered to the broadcasters. It has all of the details about the sports: the results, the start lists, the logs, bios, and everything we know about the Games."
A Prefab IBC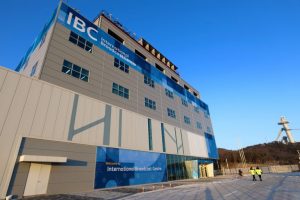 At the centre of the Olympics production efforts is an IBC that measures 36,000 sq. meters, and according to Salamouris, as of last week, every square meter had been snatched up by a rightsholder. The facility is home to the production efforts for not only OBS, which creates the host feeds for all the events, but nearly four dozen rightsholders.
It is from the IBC that OBS will deliver more than 5,000 total hours of coverage, including 850 hours of live coverage from PyeongChang. It will take a team of more than 4,000 to create that content and deliver it to rightsholders via 20 HD multilateral feeds (all with discrete surround-sound and stereo audio), seven UHD multilateral feeds, and nine multiclip feeds that feature highlights, press conferences, and more.
In addition, more than 7,000 accredited rightsholder personnel from 67 countries are onsite in PyeongChang. 45 of the rightsholder organisations have a presence in the IBC, the largest of which are NBC and, new this year, Eurosport.
The 2018 Olympics marks the second Games where OBS has used a fully modular and prebuilt building for the IBC, ending the need to build one from scratch. Salamouris explains that it not only allows OBS to amortise the costs of the building over a few Games but also meets the growing need for organisations to be more environmentally friendly and sustainable. The IBC walls, floors, and other physical structures are shipped in about 300 sea containers, with an additional 80 for the core technical infrastructure that powers the IBC.
And, although there is plenty of talk about rightsholders' keeping production teams home, there are still plenty of personnel and facilities onsite.
The IBC not only is home to the operations for those rightsholders but also provides a massive technical hub for OBS. More than 900 km of cable tie everything together and allow the optimal exchange of content between OBS and the rightsholders.
New Tenants
One big change in the IBC is a new face on the landscape: Eurosport, which snagged the rights for all of Europe and is transforming the way Olympics content is being delivered across the continent. Previously, Eurovision was the main gatekeeper for Olympics broadcast rights across Europe, but it was primarily a member-based organisation.
Eurosport's presence is different in that it is s single broadcaster with its own commercial objectives and also a large number of sublicensees, such as ARD/ZDF, the BBC, ORF, and RAI. Eurosport's presence in the IBC, for example, includes separate control rooms to enable countries like Sweden and Norway to deliver more–nation-specific coverage.
"It's nice and exciting to have Eurosport here," says Salamouris. "[It comes] with new ideas that are refreshing because they deal with more digitally driven broadcasting."
New Tech
Each Olympics offers a hint of future production technologies, and this year's big advance is the use of 5G cellular technology to deliver wireless video and audio from bobsleighs as they roar down the course at the Olympic Sliding Centre. OBS partnered with Korea Telecom to install small cameras that use 5G modems to uplink high-quality video with very little latency.
"The use of 5G is not evolutionary but revolutionary," says Salamouris. "When you use 4G networks, there is inherent latency that you have to accept. But, with 5G, there is low latency, and it isn't because of broadcasters but because of the Internet of Things and self-driving cars."
He sees the 5G efforts as an interesting harbinger of things to come. He believes it could be the backbone technology for wireless broadcast contribution.
It is a challenge to satisfy all the demands, but we are in intensive discussions to learn our rightsholders' expectations and how to fulfil them
"RF for broadcast needs [are] bespoke and proprietary systems that are developed over years but have no unifying technologies so the market is fragmented," he explains. "5G capabilities are open, widespread, and offer huge bandwidth with little latency. What we see in the future is 5G becoming the foundation for wide-area camera needs like marathons, cycling, or helicopters."
More 4K and 8K production is being done than at previous Games, with 8K coupled with HDR at the top of the quality chain. An 8K theater at the IBC has a 350-in. projection screen to hammer home the potential of 8K as a way to build a new experience around theater experiences.
"With 8K and HDR coverage," says Salamouri, "you can really see the quality, and it's amazing because it's like being there."
NHK has two full-blown video-production trucks and two audio trucks producing live 8K HDR content with 22.2 surround sound. And then we are downconverting it to 4K HDR, where we have a number of takers. On top of that, we are doing 4K SDR coverage."
The role OBS plays in creating host feeds that meet the diverse needs of Olympic rightsholders puts it at the centre of the global debate about the role of 4K, 8K, and HDR in the future of broadcasting.
"The world is divided and will remain so for a while. 4K is progressing in Asia, but that also means a base of consumer TV sets that are SDR-capable. So 4K with SDR is more interesting to them," Salamouri explains. "But then, in the rest of the world, 4K is a challenge, and, in those places, HDR is equally or more important. It is a challenge to satisfy all the demands, but we are in intensive discussions to learn our rightsholders' expectations and how to fulfil them."
Five types of production
For example, in PyeongChang, OBS is providing five types of productions: 8K HDR, 4K HDR, 4K SDR, 1080i SDR, and side-by-side productions that use smaller OB vans to produce 4K SDR.
"We have a unified master control that is format-agnostic, and we receive and switch everything there," says Salamouri. "We also downmix everything to 5.1 surround sound."
The addition of 22.2 surround sound gives an outlet for an audio-production plan that has become increasingly sophisticated as the team looks to deliver more of the atmosphere of the events.
"On average, we have more than 100 mics on an event," notes Salamouri. "We place them to capture the venue ambience for our own mixing and then cluster mics for broadcasters who want more-immersive mixing. So we will provide submixes to the rightsholders."
The next Olympics is more than two years away, and, historically, the Summer Games is where OBS and the rightsholders take the next step with respect to new technologies, workflows, and innovations. The 2018 Games provide a glimpse of that future as the role of IP connectivity continues to expand, the use of data grows, and next-generation digital services (plus UHD and 8K) are more present.
"Live content is king and will remain king," says Salamouris. "But there is so much interesting content being consumed in a non-live manner, and things like social media grow more and more in importance. And things like AR and VR will have more impact in non-live delivery, and cloud-based content will become very important. There are new things to come."