Live from PyeongChang 2018: Riedel's Marc Schneider on wireless communications at the Games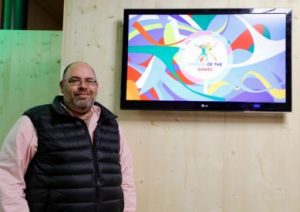 If there is one country on the planet that is all-in on wireless technologies, it's South Korea. Wi-fi, and 4G wireless services are everywhere and next-generation 5G cellular services are also top of mind. So, when the Olympic Opening Ceremony kicks off 18 days of competition here on Friday night it's pretty clear that wireless technologies will play a big role behind the scenes. And alongside those efforts, Riedel will be working hard to make sure things go well.
"The Koreans are more interested and open to using wireless technologies," he says. "So here we have a standard range of signal distribution across the events with the Artist Intercom system and also Bolero is being used for radio interfaces for the production side."
Riedel has a team of 30 people on site making sure that 60 wireless positions, 40 wired-panel positions, a couple of wired beltpacks and upwards of 5,000 Masscast wireless units will help all involved in the production of the ceremony stay connected as the ceremony, like all recent ceremonies, is a complex piece of choreography as cast members need to be staged, sent in for the show, and gotten off quickly.
"Wireless is going to change things quite a lot," says Marc Schneider, Riedel, director of global events. "It opens some new doors for new ideas at these events."
Those new ideas will demand high-quality signals and on that front Bolero delivers. Bolero, says Schneider, allows for a higher number of wireless channels to be used, six, and also has improved audio quality.
"It's full bandwidth audio and it sounds like you are sitting at a wired panel instead of a beltpack," he says. The key is better handling of signal reflections thanks to a major R&D effort on behalf of Riedel.
"Wireless communication has never seen anything like this before," he says.
Playing a key role
The Masscast in-ear pieces and receivers will play a key role in the Opening Ceremony as thousands of cast members will rely on the FM receivers for their cues. They are also low cost, around $12 a piece, as handing out 5,000 expensive devices quickly would add millions to the cost of a production.
This year's ceremony does have a smaller headcount than previous efforts, so setting up the transmission system for the ceremony required only four cables to four antennas. Riedel also relied on its local distributor, DYD, as their local knowledge allowed for Riedel's team to assemble a quality team of South Korean staffers and to also have a steady presence during the buildup.
The use of dedicated cellular networks is also starting to play a role in productions at the Olympics, most notably in the transmission of wireless camera systems from the bobsled at the bobsleigh events. The Opening Ceremony won't make use of it and Schneider says the issue with such networks is how much harm public users can do to the robustness of signals and that there is no fallback mode in case the initial signal is compromised.
"They also use a PTP server to run the controls between the terminals and network and if you kill those servers you have nothing," he says. "With our radios, if the sites go down you still have direct modes so that the end user devices are never useless. Radio to radio will always work."
Riedel's presence at the Games also includes helping Korean Telecom with gap cabling at the venues and also audio and video support at the Nations Village which is where nations like Switzerland, the U.S. and Sweden have their Olympic Committee Houses where athletes and guests can relax and network.