Live from Sheffield: British Basketball League trials automated production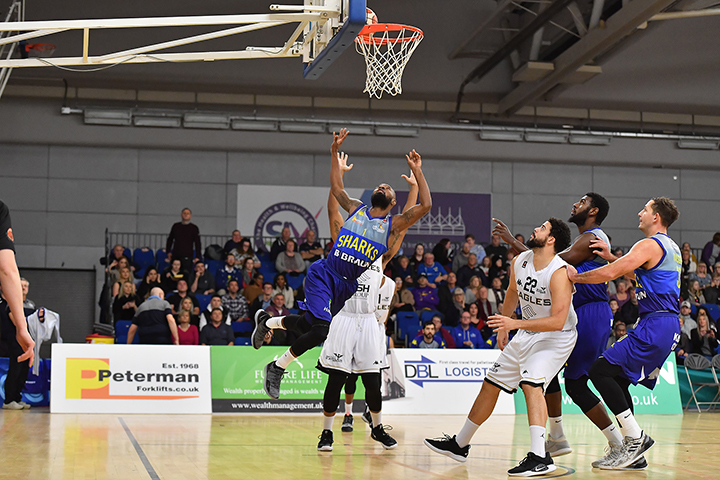 The British Basketball League (BBCL) used last weekend's Sheffield Sharks vs Newcastle Eagles match-up to test an automated TV production system that, if adopted, could eventually reduce the amount of money it spends on producing live game coverage.
The trial made use of Play Sight, a hybrid cloud-based set-up that utilises artificial intelligence capabilities to allow cameras to automatically follow the ball and players and enable either fully or semi-automated sport production.
The Friday 14 December test took place at the English Institute of Sport, home of the Sheffield Sharks, where four tracking camera systems have been installed to capture the match action
"We've been looking for a system that we could use to reduce our production costs but not reduce the quality."
The coverage was streamed live on the BBL website with Sheffield-based OB firm Televideo also covering the game, in parallel, for distribution via the International Basketball Federation (FIBA)'s OTT platform Live Basketball TV.
The test was set-up in order to evaluate a number of elements of the system including camera cuts and picture quality.
Taking the bet
BBL commercial director Bob Hope told SVG Europe that the league had also looked at various other automated production systems but were persuaded to try Play Sight after it cracked a long-standing latency problem.
'We've been looking for a system that we could use to reduce our production costs but not reduce the quality," he said.
"Three years ago I looked at this system and at various manufacturers. And then, there was a big problem. They couldn't meet the latency we need as a league for betting. There is a rule in betting that requires the live pictures to be anywhere in the world within four seconds. Because this was HD, big bandwidth, it reduced that latency and the systems we looked at couldn't meet it. So, we parked it."
It was only in April this year that it became feasible, he added.
"They did a test at the Copper Box [in London] and we checked the latency with our betting partners, the Perform Group, and it passed. That opened the door to see where we could go next."
The BBL currently televises 242 games per season with most matches being shot single camera using standard cameras and crew.
The matches are made available on Live Basketball TV with some also shown on UniLad and on the BBC Sport website.
If the Play Sight evaluation proves successful, the system could be rolled out to all 12 BBL venues around the UK.
Increasing production value
Although live HD coverage could have been distributed without the need for human intervention, the BBL trial did feature a small production crew with the action also supplemented with a commentary team.
A temporary production gallery was set-up on site with directors performing vision mixing and producing action replays locally.
Hope revealed that, with the correct connectivity to the venues, the system could be used remotely, allowing a central production hub to switch pictures and control replays and graphics.
To increase production values, manned cameras can also be plugged into the Play Sight system. In Sheffield, the BBL team added a handheld camera to allow for pre and post-match interviews and presentation.
Match scoring was done automatically, with a camera tracking the in-venue scoreboard and burning the updates into the live feed.
The Play Sight system also offers features for fan engagement inside sporting venues, social media clipping and video-on-demand.
Among the innovations in the company's roadmap are automated clip creation and stat generation as well as automatic event recognition.
VAR is another potential use case.
Play Sight is used by the NBA in the US and by Manchester City as a coaching tool.