Live from Silverstone: The inside track on F1's innovation aims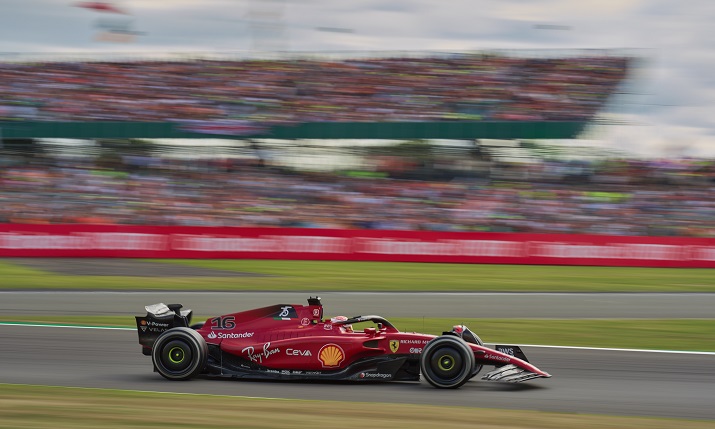 A record crowd of more than 400,000 watched an action-packed few days of Formula 1 racing at Silverstone last weekend (1-3 July 2022), culminating in Ferrari's Carlos Sainz winning his first F1 Grand Prix.
Those watching in the 180 territories around the world where F1 is aired were kept up to speed by the efforts of director of broadcast and media Dean Locke and his team who produced the world feed for some 80 broadcasters.
While F1 fans may have been focusing on the various upgrades to cars introduced by many of the teams at the weekend, Locke says they aim to roll out something new for viewers at every race.
"Stefano [Stefano Domenicali, Formula One Group chief executive] and Ross [Ross Brawn, Formula One Group managing director] are technical innovators and pioneers in F1, so they want innovation literally all the time," he says. "When we're on the plane to the next race they will often ask me, 'what have you got new this week?'"
"We've spent a lot of time over the last couple of years looking at audio around the car and we're just designing some new on-car systems. We want extra audio channels and microphones on the car to pick up their sound."
Those keeping in touch with the racing at Silverstone on Friday via broadcast and social media would have seen the rollout of the pedal camera, which might have been familiar to some viewers.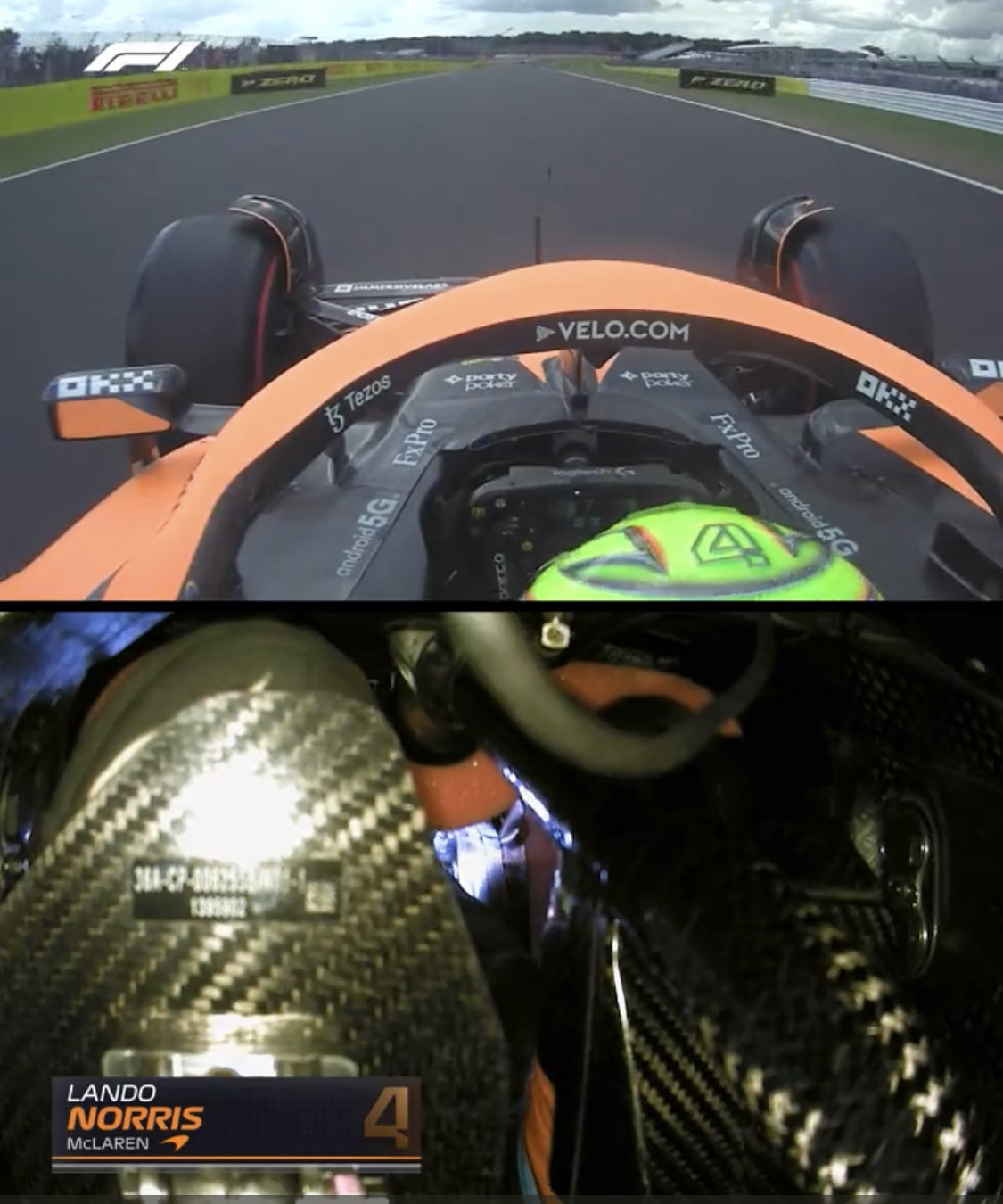 "We brought the pedal camera back after 20 years," explains Locke. "I've been wanting to do it for ages, but we haven't been able to because all the tubs [the main body of the race car] are different whereas 20 years ago, they were all fairly standard."
For Friday's practice session the camera was placed in the footwell of Lando Norris' McLaren (pictured, right). The aim, says Locke, is to get viewers closer to the action. "Unlike MotoGP or some other forms of racing where you can see every movement, we have a driver sitting in a car with a crash helmet on and you can't see much of them.
"The idea of the helmet camera is to show their viewpoint, which can be quite surprising to people as sometimes there are 22 different elements on a steering wheel. And it's the same with the pedal camera; we're just trying to show more of what these athletes are doing in their cockpits."
For the remaining races in the season, the camera will be offered to other teams. Says Locke: "If we put it on to the Ferrari next week, they may choose slightly different framing. Editorially, the teams are in control of that. But they are not in control of the other onboard cameras and the helmet camera. It's worth saying the teams have been really good; in other sports, they've had to blur out the steering wheel and things like that which we've not had to do."
The limited number of channels that can be fed from the car meant the pedal cam was removed following the Friday practice session in favour of the helmet camera for qualifying on Saturday and the race on Sunday. Currently, the media team can run 90 cameras across 20 cars, with approximately 20 cameras switched on.
"What that means is we can have one camera for each car switched on, forward or rear. But we can also dual-stream on several cars, but that very much depends on the nature of the circuit. We are able to at Silverstone, whereas Montreal is a little more difficult and Baku is horrendous because of the tall fencing and the infrastructure around it, while Austria is beautiful for dual streaming. Every track is different," says Locke.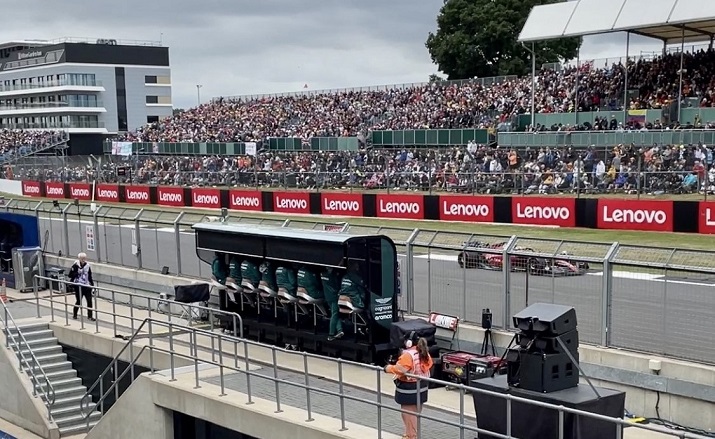 In terms of the total number of cameras, the race at Silverstone was covered by some 26 track cameras, 10 in the pit lane made up of a mix of fixed cameras, RF roaming cameras and a cable camera, along with a helicopter and cameras buried in the curbs. Together with cameras covering the press conference – and those in the cars – the total number was in the region of 60-70. That coverage will be added to in Austria this weekend (8-10 July) with the use of a drone.
"We used one in Barcelona [in May] which we ended up taking to air, but it was more proof of concept. [In Austria] we're using some geofencing around the drone to determine where we can fly, which will be at turn four at the top of the hill." While the drone will be able to fly closer to the circuit, Locke says the intention is not for the drone to replace any helicopter coverage.
Looking further ahead, updates to audio acquisition are also planned. At present, there are 150 microphones placed around the course to capture the sound of the cars and crowd. "We've spent a lot of time over the last couple of years looking at audio around the car and we're just designing some new on-car systems. We want extra audio channels and microphones on the car to pick up their sound," says Locke, who says the rollout could be affected by component shortages. "Lead times just seem to be getting longer," he says. "I'd love to see it rolled out next year, but it's a massive project."
Data and GFX
As well as enhancements designed to immerse viewers in the action, Locke and his team are also working on ways to better explain the intricacies of F1 races. He says: "Graphics in F1 are really hard, because we have this very complicated sport and a diverse fanbase; we have really hardcore fans really into data and strategy that might feel aggrieved if you explain things in simple terms, but we also have this massive drive for new fans as well with a young demographic we need GFX to explain things to them."
Read more: Live from Silverstone: F1's drive to provide curated data feeds 
F1 struck a deal with Amazon Web Services (AWS) in 2018 to host the motorsport's data centres and provide machine learning and data analytics services. As part of the agreement, AWS also works with F1 on its series of 'F1 Insights' tools, which are on-screen graphics designed to help viewers understand particular elements of the sport including race strategy, competitor analysis and car performance.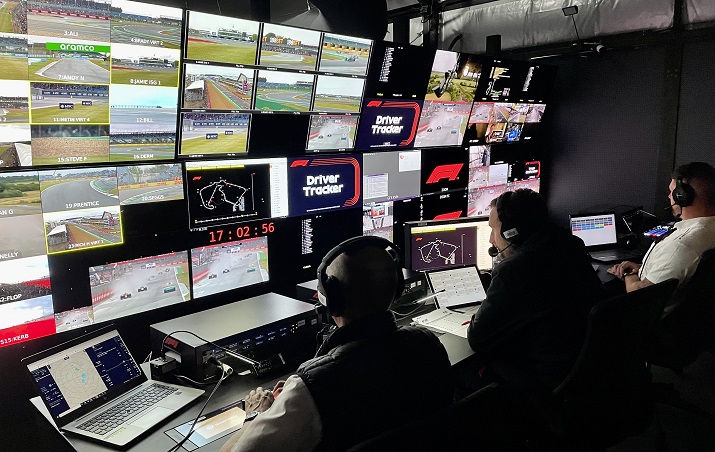 "We have really difficult concepts to explain, so with the AWS relationship we didn't just want a badge or logo next to our graphics. We wanted a partner that would allow us to use their processes, their modelling and machine learning to solve problems," says Locke.
At Silverstone, the F1 Insights team debuted 'Projected Knockout Time, a new tool focused on qualifying, that uses predictive models that take into account all the conditions and historical data to provide information about how each driver will perform during each stage of qualifying and what times they need to achieve.
"We start with problems," says Locke. "For example, we might have a low point in a race where it may get a bit quiet, but we want to encourage people to stay tuned. So we did some modelling around how long it might take a particular driver at their current pace to catch the person in front, taking into account things like tyre degradation, and we throw that into the model." That resulted in the F1 Insight 'Battle Forecast', which provides a prediction as to how many laps it will take for a chasing car to catch the car in front.
F1's relationship with AWS also covers distribution, and is likely to be expanded in the near future, Locke says.  "We have always used AWS for our F1 TV product. The distribution of that sits with AWS in the cloud, but how do we take that further? We would like to do that with our world feed signals as well moving forward, I think and that's something we want to move on to pretty soon."
The 2022 F1 season continues 8-10 July in Austria at the Red Bull Ring in Spielberg.