Sportel Monaco: Eurovision showcases Content Hub for virtual broadcasting environment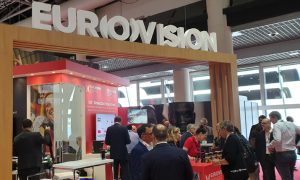 Eurovision Services is showcasing its Content Hub here at Sportel. Content Hub provides a way for broadcasters to manage live content, bridging the gap between production and distribution.
Michele Gosetti, head of global sales at Eurovision Services, commented: "There are a lot of federations here [at Sportel] and the Hub is a way to provide value to their sport, league or specific competition. It creates a virtual environment for content owners where all content can be retrieved, repurposed and sent out again."
He went on: "Often federations are managing their own content. The Hub will expand the lifespan of their events."
Gosetti elaborated: "Often enough, when the final whistle is blown, that's it [for that content]. But with [the Hub] you can leverage that content [further]; create highlights of a specific player in a specific game [for instance]. Make that content resonate in a particular market you are targeting."
The company is at Sportel to meet with customers and stay in touch with the industry, Gosetti added.