Sportel Monaco: Telstra's Lockwood on the importance of moving content from point A to B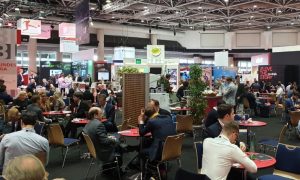 Telstra is at Sportel to talk to rights holders about how to get their content from point A to point B.
Telstra Broadcast Services' Anna Lockwood, head of global sales, commented: "Many of our interesting projects over the last three years have started here. This show is traditionally about rights, but as soon as rights deals are completed, the rights holders need to work out how to get that content from point A to point B.
"We come here to learn about interesting developments in the industry and to talk about and showcase our innovative projects over the last 12 months, and to talk to a global audience," added Lockwood.
She said: "Our strength and strategic focus is content in and out of the Asia-Pacific region, so we look at companies doing that and special events in that region. We have to stay close to rights holders and rights deals so we can have early conversations with them about their broadcast services requirements."
Currently Telstra is focusing much of its energy on the Rugby World Cup in Japan, where it is providing content transmission services for IGBS, and providing services for its antipodean clients. Lockwood said: "TVNZ New Zealand and Channel 10 plus Fox Sports, the joint Australian rights holding broadcasters, are taking feeds from us, from Tokyo to London and the rest of the world. We will be wrapping up on the day of the final, 2 November."
Telstra is celebrating 25 years in the US this year, as well as its fifth year at Sportel. Since Telstra began coming to Sportel, Lockwood said she has seen many more tech companies begin attending also. On why, she said rights holders are now interested in talking to these businesses face to face: "Thanks to the whole digital transformation of the market and that content is available on so many platforms, rights aren't just about free to air and linear television, but are now negotiated on all the new digital platforms as well."
As part of its achievement in North America, the company has engaged two new staff, with a new head of business development, Ricardo Rodrigues based in San Francisco and a senior account executive, Desmond Gallahue, based in New York.
Commented Lockwood: "The Telstra Broadcast Services team is expanding in the US because we want to be closer to our customers. We have many major clients in the US, including Disney, Fox and ESPN."
Lockwood added: "We have a lot of traditional sports clients, but also eSports and games publishers. The top six games publishers in the world are all Telstra clients, and are all long standing clients since they began, and all of them are in the Americas. That's a very nice data point that we're very proud of. As Telstra Broadcast Services grows, they have grown, and as we provide services between Asia and the US and Europe, and vice versa, it works; the Asian market is vital for these companies," she continued.
The company also added technical solutions architect, Sandy Isnard, to the team, who has been based in Paris since June. She is in a global role with specific focus on Telstra Broadcast Services' continental European customers.
Telstra is the Title Sponsor at SVG Europe's FutureSport event at Chelsea Football Club on 26 November. Lockwood concluded: "We are very much looking forward to meeting our community in Chelsea!"