SportTech 2018: Facebook shows it wants to be more than just friends with sports fans
As social media platforms up their game in the pursuit of live-streamed sporting events, broadcasters and sports rights-owners and holders are just as keen to extend their viewer and fan base, as well as their marketing reach. But how exactly does it manifest itself in the real world?
At SVG Europe's SportTech event on 30 May at Chelsea Football Club in London, Melissa Lawton, head of live sports production strategy at Facebook, provided a unique insight into the relationship between the sports industry and Facebook, exploring editorial considerations, fan engagement and production techniques, including the merging of social and traditional production teams.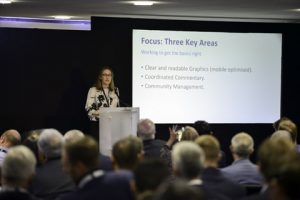 Speaking on stage to Will Strauss, SVG Europe contributing editor, Lawton first looked at Facebook Watch, the new  platform  for  video that will  be  the  central  place  for  broadcasters,  rights  holders  and  creators  to  distribute  their  sports  content. Watch  is  where  Facebook's  partners  can  build  predictable,  loyal  audiences  and  cultivate  community  and  conversation  around  the  content  they are  creating, as well as where  people  can  come  back to time  and again  to  discover  video  content  and  build  a  habit  of  watching  long form  vide , Lawton noted, although she added it is  currently  only  available  in  the  US.
With regard to live sports, Lawton stated that it is important to break  down  barriers between  the  viewer  and  the  event by thinking about community  first, building  and  connecting with  fans, making sure content is optimised  visually  for  an  audience  on  the  go  or  wherever  they  may  be, as well as being localised.
The focus for Facebook is, she said, on three key areas: clear and  readable  graphics  that are optimised for mobile; coordinated  commentary; and community  management.
Graphics is a real issue for sports broadcasters to get their heads around, Lawton said. Rethinking screen real estate is important due to the number of devices that people view sport on, from laptops to tablets and smartphones. This means the real estate of the screen goes from large to very small, so graphics in the top left hand corner, as per TV, do not work well as they block images. Also, with Facebook Watch, viewers are able to talk to each other as the action goes on, which can cause problems by blocking action at the bottom of the screen, for instance, the hole being aimed at in a golf tournament.
As a result of these issues, Facebook recommends that the top right corner is the cleanest area for score bugs and the like. Meanwhile, for vertical video, bottom right is best, for graphics and viewer chat.
Lawton commented: "We know more and more people are watching content on mobile devices. Really, as broadcasters, producers and content makers, you need to think of that on-screen real estate."
Data graphics are still important for Facebook Watch, because as well as providing a helpful role, guiding the action, on a small screen, they are something that younger viewers have been bought up with and actively expect to see on live content.
Wide screen shots work on TV, but as the screen sport is being viewed on gets smaller, close-up shots of athletes faces, showing the emotion of the event, actually work better, Lawton said. "You need to look at reframing this for the small screen," Lawton noted. She said that while wise shots have their place on the small screen to set up location and layout, tight shots keep viewers inside the live action."
On coordinated commentary, co-ordination  between  host,  chat  and  graphics  is  key.  What is needed, Lawton said, is the need to change  end  to  end  production  workflows, to open  communication  channels  with  social  teams, to use  a  social  producer  to  surface  chat  comments, to consider  whether  you  need  to  use  third  party  tools, and to use  a  commentary  team  who  understand  social  tools.
On another note, Lawton said what is key on Facebook is allowing fans to have their say in a meaningful way. This can include putting an athlete, analyst or similar person into the chat live to answer fans questions on Facebook as the live match goes on, providing great interaction opportunities. You can also interview  stars  and  key  players  using  fan  questions, while using a split screen to keep the live action as well as the interview action going for the fans concurrently. She added: "The engagement and excitement you get from that really drives participation."
In terms of managing this kind of process, Lawton recommended getting all ducks lined up in a row beforehand, so getting photos and videos prepped before a live game as well as a plan of how to roll those out within the live event, for maximum impact. She added that social  voting  and  hashtag  campaigns are also useful ways of engaging viewers during a live event.