Live from Super Bowl LIII: NFL Films embraces revamped NEP Super B for fibre needs
The Super Bowl is one of those rare events where one compound is simply not enough as it is split into a domestic compound for the US rights holder and an international compound.
The former this year is home to CBS while the latter is home to NFL Films operations and the international rights holders. Missing this year is the NFL Network which is instead located in the Georgia World Congress. And that is just fine with those who still call the international compound home as the NFL Network might not have been able to fit.
"The NFL Network would typically have four trucks in our compound, and we don't have that this year," said Michael Greenwood, NFL Films, director of engineering services. "And it's a good thing because the compound is a little challenging because it is uneven."
The NFL international compound this year includes 16 production units, including NEP's EN1 A and B unit which is where the world feed is produced (the other trucks support international needs). There are also 23 production trailers and five satellite uplink trucks.
"The biggest change for us is the redesign of NEP's Super B," said Greenwood of the truck that was previously used to route all of the audio and video signals. "We worked with NEP to reconfigure that as we've grown our fibre infrastructure and previously had to have part of that infrastructure in a separate trailer. So, NEP worked with us to redesign it and all of the fibre infrastructure is now included in Super B. Cable management is easier and more efficient."
Kevin Clifford, NFL Films, director of broadcast engineering, says the redesign removed the need to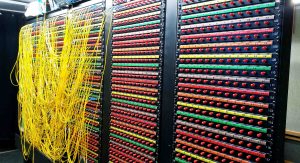 have two routing switchers as the unit now has an Evertz Trinix router with multiviewer that is large enough to meet the demand with room to spare.
"It's made a big jump this year and NEP did a really great job on it," he said. "They were involved with our signal distribution before, so they were very familiar with what we were asking for."
This story first appeared on Sports Video Group US. To read more, go to: https://www.sportsvideo.org/2019/02/02/live-from-super-bowl-liii-nfl-films-embrace-revamped-nep-super-b-for-fiber-needs/