Live from Cricket World Cup: ICC TV focuses on graphics and commentators as it looks to entice a new generation of viewer
In the first part of a two-part interview, ICC TV executive producer and senior manager for broadcast Ajesh Ramachandran outlines the broadcast strategy for the Cricket World Cup 2019, including how the International Cricket Council (ICC) hopes to engage a new generation of fans without alienating the traditional viewer.
Ajesh Ramachandran is surprisingly camera shy for someone who calls the shots on the ICC's global broadcast coverage.
A former Star Sports senior executive producer with countless cricket tours and tournaments under his belt, he is currently overseeing the TV production of all 48 matches of the ten-team ICC Cricket World Cup 2019 which is taking place in England and Wales.
What he is not doing, is having his photo taken, no matter how many times SVG Europe asks.
As becomes abundantly clear when you spend time with him, however, he doesn't need to have his photo taken to be important. He, like the ICC, has a vision and influence. And that is ample.
"For this event, we looked at things that we really wanted to make a difference in and quickly figured out that a lot of productions do batting and bowling analysis really well but fielding is almost completely ignored."
For this tournament, he has enlisted the London-based production company Sunset+Vine and various technical partners, including NEP, AE Graphics, Batcam, Spidercam and others, to produce a world feed and execute that vision.
Details of their involvement are outlined in the second part of this interview.
Talking to SVG Europe at Lord's during England's game against Australia on 25 June, Ramachandran was clear that the quality of the TV coverage is paramount. But it's not just about attracting or engaging huge numbers of viewers, although the tournament has a potential reach of over one billion.
There is more to it than that.
"We like to believe we're insight led," he says, talking about the focus groups and extensive research that the ICC did prior to the tournament.
"One of the things that we learnt was that because of the demographics of cricket viewing is changing so quickly, and there are more younger viewers watching cricket, we have to cater to that audience as well as the traditional mature audience who are used to watching cricket and who understand a lot of intricacies of the game. This is why we needed some visual differentiators."
Spreading the field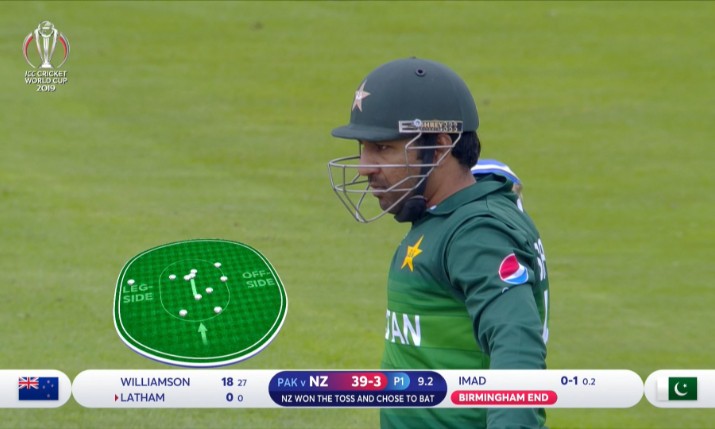 Taking a considered approach to on-screen graphics is just one of the ways that ICC TV is looking to make the game more accessible to a new generation of fan.
The live on-screen fielder map (pictured, right) is one example of this. This highlights to the viewer where all the fielders are positioned around the playing area, a graphic that is particularly useful when the action on screen is centred on the batsmen, bowler and close fielders.
The concept itself isn't new but it is not something that is used by all cricket broadcasters. And for the 2019 tournament, the production team are using live player tracking data for the first time and each map is designed to reflect the actual playing surface rather than a generic cricket pitch.
At the same time, data taken from in-camera player tracking is also being used to graphically show viewers the distance between the fielders and how far those fielders have run during a game. This is a new innovation for the Cricket World Cup. All on-screen graphics are the responsibility of AE Graphics.
"The live field plan is very similar to what you might see on a video game," says Ramachandran. "The same with the player tracker. It means that younger audiences at one glance can identify with it a little more.
"This World Cup is a chance to grow the audience," he continues. "We have tried to make the graphics as simple and easy to understand as possible."
This emphasis on analysing the fielding aspect of the sport is quite deliberate, he continues.
"For this event, we looked at things that we really wanted to make a difference in and quickly figured out that a lot of productions do batting and bowling analysis really well but fielding is almost completely ignored. We decided then to look at products in the market that emphasise on field positions and placement [and help to explain] what the captain is thinking."
Getting in close
The ICC TV commentary team have also been primed to emphasise this aspect of the game.
And that is not the only brief that has been handed to the pundits. They have also been asked to help make the game more accessible and inclusive for viewers, he says.
"Quite a lot of the time [in other competitions], the commentary is focussed on what is happening. But our brief has been on why it is happening. Explaining the game. What is the significance? This has been our production philosophy and all our technological innovations come from that editorial idea and support it."
That manifests itself in the choice of commentators too. Having the likes of Australia's Michael Clarke, the South African Graeme Smith and Kumar Sangakkara from Sri Lanka on the team is no coincidence.
"Most of the commentators are younger commentators and a number of them are players that younger audiences will have seen play, that have retired recently. That makes a big difference. This goes back to our focus group studies. The younger demographic reacts very positively to them."
While the next generation is important to the ICC's coverage, it's not the be-all and end-all. Far from it.
"It's a world feed. It is a one-size fits all approach," continues Ramachandran. "You can have an emphasis on young folks but you cannot alienate traditional cricket fans. There is lots of in-depth analysis but also simpler things to watch like player tracking and AR graphics."
The ICC Cricket World Cup 2019 is an ICC TV production. The tournament runs until 14 July.
Main image courtesy of ICC TV